Scrapbooks the Old Fashioned Way
by
Jean Butterworth

Cleaning out drawers is always a tiresome chore, but here is what I discovered after many years of staying hidden in a drawer…… my baby book and a scrapbook.
Now, the modern ways of keeping scrapbooks are called "Scrapbooking" or create your memories. I have a friend whose daughter called home to inform her Dad that she was taking a "Creative Memories Class" at church. Later the Dad told the Mother, "I didn't know our daughter was having trouble with her memory!"
Today we go to classes
"Scrapbooking" involves going to a class, and paying a fee to learn how to make a scrapbook. First, you have to find a class convenient to your home and your schedule. Next, comes buying a special scrapbook and all those fancy embellished stickers that go with preserving your pictures and mementos. And last all, that precious time you spend creating a scrapbook in a class!
My mother started a baby book for me when I was born and included dates up to my 3rd birthday. Later she started my scrapbook. She did this when she had spare time. Of course, this was 1935 and I was the first child and mother was a housewife.
Baby Books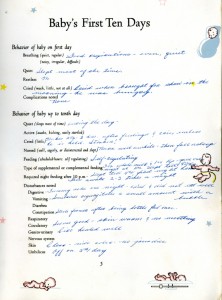 Looking at the baby book I found a birth announcement now 70+ years old stating that I weighed 8 pounds and was delivered on 11-4-35 by Dr. John Shamblin at Druid City Hospital in Tuscaloosa. There was a receipt for the hospital bill. The bill was for $15.00 but mother, bring a Registered Nurse was given a discount and the final bill was $13.50. Now, remember this was 1935!
On the next page was a bill for the baby bed and mattress bought at Sokol Bro. Company, Inc. on 9-13-35. The cost was $13.50 with monthly installments of $3.00.
Do all baby books contain a lock of baby hair? Well, there it was, a tiny wisp of light brown hair. Did I really expect my hair to stay this color? I looked in the mirror and all I saw was gray hair.
Sum total was $10.00
On the following pages of the baby book was a list of gifts and money that relatives and friends had given to me. I was amused at the amount of money given to me in increments of 1 cent, 5 cents 10 cents, 35 cents and up to 50 cents. The sum total was $10.00 and my Dad deposited it in the first National bank of Tuscaloosa on January 17, 1936.
Recorded next was an assortment of swatches of silk baby dresses and sun-suits, trips and dates I had made in the car, street- car and train. Also, weight and height growths were documented. For my first Christmas, I received a doll, brush and comb and Santa Clause brought me a rubber doll, cat and rattler.
The scrapbook contained birthday cards, many valentines, and correspondences from grandmother and aunts. The cards were stuck to the pages with a mixture Mother made of flour and a little water to make glue. It worked!
In conclusion, I guess baby books, scrapbooks and "Scrapbooking" have served their purpose of preserving our memories. Do you have a scrapbook? It would make a nice Christmas gift.
Join the Alabama Pioneers Patron community today! Our first newsletter will be emailed soon! Click here to see how. Become a Patron!
Note by Donna R. Causey: Alabama Pioneers doesn't normally endorse products, but after posting this story, I realized that like me, many people may be struggling with the major task of scanning old photographs and large documents. This has been a major and very slow process that I tend to put off until I found a wonderful portable scanner. I love it so much, especially the EasyStitch part which enables me to scan large documents, that I had to share my experience with those of you trying to scan your old photos and documents. I am now able to sit and watch TV while I scan thousands of pictures with this portable scanner. I can even scan items in a scrapbook without removing them.
Last night I scanned over 400 items in only one hour. I don't know how I managed without it so long. I plan to scan all my personal photographs and memorabilia and share them digitally with others. Now if I have a fire or other tragedy, (God forbid), then I at least I will still have access to digital copy of my photographs and memorabilia.
There are even simple to follow videos that provide help on how to stitch a large document and do other things with the scanner. It is amazingly simple to use and portable as well so I can take it to reunions to scan other family members documents or items I find in my research. It does use up batteries quickly, but I solved that problem by buying the battery charger listed below which includes extra batteries. This way when one set of four batteries dies, I swap them for the newly charged extra batteries waiting in the battery charger. The charger shuts itself off once each set of batteries is charged.
Flip-Pal has not contacted me for this endorsement and I've only owned the scanner for a month, but I am a well-satisfied purchaser so far and thought I'd share my personal experience with this scanner.