First Confederate Cannon was made from iron in Cherokee County, Alabama
HUGH CARDON'S HISTORY OF CHEROKEE COUNTY, ALABAMA
 Part VIII
Mr. Hugh Cardon wrote the following history of Cherokee County on the occasion of the 100th anniversary of the county in 1936. This history was published in the COOSA RIVER NEWS on Friday, August 7, 1936. Mr. Cardon was a much-respected historian of the county and a collector of antiques and Indian artifacts. He died February 11, 1953. The Historical Society collected a number of his articles written for the public press published them from time to time. The following article was preserved by Mr. J. Robert Embry of the Blanche, Lookout Mountain Valley, Little River Area and loaned it to the Historical Society
A mineralogist friend of the writer once told him that Cherokee County was a geological paradise. Certainly, no area in the State outside of the Birmingham district has had as interesting a record in the field of iron production as Cherokee County.
The first furnace in the County was built at Round Mountain in 1848 by Moses Stroup, on the site where John Milner had operated a forge. This furnace had a capacity of two and one-half tons daily and used 250 bushels of charcoal daily. in addition to manufacturing pig iron, there was made at Round Mountain, castings, pots, skillets, and machinery. The finished products were sold locally and the pig iron was shipped by boat to Rome and thence by rail to Pittsburg.
Remains of Round Mountain Furnace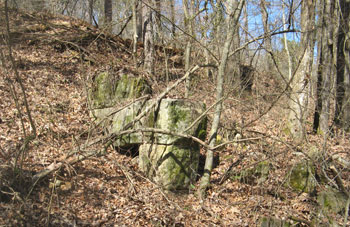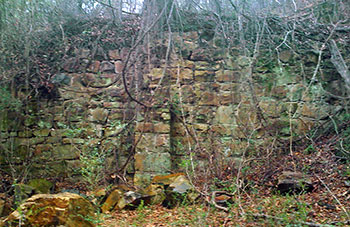 This furnace was sold to P. S. Marshall in 1855 and later sold to Capt. J. M. Elliott of Rome. It was, later destroyed by Sherman's raiders, due to the fact that It furnished iron to the Confederacy. It was rebuilt in 1874 and in its late years was used as a manufacturing plant for the production of wood alcohol.
Ruins of Cornwall Furnace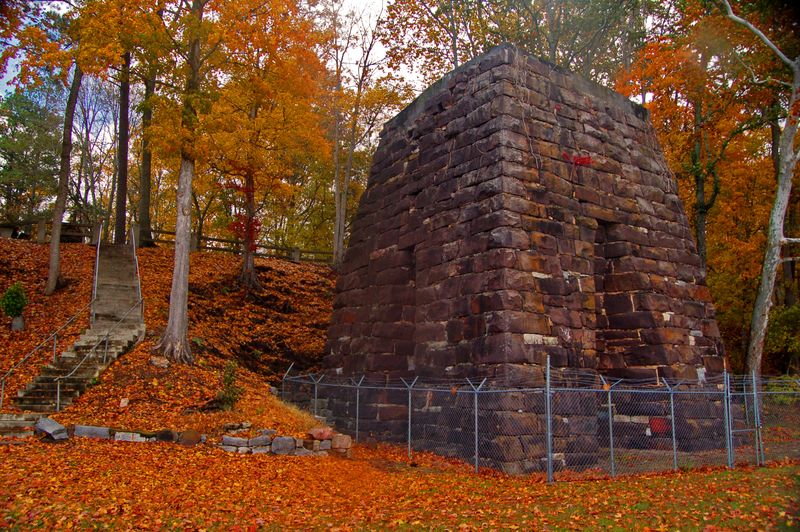 Cherokee's Cornwall furnace was very famous because of its uniqueness. So far as we have been able to learn, it was the only furnace in the country whose blast was furnished by water power. Cornwall was built by James Noble and his son, Samuel, natives of' Cornwall, England.
He attended a manufacturer's exposition in England
The story of how James Noble became attracted to Alabama is quite an interesting story. It is said that the senior Noble attended a manufacturer's exposition in Sydenham, England, in 1851 and there saw blooms, or pig iron samples, which had been made at Round Mountain. The fibrousness and quality of this iron so interested Noble that he then and there decided to move to America. The Nobles immigrated to Rome and established a foundry and machine shop there and built Cornwall to supply the raw material used in the foundry. The first Confederate cannon was made by Noble in Rome, from iron drawn from the hills of Cherokee County and smelted at Cornwall. This furnace was destroyed by Gen. Blair in 1864 but was rebuilt by Col. Rattray.
Very little is known of the early history of the Rock Run furnace except that it was in operation during the Civil War, being the largest in the County and supplying iron to Confederate munitions makers. It was destroyed also by Federal troops in 1862 or 1863, being rebuilt in 1879 by the Bass Foundry and Machine Company and was the last charcoal furnace in the United States to be blown out. It is interesting to know that statistics show that during the Civil War, one seventh of all the iron produced in Alabama was made in Cherokee County.
Boom Town in Cherokee County in the 1880s
After the war, the Stonewall furnace was built at Langdon City by J. 14. Selkirk, and the Tecumseh furnace was built in 1873. The Tecumseh Iron Company was organized and headed by Gen. William Tecumseh Sherman, Gen. Warner's wartime chief. This furnace was twelve by sixty feet and was said by authorities on the subject to have been "one of the largest charcoal furnaces in the country, and considered the finest plant, architecturally, in the South." Its productive capacity was fifty tones a day. Operations were suspended in 1890 and the physical properties entirely dismantled.
In the 1880's there arose the only 'boom town' ever known to Cherokee County. The town was promoted by northern capitalists, being built between Langdon and Tecumseh, and called Bluffton. At one time Bluffton had eight thousand inhabitants and work was begun on munitions and car wheel factories. Ground was broken for the establishment of the University of the Southland, the cornerstone of which is now lying on the side of the road at the little Bluffton schoolhouse. The first electric lights in the County were brought to Bluffton, the remains of which may now be seen in the Mount Signal Hotel. Today there is not even a post office at Bluffton.
In addition to the raw materials which Cherokee County has furnished and for which the business world is greatly indebted, there is yet a greater debt of gratitude owed to our County for its contribution of the typewriter.
John J. Pratt invented a typewriter
The typewriter was invented by a Centre man, at Centre, who requested that when the time came for him to take his last long sleep, that he be placed near his peaceful little village. John J. Pratt was Register in Chancery of Cherokee County in the late 1850's. His position required that he perform a large amount of writing and as a consequence, his hands often became cramped.
The idea arose in his mind that this situation could be remedied by the invention of a writing machine. Pratt was a part owner and editor of a newspaper at Centre, called the NATIONAL DEMOCRAT, and there worked in the office of this journal Mr. John Neely. Pratt conveyed his idea to Neely and requested that Neely fashion type to be used in his writing machine. In 1860 his inventive genius bore fruition, Pratt displaying to his friends a completed writing machine.
Being a man of keen perception, he realized that a conflict between the North and South was soon forthcoming. Because of this thought, he sold his slaves and possessions, took his machine and sailed to England. Patents were received from the English and French governments in 1863. An account of this writing machine was published in the journal of the Royal British Scientific Society, and copied by the SCIENTIFIC AMERICAN. Two years after the account of Pratt's machine had appeared in the SCIENTIFIC AMERICAN, the first American patents were issued to Glidden and Sholes, whereas the people in Centre had seen and used a typewriter some six years prior to the time the first American patents were issued. The Pratt machine, called the 'pterotype,' is now on exhibition in the Royal British Museum in London. Photographs of it may be seen in the Encyclopedia Britannia.
Lord's Prayer translated from English into Cherokee and back again
Time and space do not permit the presentation of other salient features of a greatly varied and highly interesting history of Cherokee County. We trust that this little sketch will be of interest to some of our fellow Cherokeeans. If it contains enough interest to be enjoyed at least one, we will think the time well spent in preparing it.
THE LORD'S PRAYER (As translated from English into Cherokee, then from Cherokee to English, by Rev. S. A. Worcester.)
"Our Father, who dwellest above honored by thy name. Lot thy Empire spring to light. Let thy will be done on earth as it is done above. Our food day by day bestow upon us. Pit us in regard to our having sinned against thee, as we pity those who sin against us. And lead us not into any place of straying, but on the other hand, restrain us from sin. For thine is the Empire, and the strength and the honor forever. So let it be."
 CHEROKEE PHOENIX, February 21, 1828 (Taken from The Georgia Genealogical Society Quarterly, Volume III, Series 3, March 1967, page 451.)
See more of Cherokee County, Alabama. 
Did you know that all E-books can be downloaded immediately from Amazon.com – Read eBooks using the FREE Kindle Reading App on Most Devices?
This book is a collection of household tips, medical cures, clothing care and old recipes from the 1800's and 1900's. Many of the tips, such as the household cleaners, cooking tips and ways to control pests, still work and are helpful in today's 'green' environment while others such as 'how to cure a dog of eating eggs' will make you laugh. Either way, this book will help you appreciate the difficult life your grandparents endured. 
With Bonus: First two chapters of novel Ribbon of Love