Charcoal Iron was made in Shelby County since around 1848. A furnace was built by Horace Ware, who afterwards added a foundry and bar iron. This furnace was burned in 1858, but rebuilt at once. A larger mill was built in 1859, and iron rolled April 11th 1860. This mill was very active during the war of the Confederacy, and was burned by the Union troops under General Wilson in 1865.
General Wilson passed through Shelby
The army of Gen. Wilson passed through Shelby on its way to Selma in 1865. The Cahaba Rolling Mills, the Red Mountain, Central, and Columbiana Iron-works, five collieries, and other valuable property, in the vicinity of Montevallo, were destroyed.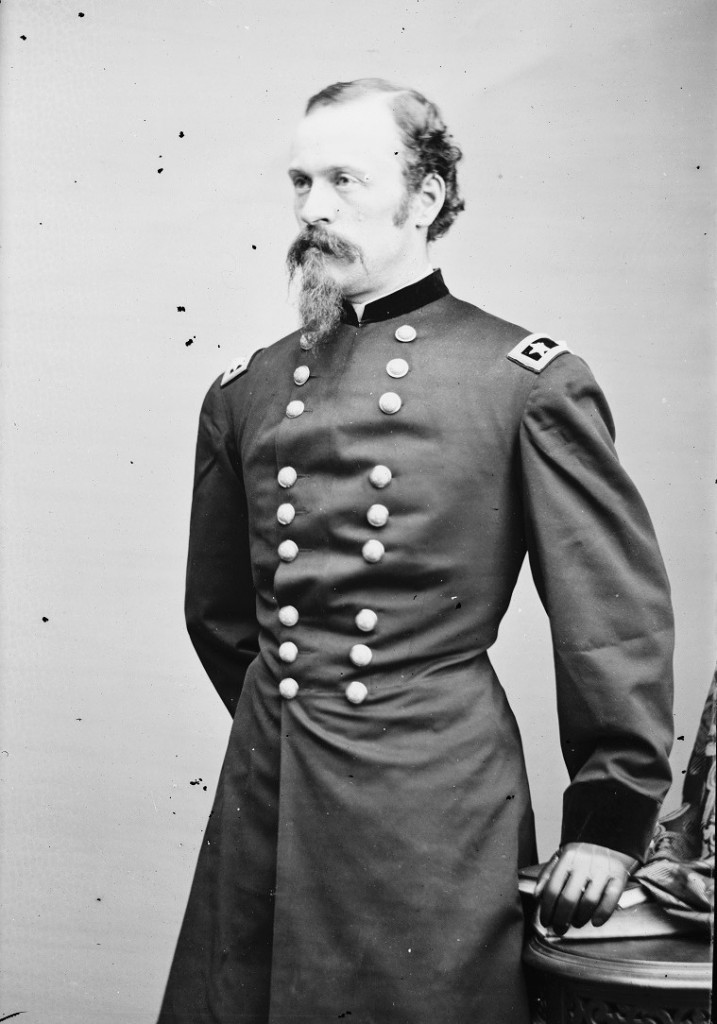 Gen. James H. Wilson (Library of Congress)
Severe skirmishes
March 30, Wilson's forces arrived in Montevello. Resuming the march, for several miles south they were engaged in a protracted skirmish with Roddy's and Crossland's brigades, under Gen. Dan Adams, in which there was a number of casualties on each side. The contending forces moved on to Selma, and had severe skirmishes on the way, in which Gen. Forrest was engaged in several daring personal encounters near Randolph and Maplesville, and a number of men were disabled and captured.
Letter about iron industry written in 1888
The machinery from the built that was rebuilt in 1859 was used in constructing a rolling mill at Helena in 1872. The following excerpt from a letter written by Mr. E. T. Witherby, who was the assistant secretary of the Shelby Iron Company to Mr. Swank in 1888 reveals the following about Shelby County's early Iron Industry.
"The first blast furnace erected here went into blast in 1848. Horace Ware was its proprietor. In 1854, Mr. Robert Thomas made iron in a forge near here. This iron was sent to England and returned in razors and knives. In 1859 Mr. Ware began the erection of a rolling mill. It was completed and started in the spring of 1860. In 1862 Mr. Ware sold his property to the Shelby County Iron Manufacturing Company, which erected a new furnace, the one which we have recently torn down, and on whose site we are erecting a new stack. The rolling mill was enlarged in 1863, and was operated continuously until March 31s 1865, when it was destroyed by General Wilson of the Union army. It was in this mill, in 1864, that the plates were rolled for the armor of the iron clad ram Tennessee. Judge James W. Lapsley, one of the stockholders and directors of the present Shely Iron Company, was made a prisoner by the Union forces in 1863, while in Kentucky looking for puddlers for the mill.
"When I came here, nearly twenty years ago, we had plates, merchant bars, and strap rails on hand made entirely of Shelby iron and rolled in this mill. Some of the plates, known to us now as the "gun boat iron" are still in our store house, but they have been slowly disappearing under the demand of our blacksmiths for "an extra good piece of iron for this job", or that "particular place." Some of these plates are 8 inches by 3 inches, and others 11 inches by 5 inches, and of various lengths; originally, they were, perhaps, 10 feet long.
Shelby pig iron was also shipped to the Confederate arsenal and foundry at Selma, Alabama, in 1864, where the Tennessee was constructed and fitted out. This iron doubtless went into guns and other castings for this vessel. Catesby ap Jones was superintendent of the arsenal, and with his senior in rank, Franklin Buchanan, bot pupils of that sea-god, Matthew Calbraith Perry, wrought out the Tennessee. They were as full of progressive ideas regarding steam and armor as their master, and nothing but the scanty means at their disposal prevented a much more formidable iron-clad than the Tennessee from being set afloat."
Shelby rich in natural resources
Shelby is rich in natural productions, and they were better utilized than in any other county of the state in 1870. Iron ore is abundant, and the Shelby Iron works did an extensive business. Coal existed in large quantity, and much of it was exported. Slate and sand-stone, both of the best quality, and marble was plentiful. There was much blue limestone, and three furnaces are converted it into lime. Even gold and copper could be found. Shelby Springs was famous for its mineral water.
In 1870, Columbiana, the seat of justice, had about 450 inhabitants in 1870. Shelbyville, where the courthouse first stood, was deserted and Montevallo had about 650 inhabitants; Harpersville and Wilsonville had about 250 each.
SOURCE
Alabama: Her History, Resources, War Record, And Public Men From 1540 To 1872, By Willis Brewer, Published in Montgomery, Alabama 1872
Iron Making in Alabama, by William Battle Phillips, J. P. Armstrong, printer 1896
Alabama Footprints Confrontation is a collection of lost and forgotten stories that reveals why and how the confrontation between the Native American population and settlers developed into the Creek-Indian War as well as stories of the bravery and heroism of participants from both sides.
Some stores include:
Tecumseh Causes Earthquake
Terrified Settlers Abandon Farms
Survivor Stories From Fort Mims Massacre
Hillabee Massacre
Threat of Starvation Men Turn To Mutiny
Red Eagle After The War