During the 1930s, Great Depression era, many writers were employed to interview people and write stories about life in the United States. The program was named the U.S. Work Projects Administration, Federal Writers' Project and it gave employment to historians, teachers, writers, librarians, and other white-collar workers. These important stories and interviews should not be forgotten and relegated to dusty shelves. This unedited story has been transcribed exactly as written in the 1930s at the end of the Great Depression before Medicare and Social Security programs.
Interviewer Mildred Thrash – Dallas County
A Seamstress
Mrs. D. H. Pressley
300 Green Street
Selma, Alabama
The sewing machine rattled on its weary tread of miles. Guiding its trail across a plaid skirt was a large woman of about forty years. She wore a dull shapeless green silk dress and her hair straggling on her neck was caught out of her face by two pins.
On a rundown green sofa lay a lanky boy of fifteen. About the crowded room was the bedroom furniture and a living room suit. At one side was a big radio and next to it was the machine where Mrs. Pressley sat sewing.
She has not lived in this house long as she has moved about quite a bit. She was born "up in the country" which means the same place that some of her kinfolks still live. It is about thirty-five miles from town back in the prairie hills.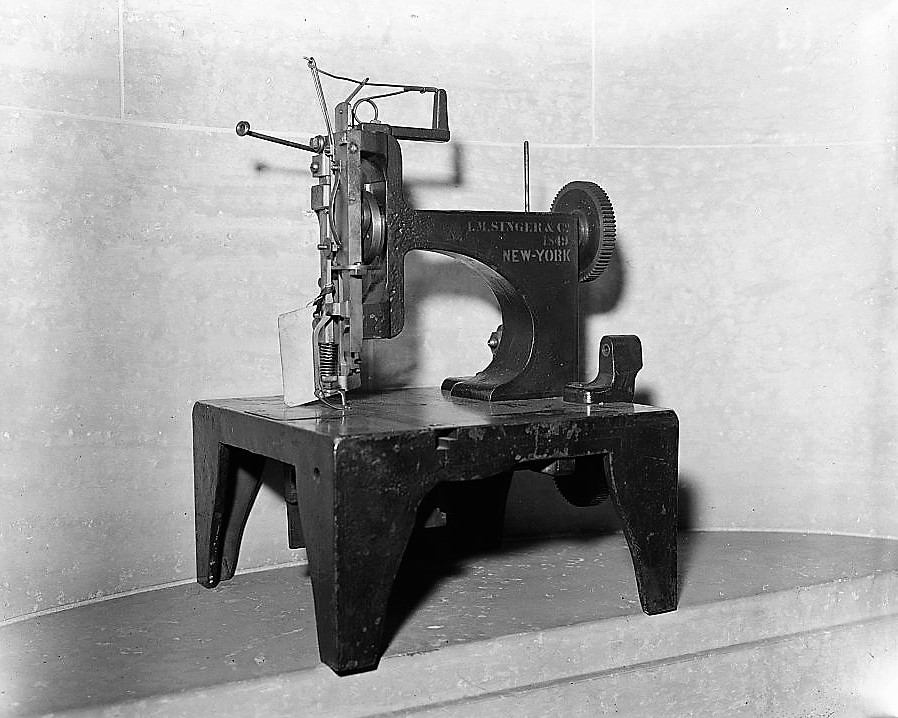 Early model of Singer sewing machine 1940 (Harris and Ewing photographers, Library of Congress)
Children got a good country living
Her father, Jim Milstead was a farmer, and her mother, Susan, tall and gaunt, was a housekeeper. There were twelve children, six boys, and six girls, with little time between their births.
Jim was a good provider, who sometimes drank, and was forever mean. Susan was undemanding and good. She saw as best as she could that her children got what they needed – a good country living. There was plenty of dried and canned food for winter and by summer they feasted on the freshly gathered vegetables and fruit.
The children, like most in that section of the country, took little book learning but started out sooner in the school of experience by marrying and incurring their own debts and families.
The youngest child, a man over six feet tall, got the best education in the family through the first year in high school.
She waited longer to get married
Mrs. Pressley, the youngest girl, only went to the seventh grade. She learned cooking and sewing at home and waited longer than any of the children to get married.
After quitting school because of bad hearing and sight, Lily went to work in a stationers. Here she clerked and did printing. She liked the job and it was a little extra money for the family who had moved nearer town, while she boarded with a friend and spent the weekends and holidays at home.
When the war came in 1917 there was a boy who went away. At that time Dewey meant little or nothing to Lily. She had met him and knew him of course, but that was all. He was an orphan who had been reared by his uncle. When he came from the war with the dazzle of heroes still about him, this girl of twenty found him courting her and soon they were married.
He was a railroader
Dewey was a "railroader' and making good money. He was a glagman (flagman?) and that in the sight of her parents was better than the other children had done for themselves. The others had taken farmers or farmers daughters and still lived by the soil.
Moved into cheaper rooms
Their first home was down near the tracks where most of the other railroad folks lived. Lily kept a spotless house and Dewey kept up his work well. Then a son was born. They named him Lee Roy and settled back into the usual routine of cleaning and working. He was not pampered and petted but brought up much the same as the children around his where there were five or six in the family.
Maybe it was the memories of the war or maybe it was Dewey's uncle who had brought him up that lead him to drinking. Finally, depression and liquor united and he was to find less and less work. They moved into still cheaper and more cramped rooms.
Brothers and sisters dropped in to spend a few days that went into weeks. They came with some little offering from their depleted store at home or frequently empty-handed.
Crops and animals just weren't bringing good prices. Did they consider that neither were the days Dewey didn't work? No, he lived in town and somehow, just that made a difference.
Father suffered break in his hip
During this time her father had suffered a bad break in his hip. He had been too till (?) to let it mend properly and now had to walk with a hobbling that would not do to work in the fields. Mrs. Milstead had, like so many country women, become rundown because of hard work and too frequent childbirth.
There was nothing to do but for the old people to come and stay with Lily. A brother, Winfred, had by this time taken the apartment upstairs and could help out some.
Lily found that by taking in sewing she could add to their supplies. She liked to sew and did it well.
Dewey went for relief
Dewey finally went to the "relief." A bonus soon stopped that by his wild purchases instead of needed expenditures. A living room suit that sold for a high price because he was drunk and had ready cash; a radio that came the same way. Well, that was exhausted and so seemed everything else. The gas stove and frigidaire had long ago been disconnected and instead, a small wood stove and a dripping musty ice box was used.
At last came the C. C.C. Camp. Dewey was a veteran so he enlisted and went off to make less in a month that he was accustomed to getting in a week.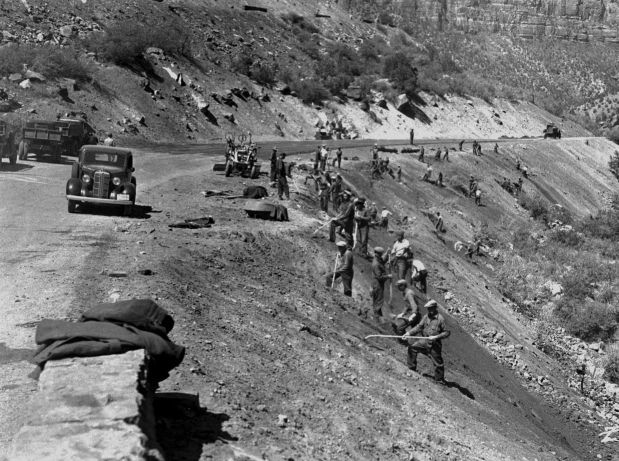 CCC Corps
Parents went back to the country
Winfred, laid off from his job as telephone lineman, decided he would try farming for a year under his father's supervision. Back to the country, Mr. and Mrs. Milstead went. The year had not come to an end before Mrs. Milstead had died.
The family moved to town once more and Mr. Milstead rented a one room shanty with a garden space in the back. Just before Christmas they found him suffering from a stroke and just a few hours from death.
He handed his remaining money to Lily and provided her with his insurance policy to get a double marker for the two graves. Winfred took the money into his own keeping and from there it has and will never leave.
Lady next door needed help
Luck seemed to come their way when, it seemed impossible for them to pay the seven dollars and fifty cents rent for four rooms. The lady next door began working up town and needed somebody to cook for her and care for her two children. Mrs. Smith asked Mrs. Pressley and arrangements were made.
Mrs. Pressley kept house and watched the children for which Mrs. Smith gave her rent and part of the groceries. In addition Mrs. Pressley could continue her sewing and make still more.
Like all things, that finally came to an end. Mrs. Pressley couldn't feed the children to suit them and the constant nagging was tiresome. Mrs. Smith thought too, that the bills were too much, she could live cheaper with her own cooking and have what she wanted. The children must look out for themselves.
She rented rooms
Mrs. Pressley found a house down the street with five rooms and a bath. That would be because better because she could rent out the two rooms and help on the bills. Then there was the garden plot in the back and room for chickens.
Lee Roy took an active part in building up these two things. He is very economical and practical minded for his age. He is helpful, too, in the house.
Lee Roy needed things for his education
Mrs. Pressley works very hard to give him the things that are necessary in his education.
Books and clothes do not come easily with them and it is with great effort that they must be gotten and kept. This makes Lee Roy more thoughtful about care of his clothes. Then, too, he watches the grocery bill and will remind his mother that they have spent sixty-five cents less or ten cents more a week than they did last. He is always putting a dish of cold rice or bread in the frigidaire to be made into a pudding for the next day. On wash days his job is scrubbing and wringing the clothes.
He hopes someday to become a lawyer and is now taking subjects that will aid him in this profession. He takes an active part in Sunday School and in the school sports. He is becoming one of the best football players. He is a very clean minded and clean spoken boy.
She doesn't attend church
Mrs. Pressley doesn't attend church. She has some differences that she doesn't discuss and those are her reasons for not going. Perhaps someday not in the too distant future she will change for she is especially touched by an invalid friend's request that she return to her place in the church.
Her health is not good. She has a chronic gall bladder trouble that causes her to be almost constantly in pain. This period of suffering has made her stooped from the waist.
"No, I don't have nearly as much as I once had, back home things weren't this bad for we had a good living even if we didn't have any money. We are getting on our feet again though. We have our stove and frigidaire connected now and we are getting a little help from our relatives."
They stored their kindness
All the time that they were visiting in trying times they stored her kindness in their hearts for they hardly ever came to town without some produce from their farms. She still repays them, though, when she makes rompers and sun suits for their children from scraps that she has left in her sewing.
"Well, I don't know what to say would be enough for us to live on. Maybe a hundred dollars would cover all the things that we really need. You see, I don't owe any furniture bills or anything like that. It helps a lot, too. I can't quite decide to go to the hospital for this ailment. Maybe when Dewey comes home at Christmas time we can decide."
"Yes, Lil Roy thinks there's nothing like his daddy. He just knows that anything Dewey says or does is right even if they are covered in fault."
About a year ago Mr. Pressley had a stroke that affected his left side. Adequate medical attention at the camp remedied the most of this affliction and he can now work to almost the same capacity that he has always done. There is not outward sign that he has had a stroke.
When Mr. Pressley is at home he does most all of the house cleaning, washing, and frequently can be found making dinner of a big pot of his favorite – vegetable soup.
Mrs. Pressley keeps a nice house. It is orderly and scoured in appearance. Her kitchen with its white enameled conveniences is spotlessly clean and the pride of her house. Although the table is not always as well filled as it might be there is a hospitable air about it and the whole house that makes one comfortable.
The Yazoo land fraud
Daily life as an Alabama pioneer
The capture and arrest of Vice-president Aaron Burr

 

The early life of William Barrett Travis, hero of the Alamo
Description of Native Americans of early Alabama including the visit by Tecumseh
Treaties and building the first roads in Alabama.