OLDEST LIVING INHABITANTS OF GREENSBORO IN 19081
PART I
(Published 1908)
This chapter is devoted to short sketches of those citizens of Greensboro who have passed their three score and ten years. There are fifteen—nine ladies and six gentlemen. Their combined ages sum up a total of 1,184 years—an average of nearly 80 years each. The oldest person is 97 years of age, and the youngest appearing in the list is 71.
They are grand old people—forming a connecting link between the present generation and the one of the past— a generation that knew and loved the "Old South" when it was at the very zenith of its glory and power.
Mrs. M. D. Lightfoot
The oldest citizen, in point of years, is Mrs. Martha Diana Lightfoot, widow of Philip C. Lightfoot who died in 1866. Mrs. Lightfoot was born in Richmond, Va., on the 11th of May, 1811, and is therefore 97 years old. She was a daughter of Dr. Hermon Byrd Sneed, for many years a Baptist minister. She came to Greene county, Alabama, with her husband in 1841, and has resided in Greensboro and vicinity since that time. She has been a member of the Methodist church at this place for sixty-four years. She has been a member of the church since 1829, joining at Huntsville that year, when the Revs. A. L. P. Green and John Hannon were on that "Circuit."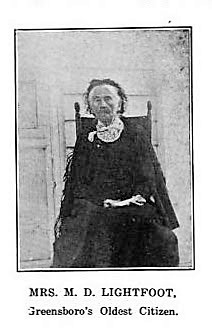 Mrs. M. L. Nutting
Maria Louise Price was born in Newberry, S. C., October 21, 1818. She moved to Columbia, S. C. when Seven years of age. In February 1836, she was married to Samuel Nutting, and left immediately with him for Greensboro, Alabama, making the entire journey by stage coach. They arrived April 1, 1836, and since that time Mrs. Nutting has continued to live in the town. She has occupied the house on Main street in which she at present resides since 1841. In the younger years of her life, she is said to have been regarded as one of the most beautiful women of this entire section.
Mrs. Eliza A. Tunstall is the daughter of the late Mr. and Mrs. Wiley J. Croom, who came from North Carolina in 1818, and settled near Muscle Shoals, Ala., where Mrs. Tunstall was born on March 4th, 1820. She was educated at Huntsville and LaGrange and was at school at the former place when the stars fell in 1833. She came with her parents to Greensboro in 1836, where, two years after her arrival, she was married to Dr. James Tunstall of Virginia, and has since that date continuously resided in the town. She now makes her home with her daughter, Mrs. William B. Inge in Greensboro. Mrs. Tunstall is the mother of three children, viz: Col. Wiley C. Tunstall and Mrs. Wm. B. Inge of Greensboro, and the late Dr. James Tunstall, who died some years ago. She also had the responsibility of rearing five sisters, the parents having died, leaving the little girls in her care, and they made their home with her until their marriage. The eldest sister married Mr. Eugene Hill of Greensboro; the second married Mr. Jack Chadwick of Texas; the third, Judge Wm. Rodman of North Carolina; the fourth, Mr. Luther Hill of Montgomery, and the fifth, Capt. Wm. Selden of Faunsdale.
Mrs. Tunstall joined the Presbyterian church in 1838 and has been a consistent member for the past seventy years. She is a woman of remarkably fine sense and an honor to the community in which she has resided for SO many years.
Mrs. S. A. Kimbrough
Mrs. Sarah Angeline Anderson Kimbrough was born on the 27th of August, 1820, near Mt. Zion Church in Greene (now Hale) County, Ala. In 1843, she was married to Col. J. M. P. Hanna, and there were three children born of this union, viz: Robert C., Irene H., and T. A. Hanna. Her daughter, Irene, married John E. Love, Esq., at one time a prominent attorney in Greensboro, but who now resides in St. Louis, Mo. After the death of her first husband, the subject of this brief sketch married E. L. Kimbrough in 1859, and of this marriage there is only one child, Mr. Edward L. Kimbrough of St. Louis, Mo., who, with his wife, spends much of his time in Greensboro,-a gentleman noted for his fine business sense and splendid social qualities. Mrs. Kimbrough joined Concord Presbyterian church near Havana, over seventy-five years ago, and has remained a devout member of this denomination ever since. She has lived all of her long and useful life— extending now over a period of eighty-eight years—in Greensboro and vicinity.
Mrs. Mary Johnson Happel
Mrs. Mary Johnson Happel is a daughter of Jesse Gibson and Susan Holman Gibson and was born in Lebanon, Tenn., on November 14, 1826. She came with her parents to Greensboro in March 1836, and lived in a log hut which was situated near where the residence of her daughter, Mrs. Wm. N. Knight now stands, which latter residence Mrs. Happel's father, Jesse Gibson, built in 1837. Mrs. Happel had a sister, Mrs. Susan Callie Yerby, who also resided nearly all her life in Greensboro. Mrs. Yerby was born in Lebanon. Tenn., and died in May 1904, at the age of 73 years. There were two Gibson boys, William and German, both of whom were Confederate soldiers, enlisting in Selma, where they resided at the time of the breaking out of the war. In a letter before us, written by Mrs. Happel, she says:
"Greensboro improved considerably during the years 1836-37. Several new residences were built, and the town boasted of two Female Schools—one where the present Academy building is now located, and the other in a two-story frame house situated on the corner where the courthouse now stands. This school was taught by a Mrs. Cottrell—grandma Cottrell, as we lovingly called her. She was a widow of a Methodist preacher, and mother of two preachers, Dr. Joseph Cottrell and Rev. Hugh Blair Cottrell. At this time the Methodists, Presbyterians, and Baptists had weather-boarded churches, not lathed and plastered. The Episcopalians had no church but held services in the Academy. In 1839, there was a great religious revival under the pastorate of the Rev. Mr. Boatright of the Methodist church, which was a great blessing to the town. After this, each denomination felt the need of larger and better houses of worship, and proceeded to build them. The Methodists at this time were worshiping in a frame building located where the negro Methodist church stands in the rear of the Dr. Ward residence. The Methodists bought the lot on which their church is now located, and turned the old church over to the colored members."
Mrs. Happel was married in Greensboro in April 1844, to Philip Happel, Rev. Thomas Capers officiating. She resided in the town until a few years ago, when she went to live with her son, Dr. Thomas J. Happel, in Trenton, Tenn. She is a woman of remarkably fine sense, strong character, and a devout member of the Methodist church, with which denomination she united in 1843 under the pastorate of Rev. T. W. Dorman.
Mrs. Mary Winifred Wadsworth was born at LaGrange, Alabama, November 22, 1829. Her parents, Dr. Alexander Sledge and Winifred Bryan Lane, moved to Alabama from North Carolina in 1822, and settled at LaGrange, in North Alabama. Dr. Sledge was one of the founders and a liberal supporter of the once famous LaGrange College. Early in 1830, Dr. Sledge moved with his family to Marengo CCounty and afterwards settled near Greensboro. In 1850, the subject of this sketch was married to Rev. Dr. Edward Wadsworth, who at the time, was president of LaGrange College—which College was burned by the Federal troops during the civil war. Dr. Wadsworth was a member of the first Faculty of the Southern University, and while the buildings were being erected he moved to Greensboro and served the Methodist church at this place for two years, that period being the limit a pastor was allowed to serve a church. While awaiting the completion of the building of the Southern University, Dr. Wadsworth served the Methodist church at Selma for two years, and in 1859 he returned to Greensboro and entered upon his duties as a member of the University Faculty, which position he held for a number of years. He died in 1883, at his home in Greensboro. Mrs. Wadsworth has been identified with the town for the past half-century, and no one was ever held in higher esteem. She has been a member of the Methodist church for sixty-two years.
Her sisters, Mrs. Margaret J. Peterson and Mrs. Belle Castleman, and her brothers, Messrs. Alexander and James Sledge are now residents of Greensboro.
Where Do I Start?: HINTS and TIPS for BEGINNING GENEALOGISTS with ONLINE RESOURCE

 Do you need some guidance in your genealogy search? Save time and avoid pitfalls in your research. This book provides simple, no-nonsense instructions to help you get started. Many FREE research links included.
Tips include:
WHERE TO FIND – on-line resources, experienced genealogists will not be aware of many of these.
COURT RESEARCH – how to do courthouse research, where to find birth, death, social security records free on-line.
EIGHTY – ONE QUESTIONS – you should ask your elderly loved ones before it's too late.
TIPS ON BREAKING DOWN THE WALL – Everyone faces some difficulties in research, often called a 'brick wall' but WHERE DO I START? provides suggestions for overcoming them.