CONFEDERATE REUNION
(The Guntersville Democrat, Guntersville, Alabama April 27, 1899)
The Birmingham Age-Herald of Sunday contained lovely pictures of Miss Louise Chisolm, of Birmingham, Alabama's sponsor to the Confederate reunion in Charleston in May, and Miss Velma Enslen, also of Birmingham, and Miss Chisolm's maid of honor.
No fairer or more representative girls could be found in Alabama, says the sketch. Both are descendants of Confederate Veterans, and altogether are most attractive young women. They will do full justice to the state they represent in the galaxy of southern beauties which will be assembled at Charleston.
But Alabama has always been noted for the beauty and attractiveness of the sponsors by which it was represented at the reunions.
In 1892, at the New Orleans reunion, Alabama was represented by Miss Fannie Morrow, of Birmingham. She afterwards married Dr. George Brown, of this city, but died in a prime of her young womanhood a few years ago.
Confederate reunion maid and maids of honor 1917 in Memphis (Library of Congress)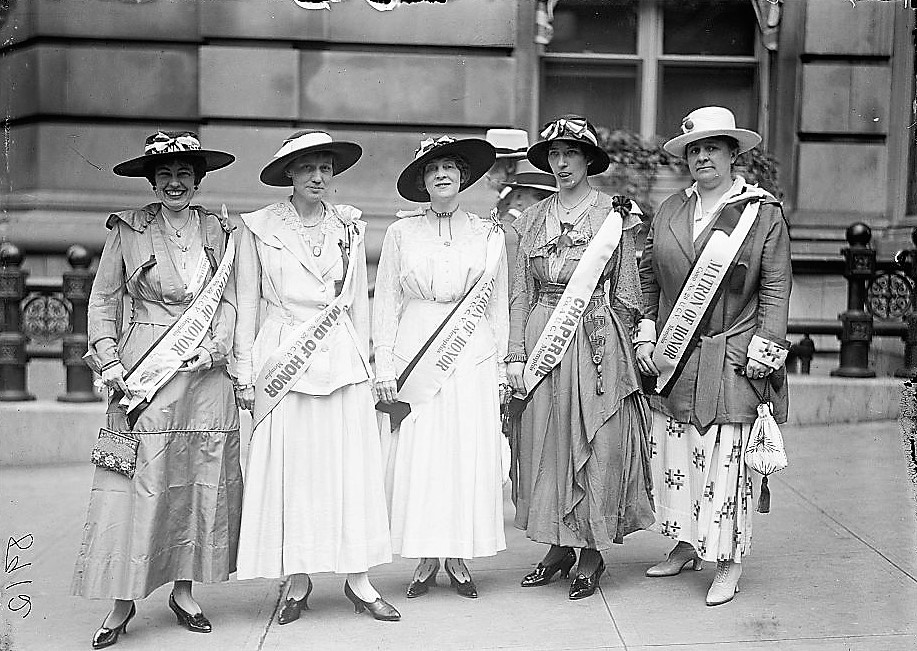 In 1894 at the Birmingham reunion, Alabama's sponsor was Miss Carried Cochrane, of Eufaula. She is now the wife of Bishop H. M. Jackson.
In 1895, at Houston, Miss Ella Nelson, of Selma, was sponsor.
Miss Mary Clare Milner, of Birmingham, represented Alabama at the Richmond reunion in 1896.
At the Nashville reunion in 1897, Miss Reble Berney, of Montgomery, was sponsor.
Last year, at Atlanta, Miss Lillian Roden, of Birmingham, was sponsor.
Miss Chisolm is the daughter of Major Robert Chisolm, of this city. Major Chisolm served with distinction all during the war in one of the South Carolina regiments and after the war resided in Charleston, which is Miss Chisolm's birthplace. On both sides of her family, Miss Chisolm is a descendant of the French Huguenots who settled in South Carolina in the early days of the colony. Her family has always taken a prominent part in the affairs of the Palmetto State.
Miss Chisolm is tall and stately, and is noted for her brunette beauty, and her brilliant coloring. At the reunion of 1894, which was held in Birmingham, Miss Chisolm was "Columbia" in the principal tableaux, and as such excited great admiration.
Miss Enslen is a Birmingham girl, and is the daughter of Eugene F. Enslen and the granddaughter of Christian F. Enslen. The Enslen family have always taken a most active part in the upbuilding of the district, and are among the most prominent citizens of Jefferson county. – New Era.
Vinegar of the Four Thieves was a recipe that was known for its antibacterial, antiviral, antiseptic and antifungal properties for years. It was even used to cure the Bubonic Plague. See Thomas Jefferson's recipe in

 
VINEGAR OF THE FOUR THIEVES: Recipes & curious tips from the past