In 1917, F,. W. Burpee simplified home canning methods by introducing an efficient Home Tin Can Sealer, based on the principles of commercial can sealing. It enabled women to seal tin cans quickly and easily, without the use of messy solders, wax or acids.
With a 1944 Model Burpee Simplex Sealer and a Burpee Aristocrat Pressure Cooker, it was possible to do home canning by packing raw, hot foods into sanitary tin cans, seal the cans airtight and process the contents in the cans under the proper steam pressure.  There were two models (two sizes) of the Pressure cooker – AR25 (17 tin cans) and AR1525 (25 tin cans).
In 1946, women were being encouraged to stop using glass jars and consider home tin canning as can be seen by this excerpt from a 1946 cookbook.
LET'S GET RID OF OUR HORSE AND BUGGY DAYS
" Those who have experienced the ease, fun, convenience, safety and better quality of TIN canning think this attitude compares to the person who owns a horse and buggy and hesitates to buy an automobile because he is already equiped with satisfactory transportation….The war (WWII) taught many women at home and men overseas that most everything we eat, particularly special favorites or combinations, can be done easily in tin cans. Salted nut meats – candies, and cookies and countless thousands of special dishes have been canned in tin cans and sent to the boys overseas."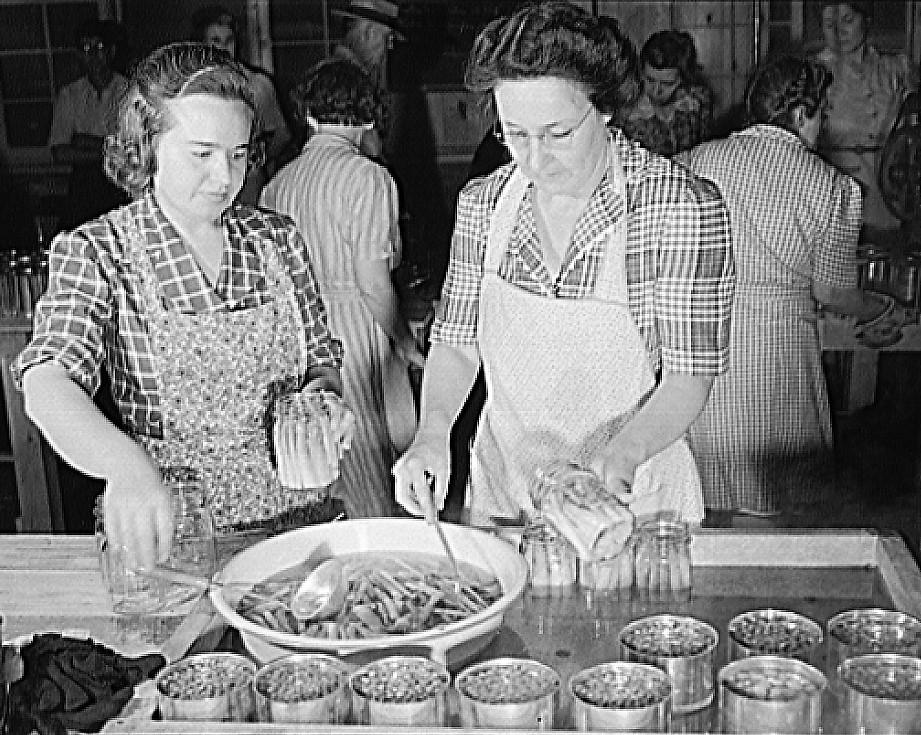 Community cannery, started by the WPA (Work Projects Administration) Women paid three cents each for cans and two cents per can for use of the pressure cooker. Photo 1943 by Howard R. Hollum (Library of Congress)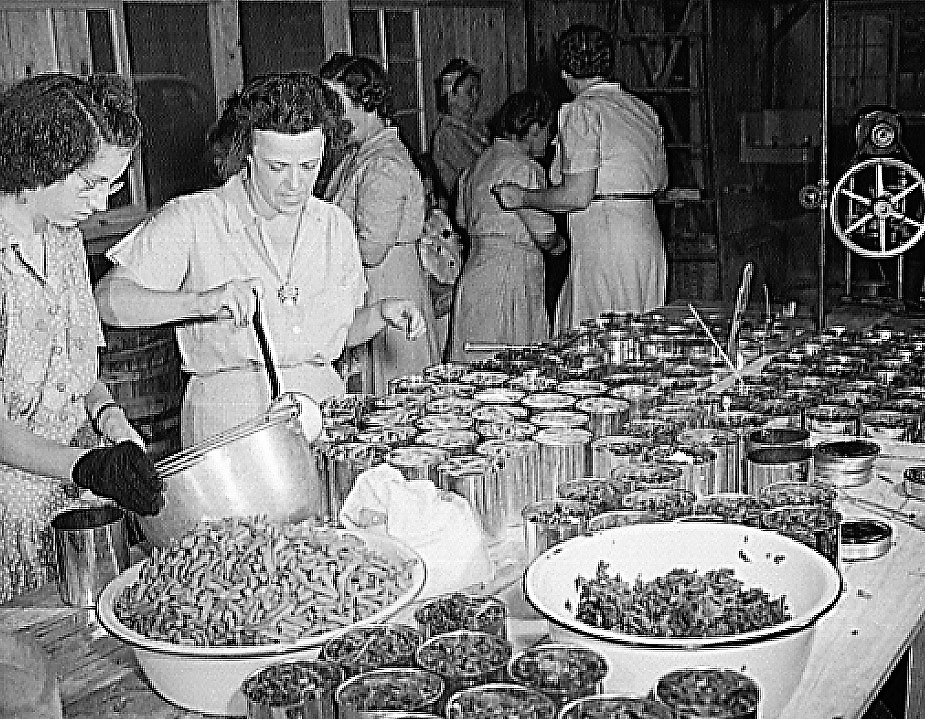 CANNING IN TIN
There are plenty of cans available for home canning. And there are different kinds.
PLAIN CANS – entirely satisfactory fo all purposes
ENAMELED CANS – Sometimes desirable for highly colored fruits and vegetables like beets, strawberries, raspberries, ect., Enameled cans are used only to retain natural color. Food value is in no way impaired by using plain cans which, however, have a tendency to bleach highly colored foods.
C ENAMELED CANS – Developed to prevent discoloration in corn. May be used for green beans, peas, red kidney beans, beets, succotash and hominy, but NOT for acid fruits or vegetables.
CAN COVERS
Each cover is lined either with a compound gasket or with a paper gasket.
The compound gasket is a rubber composition applied to the under side of the cover, and is not easily damaged by handling.
For home canning, however, the paper gasket is recommended. This is a ring of paper on the under side of the cover. Do not remove or handle the gasket. If it becomes broken, the cover must be discarded. DO NOT WET the paper gasket before sealing cans.
IT'S EASY TO FILL THE CANS
Be sure cans and covers are thoroughly clean and dry inside. Examine the can rims for possible dents, which should be straightened before using the cans.
Have the hot, strained syrup or brine ready when beginning to prepare the food.
Pack the food into the open top cans, being careful to preserve the shape of the fruit or vegetable. Fill can with boiling hot syrup or brine to within ¼ inch from the top, working out all air bubbles.
PROCESSING FRUIT AND TOMATOES
Put sufficient water in a wash boiler or larger vessel to cover the cans and bring to a jumping boil. Place the sealed cans in the boiling water, which will thereby have its temperature reduced. When the water begins to boil again, start counting the time and process as directed.
PROCESSING MEATS AND NON-ACID VEGETABLES
The only safe way is to use a pressure cooker. Put about 2 inches of water in the bottom of the cooker and stack in the sealed cans one on top of the other.
Close the cooker, let steam escape at least 7 minutes for AR25, 10 minutes for AR1525, then close control valve; and when the desired pressure is reached, start counting time. Consult Processing Time Tables in the back of this book frequently. Don't guess!
Unscrew the valve slightly to allow a small amount of steam to escape during processing. Be sure to have plenty of water in the cooker so that it will not boil dry. This will insure temperature that is indirectly indicated on the pressure gauge.
Temperature should be held uniform for the required time. Don't keep time "in your head." Use an alarm clock or mark it down on a paper.
When processing time is over, let steam out of cooker quickly by opening control valve.
OH SO EASY TO COOL TIN CANS
Slow cooling means over-cooking. Corn turns dark, fruits break down, tomatoes lose color and shape, juices become cloudy, kraut darkens, asparagus breaks to pieces, peas and beans turn starchy. With corn, peas, asparagus and beans, quick cooling is a great factor in preventing "flat sours.".
Quality canning calls for quick cooling and this is no trick when canning in tin. And, it is the biggest, single reason of canning-in-tin superiority.
As soon as the processing time is over, remove the cans and plunge them into cold water. Keep changing the water until the cans are cold – or set cans about six inches apart on a cement floor and do not stack them in piles until you are sure they are thoroughly cold.
Because of the pressure within, the ends of can should bulge when they are removed from the cooker. If they do not, examine cans carefully for defects. Cooling in cold water should cause the ends to collapse. If they do not collapse, force the ends in by hand.
LABEL YOUR CANS NEATLY
and
STORE YOUR TIN CANS
Stick on your own labels with egg white or use a piece of sealing tape large enough to go around the can.
Cans may be stacked one on top of the other, but should be stored in a dry place where an even temperature is maintained. Avoid places liable to freezing temperatures. Avoid places that are first hot, then cold, as temperature changes cause vapor to condense on the cans and rust may result.
SAVE THOSE EMPTY CANS
Tin cans may be used several times therefore should be taken care of between seasons. After emptying contents, wash cans with soap and rinse in hot water. Dry thoroughly with a towel or put in the oven, warming-oven or set in the sun. Store in a well ventilated place where they will be kept dry.
HOW TO KEEP CANS DRY IN DAMP CLIMATES
Strick crumpled newspaper into the cans and stack on shelves, open end up.
Stack cans on shelves with cardboard or corrugated board between each layer of cans.
Put in gunny sack and hang in attic or above the kitchen range.
Put cans in a box of unslaked lime on the floor of the storage room.
USE TIN CANS THREE TIMES
Notice the longer lap seam on the home can. This enables you to cut off the top, reflange and reseal cans without difficulty. All you need are new covers.
Commercial cans may be used, but reflanging and resealing are more difficult because of the four thicknesses of tin; so, always ask for cans for home use.
Canning Recipes from a 1946 cookbook….
CANNING FRUITS WITHOUT SUGAR
All fruits may be canned successfully for future use for jelly making, pie fillin, salads, etc., without the use of sugar, by adding hot water or hot fruit juice instead of the hot syrup. Sugar is not necessary to keep fruits; it is added to improve the flavor. Hot-water products can hardly be expected to be as good for sauce, either in texture or in flavor, as are those which are canned in syrup. But fruits canned in their own juices are often highly satisfactory, particularly if they are very ripe and sweet – a peach which is naturally high in sugar content may seem as sweet when canned without sugar, as does and acid peach canned in thick syrup.
ACID FRUITS
Some experimenters of fruit canning have been advocating the canning of acid fruits, such as gooseberries, cranberries and rhubarb, without cooking. However, there is no special advantage in this. While they keep, they must, of course, be cooked before they can be used, and it is preferable to do this prior to storing.
SYRUP FOR SPICED FRUIT
7 cupfuls granulated sugar
1 pint cider vinegar
1 pint water
Boil 20 minutes. Add fruit and boil until tender. To each can add 3 whole cloves, 3 small sticks of cinnamon bark. Fill cans with fruit, cover with hot syrup and seal.
May be used for peachers, pears, crab apples, watermelon, rind, apricots, and pineapple.
Spiced fruit juices may beused for seasoning baked ham or pork shoulder.
Apple Sauce
Use plain tin cans for canning
Second grade apples may be preserved in this manner. The apples should be cored and sliced steamed until done, and passed through a sieve. Add 1 cupful of sugar to each gallon of pulp, reheat until the sugar is dissolved, pack at once into cans and seal with Home Can Sealer.
Process in water bath for 12 minutes. Remove cans, cool quickly in cold water; dry, label and store.
Apples – Whole
Use plain tin cans for canning
Whole apples may be baked in their skins or they may be pared and cored and cooked in a medium syrup until clear and transparent; pack while very hot into cans: fill with hot syrup. Seal with Home Can Sealer.
Process No. 2 cans 10 minutes in boiling water and No. 3 cans 12 minutes in boiling water. Remove cans, cool quickly in cold water; dry, label and store.
Constructed of cast aluminum with heavy duty gear train.

Flywheel handle is easier to turn.

Configured to seal No. 2 can.

Contact seller for other can sizes.

Made in the USA