This spring weather makes me recall spring cleaning. Do you remember the ritual? The first warm, sunny week, my mother would say well, I guess it's time for spring cleaning. We all knew then that we were in for a lot of hard work.
First. all the large rugs were taken out and hung on the clothesline to have the dust beaten out of them.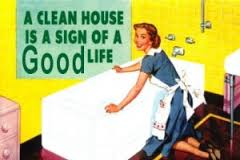 Washed from top to bottom
Mattresses were turned. Curtains were removed from the windows, washed, starched and ironed or sent to the cleaners. I especially hated the Venetian blinds. At our house, we washed them in the bathtub and hung them outside to dry. But they were always so heavy when they were wet. After cleaning them, my sister and I rushed through the house carrying them as fast as we could to hang outside. Invariably, we left a long trail of water from the bathtub to the back door and my younger brother and sister enjoyed sliding in the water until it was mopped up.
Not as much fun today
The next few days would be spent sweeping, dusting, scrubbing and polishing the house from top to bottom. During the week we opened all the windows to let in the fresh spring air to freshen the house. I have to admit, the house smelled and looked so good afterward and we spent a lot of time laughing at ourselves while we worked and we were so proud of the job we had done. Spring cleaning does not seem as much fun today in our air-conditioned houses.
Although the film below should make you appreciate today's modern conveniences.
RIBBON OF LOVE: 2nd edition – A Novel of Colonial America 

 – the true story of religion in America – by Donna R. Causey – 

Inspired by true historical events, Mary and Henry Pattenden flee to America to escape persecution –  It is almost impossible to put the book down until completion. – Dr. Don P. Brandon, Retired Professor, Anderson University