Interesting transcription of a story about Birmingham Moonshining From the Herald-Journal, Spartanburg, S.C.– April 9, 1935 by Robert H. Brown, Central Press Writer
Birmingham, Ala., April 8 –(1935)
One of biggest moonshining districts in the nation
I have just come from one of the biggest moonshining districts in the nation, located in a legally dry state which voted only a few weeks ago against repeal.
I went with a big-time bootlegger, one operating in the Birmingham market who has a moonshining plant in the hills. It was noon when we left Birmingham. The bootlegger said we would be back by 3 p.m. It was hard to believe that we could visit the biggest moonshining district in the state and be back in so short a time.
But good roads and fast automobiles have been as big a help to the bootlegging racket as to anybody. We sped over a paved highway at 70 miles an hour, and I understood immediately how the driver had repeatedly successfully evaded officers by clever driving. He simply sat there calmly smoking a cigaret, keeping alert eyes on the road, and sandwiched in and out between cars with an ease born of long experience.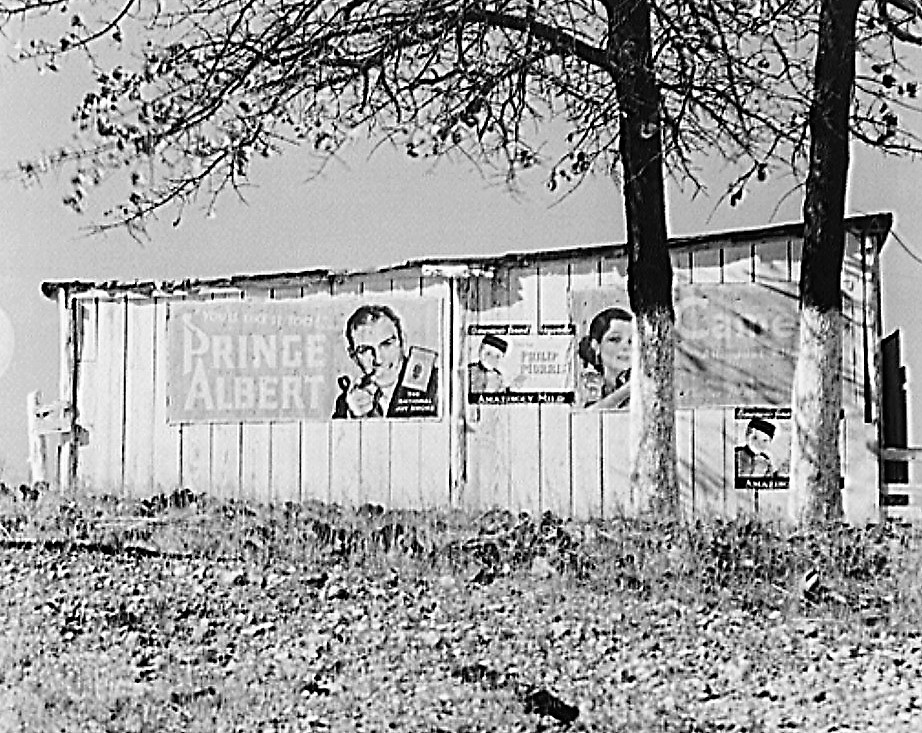 Alabama barn, 1935 by Walker Evans (Library of Congress)
Settlement of 'Shiners
Fifteen or 20 minutes after we left Birmingham we turned off into a dirt road in which he slowed down to 50 miles an hour. Ten miles further on, he turned again into a narrower and rougher road full of corkscrew curves.
I was admiring the little country lane and thinking of the peace and contentment the residents of the section must enjoy as compared to the hustle and bustle and noise of a city, when soon my companion remarked that about half of the houses we saw along the way were occupied by moonshiners.
"They're all mighty nice people though. They mind their own business and never interfere with other people's affairs. Nearly everyone has his own still, or sells liquor, he said.
"Now take that house over there. It isn't much to look at but the people who live there are worth as much money as some of the big shots back in Birmingham. It's run by an old woman who has salted away the dollars. She stands in well with the officers (probably pays them off), has been raided a few times but they've never caught her with anything. She's too slick for them," he added.
We were now entering Shelby County, which in the recent repeal referendum, voted 982 for modification against 1,400.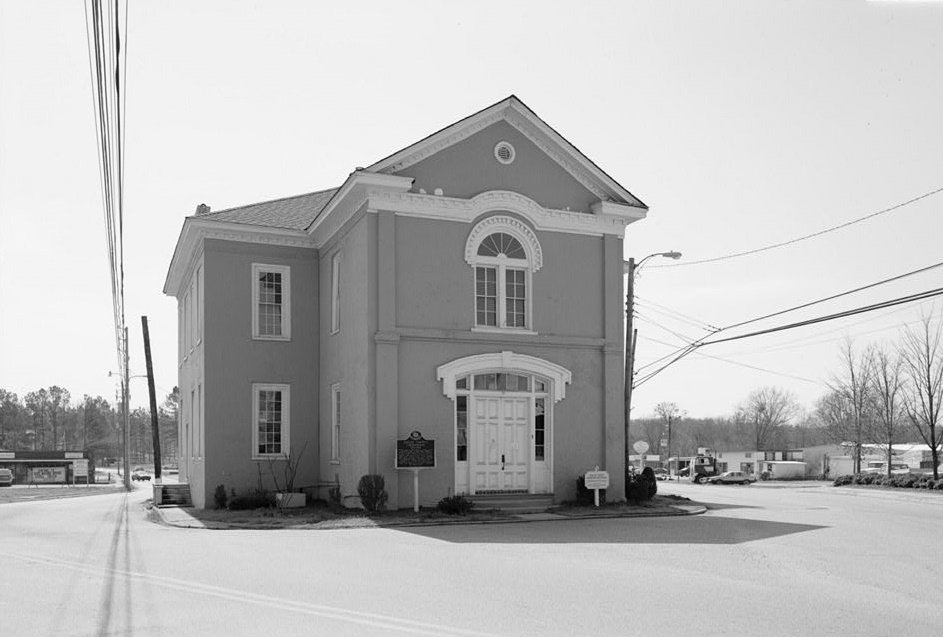 Old Shelby County Courthouse (Library of Congress)
Most Profitable Crop
This county has a reputation as being the "moonshingest" county in the state of Alabama. Every joke having to do with bootlegging in Alabama has a Shelby County twist. The principal reason is it adjoins Jefferson County (Birmingham), a big market for illicit liquor. Just how much liquor is manufactured in Shelby County no one can estimate, but it is certain its 'shiners are doing a big business.
And "liquid corn," made from cornmeal and sugar, is the most profitable crop these people can grow, it seems.
A half mile more and the driver said:
"Over there in those woods Federal agents wrecked a still yesterday. But there's three more close by they didn't find."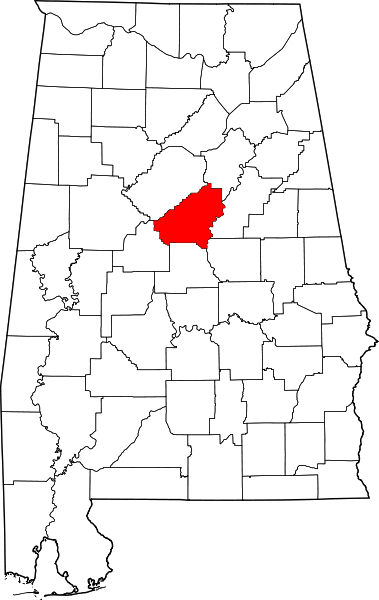 Big Bosses seldom get caught
We came to a farm house, and encountered one of the men who worked for this big-timer. These men who "work" for the big timers usually are the ones who take the "rap" when a still is raided. The big bosses seldom are "caught with the goods."
It's no easy task to operate a big still in the woods because they are hard to hide. Yet these boys are good at it. They have spent most of their lives in the vicinity; they know the little springs of water, the hidden spots in the hills, and a stranger can pass within two hundred yards of a still when it isn't operating and never suspect its presence. Revenue agents must spend weeks scouring a particular spot before it is located. Then they must remain undetected until the men arrive to put it in operation.
A man in his thirties comes from the farm house. My companion introduces me. He laughs, tells jokes and doesn't hesitate to talk of liquor and how business is.
A fair night's business
"I fell off the water wagon last night, Bill," he tells his chief. "Got good and tight but I sold 55 gallons of whisky so I had a good reason," he adds. Evidently, this was a fair night's business.
We were invited into his house where we met his wife and his three children, all boys. She sat calmly smoking a cigaret as we talked. The house was elaborately furnished for a farm house. Many a city housewife could envy her its comforts. A radio was playing softly.
There before the children who varied in age from four to ten, we talked of stills and liquor. The children could not help but hear but didn't seem particularly interested; evidently the conversation was not new to them.
Exporting White Mule
"We've had some big stills around these parts," the shiner said. And to prove it brought some pictures of stills.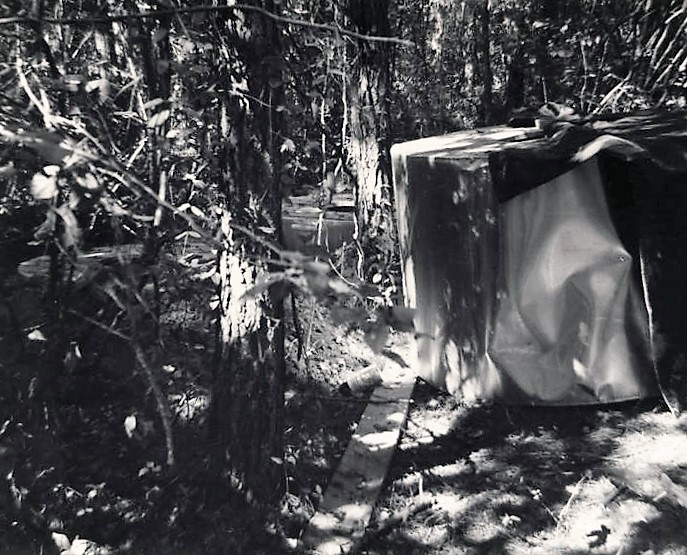 Liquor stills in Alabama ca. 1950s (by Photographer Roy Green, Jr. Alabama Department of Archives and History)
Pretend to farm
Time doesn't hang heavily on the moonshiner. He is a busy man because he must hold two jobs. First, he must pretend that he is farming or at least engaged in a legitimate business. If he doesn't the "Law" will get suspicious. But the man I visited had some time for reading — and his reading consisted of detective and western stories.
Automobiles are plentiful in the district. They are fine and fast cars, too. They have to be because their owners never know when, from some cross-road or some hidden spot, an officers' car will dart out after them. They can fix some officers, but not all. And they frequently move out of their immediate territory, for there is an export business in white mule, too, which extends into wet states. Many distillers have had to bring out close to "rot gut" concoctions, in order to compete in the price field in wet state with the illegal product. Word has drifted down here that Tennessee moonshiners are sending a lot of their product even into the East.
Cars purchased often
New cars are purchased often. Many of them are seized and sold for carrying liquor. When a liquor man buys a new car he has to plank down the cash because once he has a reputation as a liquor hauler his automobile credit vanishes. But auto dealers are close-mouthed: the raiders don't get information from them.
We visited three other families, looked over a still in operation, and sped back to town again at 70 miles an hour! The time on the clock as we hit Twentieth Street, Birmingham, was 2:30 p.m. Distance doesn't mean a thing to these men who make their living off a desire on the part of men and women for alcoholic beverages – law or no law.