Below is the Coast Guard cutter "Winona" and steamboat "Minnie Lee" transporting people from Mobile to attend the centennial celebration of the founding of St. Stephens, Alabama May 6, 1899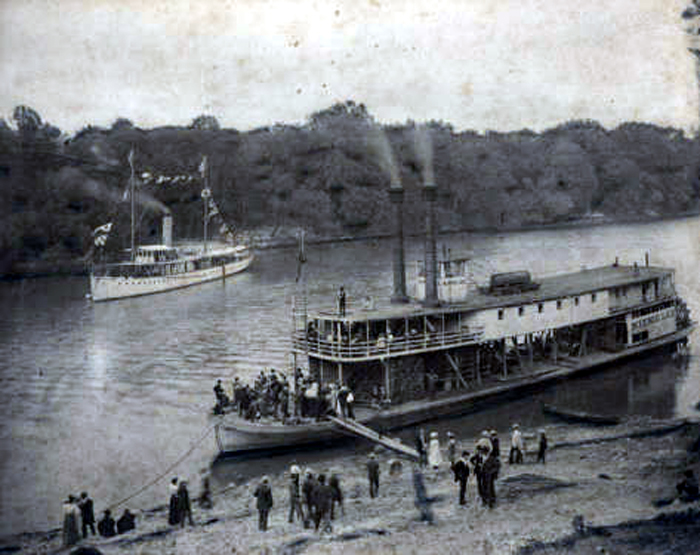 Reminiscences of Old Saint Stephens
By Miss Mary Welsh,2 of Shuqualak, Missi
(The following story was read at the Centennial Celebration, May 6, 1899. It was published in four installments in the Washington County News, St. Stephens, May 25, and June 1, 8, and 15, 1899.)
By Miss Mary Welsh, of Shuqualak, Missi
I have been requested to write some reminiscences of Old St. Stephens. To this I am nothing loth. I heartily echo the sentiment "Old books to read, old friends to converse and (not) old wine to drink," but old scenes to visit. And truly, oftener than any other locality, I visit in loving memory the dear old town; for within and around it cluster the happiest, brightest recollections of my early childhood, which have not in the least been dimmed by the varied experiences of long subsequent life.
The localities, events and people of the St. Stephens of more than sixty-five years ago are as present to my memory now as they ever were to my physical sight. They do not present themselves as I last saw them, just before the Civil War, when nothing of the old town remained but the rocks and hills and a few dilapidated houses; but as they were when I ran over those same hills in happy childhood with schoolmates, all of us as care-free as the robins that clustered in the many china trees and got drunk on their berries.
Sources Of Information
My sources of information for the facts I shall narrate are these: My grandmother, Mrs. Tabitha Gordy who came with her little children—my mother, the oldest, about ten years of age—to St. Stephens in 1812 or 1813. She came from Georgia in company with and under the protection of Col. George Fisher, who was moving his family to St. Stephens, in the then Mississippi Territory.
My father, George Welsh at St. Stephens in a company of Mississippi Volunteers, Capt. Archibald Wells, in 1812, for twelve months; was honorably discharged in 1813 at Fort Claiborne; afterwards served for three months; married Sallie Gordy, daughter of Mrs. Tabitha Gordy, and settled at St. Stephens. From these two I learned many things that occurred, and the names of many citizens of the old town before my day and recollection. I was born there Nov. 9, 1823, and there spent the first ten years of my life.
In the winter and spring of 1841 I spent several months there on a visit to my aunt, Mrs. James S. Malone, and my uncle, Elijah Humphries Gordy In 1857 or 1858 I again visited them at new St. Stephens, and during the visit spent one day of sad, sweet pleasure in wandering about the places so dear to my heart. These, coupled with a few scraps of recorded history, are my sources of information. Small, it is true; but if I can contribute ever so little towards rescuing the old place from utter oblivion, or cheer the heart of any one who has ever had any ties there, I shall be happy to do it. So friends of the dear old town
"We'll have a word o' kindness yet,
For days o' auld lang syne."
Location is excellent
To begin with, the situation was an eligible one, at the head of the then navigation of Tombigbee river. Romantically beautiful or beautifully romantic, as you please, as may be seen yet. A pleasing succession of hill and dale, covered with immense forest trees and waving grass, blooming with native flowers and watered by numerous springs of purest crystal water bubbling up through sparkling sand, and fanned by gentle breezes from the historic Tombigbee, it promised a fair reward to the enterprise, energy and intelligence of the Americans who took possession upon the evacuation of Fort Saint Stephens by the Spaniards in 1799.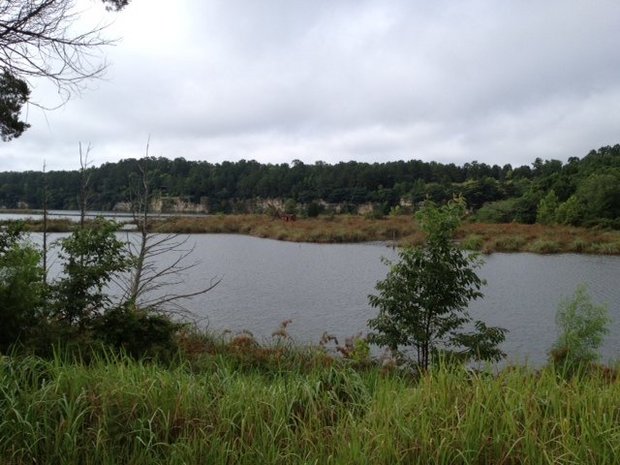 They evidently thought so, for in 1807 lots were laid off near and around the old fort, and a town commenced, which grew rapidly after the close of the war of 1812-15. Many wealthy people bought lots and erected residences; others settled around in the country. Large sums of money were invested; and in trades, professions and industries of all kinds it soon became the peer of any new city of the time. As to the limits of the town the ruins scattered here and there over the hills testify. It grew rapidly; but alas! alas! like many things of rapid growth it died young.
CAUSES FOR ITS DOWNFALL.
Several causes have been assigned for its death. Some attribute it to the extension of navigation to points above; this alone is not a sufficient reason, but it is usually coupled with an explanation as to the poverty of the surrounding country. Certainly, the resources of the country had not then been developed, and the opening up of the river-really did mark the beginning of its decline. Some affirm that it was owing to the unhealthfulness (sic) of the locality; and that may have operated to some extent.
Others again assert that it was doomed on account of the Godlessness of the citizens.ii Well, in its balmy days it was a very gay place. I hope not so heinously wicked as some aver, but an exuberant, thoughtless gaiety pervaded all classes and conditions of society. A theateriii flourished, balls were frequent, and there was a prevailing indifference to anything that savored of religion. A few, doubtless, a very few, read their Bibles and sang hymns, but they were the exception.
There never was a church building, nor even a church organization, in the town, nor for miles around it. There was no provision made for regular religious services of any kind. On rare occasions a minister would make an appointment there and preach, but always in a schoolroom or in some private residence that might be courteously tendered him for the occasion. They were either Methodist or Baptist preachers. I recall the names of only two, Rev. Mr. Linsoniv, Methodist, who early left the country, and Rev. William Shoemakerv Baptist, who lived in the hills not far away.vi I grieve to record this of my native place; it wounds my heart in its tenderest feelings; but truth requires it.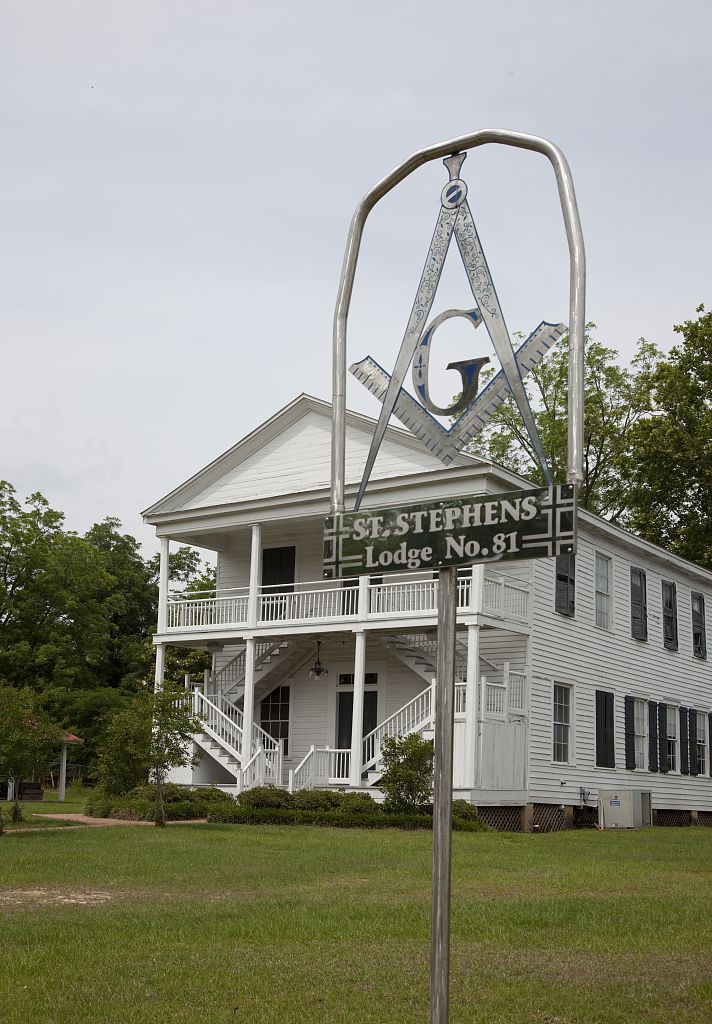 Old Washington County Courthouse, St. Stephens, Alabama (Carol Highsmith 2010 Library of Congress)
Now whether any one of these conditions caused the downfall of Old St. Stephens it is not my province to assert, but let me venture the opinion that all of them combined to produce the result; for all of them existed and they were certainly enough to kill any place. One cause of the desolate appearance of the town even in the early days of its decline was doubtless peculiar to St. Stephens, for scarcely any other people would have tolerated it.
There was no demand for houses and lots in a town whose death knell had been sounded; so many of the owners just abandoned them when they left. Now and then, so the story goes, the citizens, presumably the younger and wilder element, would, in a spirit of reckless frolic, set fire at night to an abandoned house just for the fun of seeing it burn. Wanton fun truly! and a shameful waste of good material. But the owners made no protest, and they kept it up till they destroyed all abandoned wooden buildings. This accounts for no wooden material ever being found about the many cellars. It would have decayed in course of time it is true, but it never was present; the debris has always been brick and stone and glass.
CHARACTER OF BUILDINGS
Judging from the character of the buildings, the early settlers had no anticipation of such a fate ever befalling the town. They seem to have been built for all time; mostly of brick or rock quarried from the hills near by in blocks smooth and white as marble; the foundations were laid and the cellars walled up of the same durable material.6 In one respect the expectations of the builders have not been disappointed; the massive ruins will doubtless remain through all future years, testifying to the wealth, enterprise and public spirit of the founders of Old St. Stephens.
Many of the houses were furnished off with a half story, with dormer windows; but the customary hall through the center—such a necessary feature in a southern climate—was absent. I remember no house in town and but one in the country that had this comfortable feature. Many of the business houses had rooms in the rear and above the stores for family use.vii
This was the town's only suicide
Streets were paved with the same durable material, brick and stone. Coming up from the river about a half-mile from the landing a street turned to the north and formed the principal thoroughfare of the town; the one that longest survived desolation. In 1857 this street was still open, marked by the ruins of houses and shaded by the old china trees. Now for a little episode. Near the northern end of the town a road diverged from it leading through a beautiful glade always pleasant to travel. It was a lovely spot, but it contained the one horror of my childhood.
The grave of a suicide unmarked, abandoned by all except the singing birds, the waving grass and the shadowing trees. But it possessed a weird attraction for us—the school children. To the glamour that hung over the deserted grave was added the horror of the deed itself. We did not call it suicide; that word was not in our vocabulary; to us he was "the man that killed himself," and that expressed to us the horror of death and murder combined.
This was not the nearest way to our homes, nor the only pretty play place in the vicinity, but we frequented the spot drawn by the irresistible attraction that all such places have for children. Such a deliciously eerie feeling would creep over us as we entered the glade; for in our simplicity we believed there was something uncanny in that grave that might pop up at any moment. Not one of us but secretly wanted to "be there" when the popping up occurred, but cautiously we would pass by on the other side of the road, talking in whispers, bonnets in hand – ready for a stampede on the least appearance of motion about the grave.
"Glow'ring 'round with prudent cares;
Lest bogies catch us unawares;"
We never learned his name, but the story of the deed, as told us, was that he stabbed a man (not fatally) on the streets and immediately took flight, an officer with his posse followed ; as they neared him, he cut an artery in his arm and died in a few minutes. He was buried where he fell.viii  This was St. Stephens' only suicide, and I never knew of but one murder within its limits, and that was committed long after it began to decline. So the old town was not so very bad after all that has been said.
iMiss Mary Welsh, daughter of Capt. George Welsh (son of Wm. Welsh and Jane Thompson) and his wife, Sally Gordy (daughter of Elijah Gordy and Tabitha Melson), was born at St. Stephens, Nov. 9, 1823. The Welsh family is Irish, coming from Penn. to Buncombe Co., N. C and thence to St. Stephens. The Gordys are of French origin, and came from Delaware to Clinton Co., Ga. In the thirties Miss Welsh's immediate family removed to Mississippi. Her "Reminiscences" give the facts of her early life. She has been a professional teacher, newspaper writer, and Assistant Superintendent of the Confederate Orphans' Home at Lauderdale Springs, Miss. After a long life of useful labor and effort, she now lives quietly at her home full of pleasing memories of men and things of "ye olden time" in the first settled regions of the State.
iiThis is the popular reason, but its specific ground or origin is unknown. The town was "doomed" before real order could be established. Protestantism was long in obtaining a hold in other parts of the State, as well as here. The real causes of its downfall are purely economic, and easily traceable. See West's Methodism in Alabama (1893), pp. 27-105; and Riley's Baptists of Alabama (1896), pp. 16-26.
iiiIn the Halcyon, Jan. 18, 1819, there is an announcement that at the "New Theatre," Saturday evening next will be presented the comedy entitled "The Point of Honor," and the farce "Fortunes Frolic." The issue of May 17, 1819, states that the "Thespian Company" on May 24 will present "She Stoops to Conquer," to be followed by "the Tragic Burlesque Opera of 'Bombastes Furiosa.' " Admittance is $1.00; performance begins promptly at 7:30 p. m.; and "smoking in the theatre [is] positively forbidden."
iv'MR. LINSON removed to Clark Co., near Suggsville, and it is said, fell from his high calling
v. MR. SHOEMAKER died in Washington Co. See Ball's Clark County, p. 347, for an amusing reference to the SHOEMAKER family, composed of 24 children, all of one mother.
vi'"The bluff at St. Stephens on the Tombigbee River about one hundred feet in height, exhibits both of the commonly occurring phases of the White Limestone, viz, the middle and lowermost The uppermost 70 feet of this bluff consists of the soft white limestone which is extensively quarried for building chimneys."—Smith and Johnston's Tertiary oiid Cretaceous Strata of the Tuscaloosa, Tombigbee and Alabama Rivers (1883), P.22
viiDavid Brantley was one of the early brick and stone masons, and died in the early forties.
The old tanyard, about a mile from town was owned and run by Walker Bailey.
viii Supposed to have been a man named Gilmer, his intended victim being Judge Wm. Crawford. See Note at conclusion of this paper for additional facts.
Check out genealogy  books and novels by Donna R. Causey
Would you like to know Thomas Jefferson's recipe for Vinegar of the Four Thieves or how to make Ox Tail Soup? Discover this recipe as well as many household tips from the past in 

VINEGAR OF THE FOUR THIEVES: Recipes & curious tips from the past

 

   

Now in paperback, makes a great gift!