(The following news article was transcribed from the Birmingham Iron Age published on March 12, 1874, reveals the discontent in the South after the Civil War. Much can be read between the lines about the emotional state of citizens from this news article. Tuscaloosa had been hard hit during the Civil War when the University of Alabama campus was burned by Union invaders.)
Tuskaloosa
We have thought heretofore that the "City of Oaks" was a quiet, moral place, but just read the following from the Blade of the 5th inst. Nothing half as bad as that has ever occurred in Birmingham:
Saturday night was made hideous by a crowd who got together on the streets and amused themselves firing pistols and making the devil to pay generally. It seemed to be an impromptu affair, caused by the arrest of the distinguished, drinking Whatley, by policemen Murphy and Purcell. It appears that the frolicking crowd to the number of forty or fifty fellows, determined to have some sport by rescuing the sacred, idolized Whatley from the desecrating hands of the two policemen, and they accordingly accomplished the daring feat amidst infernal noise and considerable tumult, and Purcell and Murphy were in turn, arrested by Whatley's numerous reinforcements.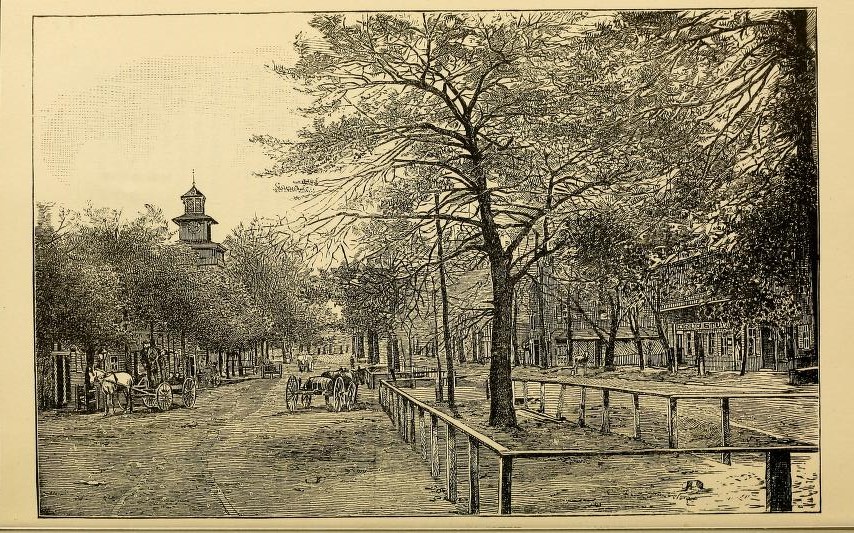 Tuscaloosa Street 1887 (Library of Congress)
We understand that the handsome Purcell was somewhat disfigured in the unequal conflict. On the whole, we think, really, that full grown men have little to do on Saturday nights, when they spend them thus, to the annoyance of the quiet, industrious portion of the community. An idle brain is well said to be the devil's workshop. People who do nothing all day are very prone to prowl about for mischief at night. Employment is what the men of this city need, and should have.
Purcell says that the crowd was composed of members of all the churches, Masons, Odd Fellows, Glee Clubbers, Ku Klux, Good Templars and Grangers. MaGowen, of course, was snug in "his little bed," and did not take part in the defence.
SOURCES
TRANSCRIBED FROM EARLY IMMIGRANTS to SOUTH ALABAMA(From: The Great Southeast or Clarke County and its Surroundings, pub. 1882 by Rev. T. H.

Ball)