CEMETERY NEAR LAKE LORRAINE AND ROBERTSON CEMETERY IN NORTHPORT, ALABAMA
(Transcribed from – The Alabama Historical Quarterly, Vol. 04, No. 04, Winter Issue 1942)
OLD CEMETERY AT LAKE LORRAINE, TUSCALOOSA, ALA
Sacred to the memory of David Johnston. He was born in Ireland in 1784, was brought in infancy to this country by his parent, was married in Fairfield District, S. C. in 1815, removed to Tuscaloosa in 1819, and died November 6, 1850,
In memory of John D. Johnston, who was born on the 3rd day of February 1824, and departed this life 20th of November, 1849.
Sacred to the memory of Mary Eliza Johnston, born December 26th, 1825, died September 15, 1831.
Melissa P. Johnston, born January 13, 1835, and died May 26,1851.
In memory of Harriet Catherine Johnstone, born July 3, 1830 died April 24, 1843.
Sacred to the memory of Hinchey Mitchell, who departed this life August 28, 1820, in the 48th year of his age.
Sacred to the memory of Jabez Mitchell, born April 5, 1802, died March 18, 1845.
Sacred to the memory of Zadock Mitchell, who departed this life November 17, 1825, in the 24th year of his age.
Sacred to the memory of Mrs. Sarah Morrison, who died May 22, 1844, aged 24 years.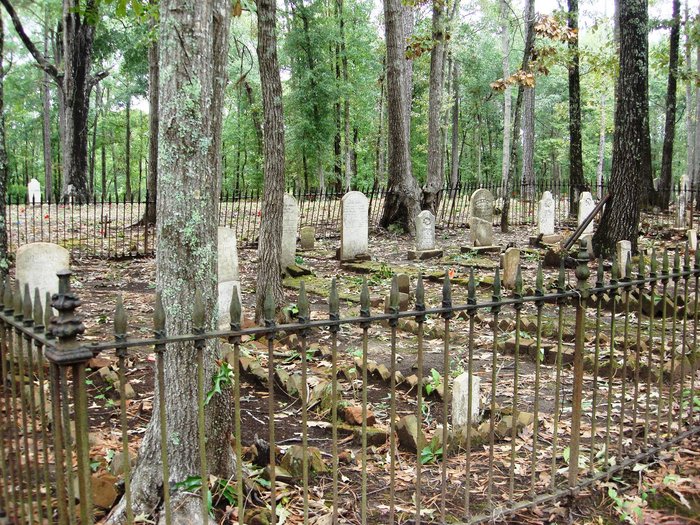 Old Northport Cemetery also known as Robertson-Sloan cemetery, Northport, Alabama (Findagrave.com – photo by Lackey Stephens)
ROBERTSON'S CEMETERY, NORTHPORT, ALABAMA
Erected to the memory of Margaret Burns, consort of Wm. V. Burns, who was born November 15, 1809, and departed this life August 14, 1829.
Sacred to the memory of William Findley, born October 7, 1808, died July 28, 1836. Friends think of me as you pass by, As you are now so once was I, As I am now so you must be, Then stand prepared to follow me.
In memory of Isaac Lee, who was born in the State of North Carolina about the year 1776 and died June 2, 1856. He was a man of the strictest integrity of character and by his general upright course won the esteem of all who knew him. He was in the army with General Jackson in the Indian War and participated in the battle of Horse Show. In peace he gathered to his father's. This stone is erected by his surviving widow.
Nancy McLester, born in North Carolina, July 7, 1776, died February 16, 1844.
M. Mitchell, Consort of G. W. Mitchell, born November 26, 1808, died February 11, 1839.
Sacred to the memory of Judith Nicholls, who was born May 15, 1793 and departed this life June 8th, 1830, aged 37 years and 21 days.
A. Winn, Sr., born April 26, 1769, died December 23, 1836.
ALABAMA FOOTPRINTS Pioneers: Lost & Forgotten Stories
 

includes the following stories
The Yazoo land fraud

  

Daily life as an Alabama pioneer
The capture and arrest of Vice-president Aaron Burr
The early life of William Barrett Travis, hero of the Alamo
Description of Native Americans of early Alabama including the visit by Tecumseh
Treaties and building the first roads in Alabama.