Style of Dress in Early Times
(Lawrence County, Alabama)
by
Col. Edmond Saunders
written ca. 1890s
The young men in full dress wore blue cloth coats with metal buttons and swallow tails, and vests sometimes embroidered on the edges. The pants were tight about the hips and knees and loose below—of cloth in the winter and linen drill in the summer, with all the flap all in one piece. The boots sometimes had brass heels which were highly polished when the wearer was going into company. The hats were stovepipe.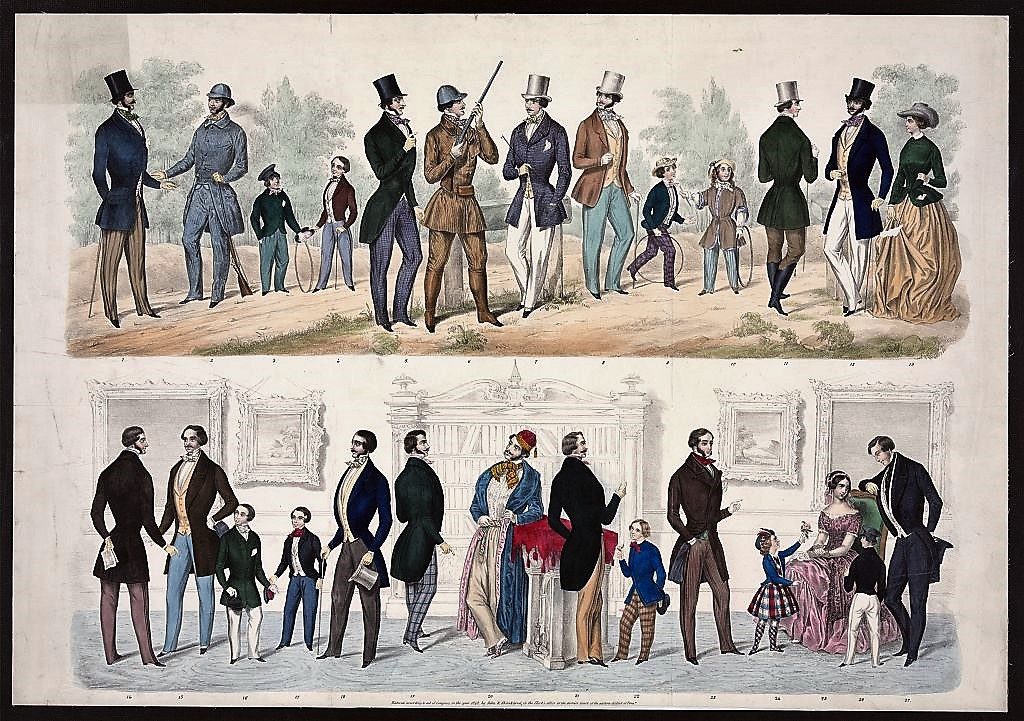 Shankland's American fashions, 1849 (Library of Congress)
Clean-shaven faces
The face was clean shaved except that the more mature beaux sometimes wore short sidewhiskers, not of the Englishcut, which hang down like the ears of a hound. The refined taste of your grandmothers would have revolted at the sight of a young man's face covered with beard; nor is there any excuse in this age for it when we have finely tempered razors. At all events the lips should be kept free from beard for the two great purposes for which lips were made.
Dresses were of natural length
As to the fashions for ladies I was afraid to venture, but called a committee of Ancients, whose report I "have adopted." The dresses had waists of natural length (they had been very short a few years before). They were pointed before and sometimes behind.
The skirts were gored and tight, eight yards being sufficient for a dress; it was trimmed with festoons of satin or else a fly was worn over the dress, which was gracefully rounded from the waist, and the margin of the fly (sometimes called a tunic) had lace or edging on it.
Sleeves were mutton legs, tight at the wrist and very full at the shoulders, supported there by some stiff substance. Dress material in winter was silk or Canton crepe, and in summer, gauze, muslin or ginghams.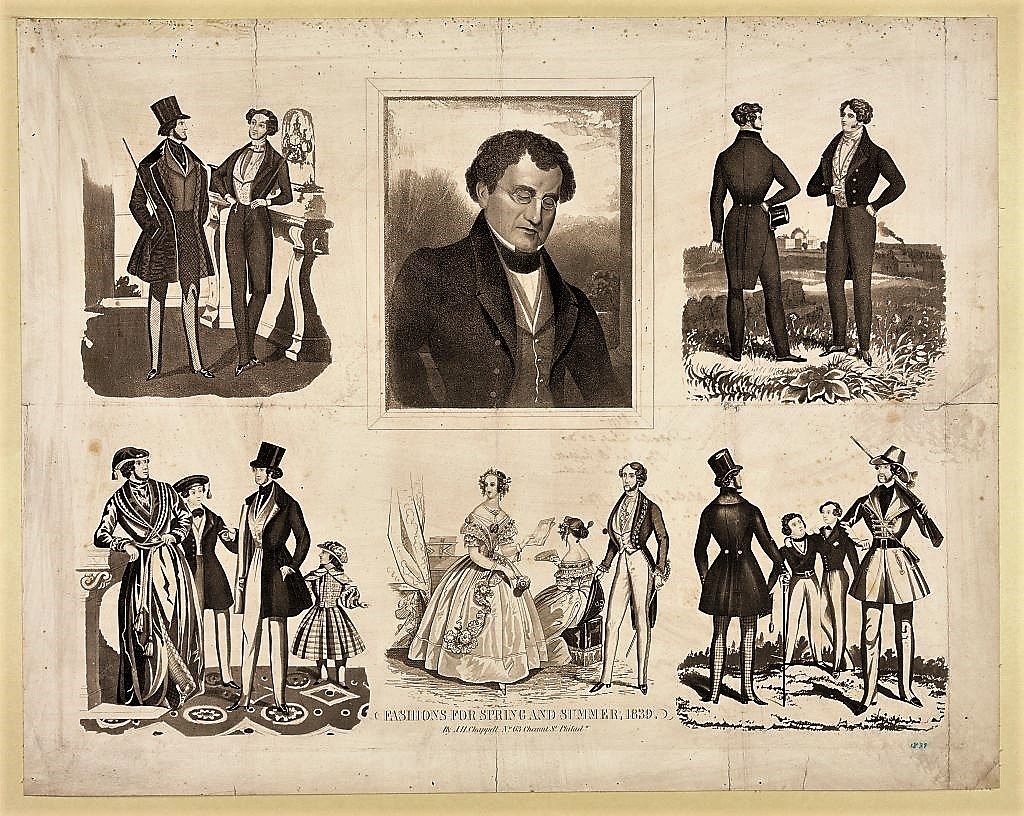 Fashions for spring and summer, 1839 (Library of Congress)
The hair was rolled on a cushion upon the top of the head. Shoes were Prunellas. Bonnets were Leghorn flats looped up on one side and a long white ostrich feather waving over it. Very large tortoise shell combs were worn—carved and costly.
I have said before that the early settlers brought with them all the means of civilization. But their houses they could not bring. For many years, these (even in the richest families) consisted of two log cabins divided by a hall, and low attics above, in one of which the girls performed the mysteries of the toilet. They could stand straight, only when in the middle of the room, and in spite of these drawbacks, when the girls would descend in full dress, they would look as lovely as Venus stepping from a rosy cloud.