On December 8, 1937, this curious story was reported in The Tuscaloosa News from Huntsville, Alabama.
SISTERS ADMIT MARITAL FRAUD
Three Confess They Obtained Money, Clothes, Rings From Prospective Husbands
Huntsville, Alabama Dec. 8 (1937) (AP)
Three Alabama sisters, charged with using the mails to defraud in connection with 'fake marriage' proposals, pleaded guilty in United States district court here this morning.
Judge John McDuffle of Mobile, presiding in the absence of Judge David J. Davis, of Birmingham, was expected to pass sentence on them early this afternoon.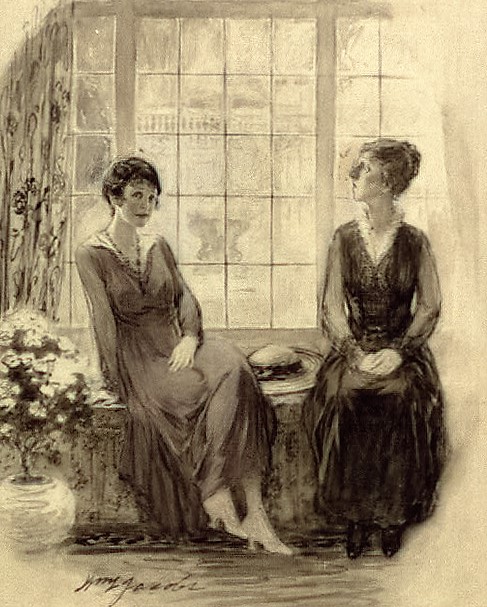 Why, Helen, I think eleven proposals in one week is positively immodest -ca. 1917 by artist William Leroy Jacobs (Library of Congress)
The three sisters, Frances Reid, 18; Ella Izelle Reid, 27; and Mrs. F. S. Barley, 32; were charged with obtaining money, clothes and rings from men in various states throughout the country by a "scheme thorough which they obtained proposals of marriage from these men after inserting an advertisement in a magazine publication."
Ten out-of-state witnesses, said by Assistant District Attorney Jack McGuire to have been "victims" of the scheme, were in the courtroom to testify against the defendants. Names of witnesses were not divulged immediately.
A fourth sister, also indicted on the same charge, is confined in an Alabama insane hospital, McGuire said.
The sisters lived on Route 2, Athens, Ala.
FreeHearts: 2nd edition A Novel of Colonial America
 Col. John Washington (ancestor of President George Washington), Randall Revell, Tom Cottingham, Edmund Beauchamp ward off Indian attacks and conquer the wilds of Maryland's Eastern shore in 17th century colonial America in this historical novel, inspired by true events.
FreeHearts: 2nd edition A Novel of Colonial America