From the (Florence) Times Daily July 14, 1894
BOWMAN IN TEXAS = He Was Indicted There For Forgery.
From the (Florence) Times Daily July 14, 1894
To the Wetumpka Times-Democrat:
I have just noted a dispatch from Birmingham, Ala., to the St. Louis Republic detailing the circumstances of the killing of the nineteen-year-old son of ex-Mayor Jeffers, of Birmingham. His slayer, P. G. Bowman, was a practicing lawyer here about ten years ago and married while here. He was indicted by the grand jury of the county for forgery and, by a timely movement escaped.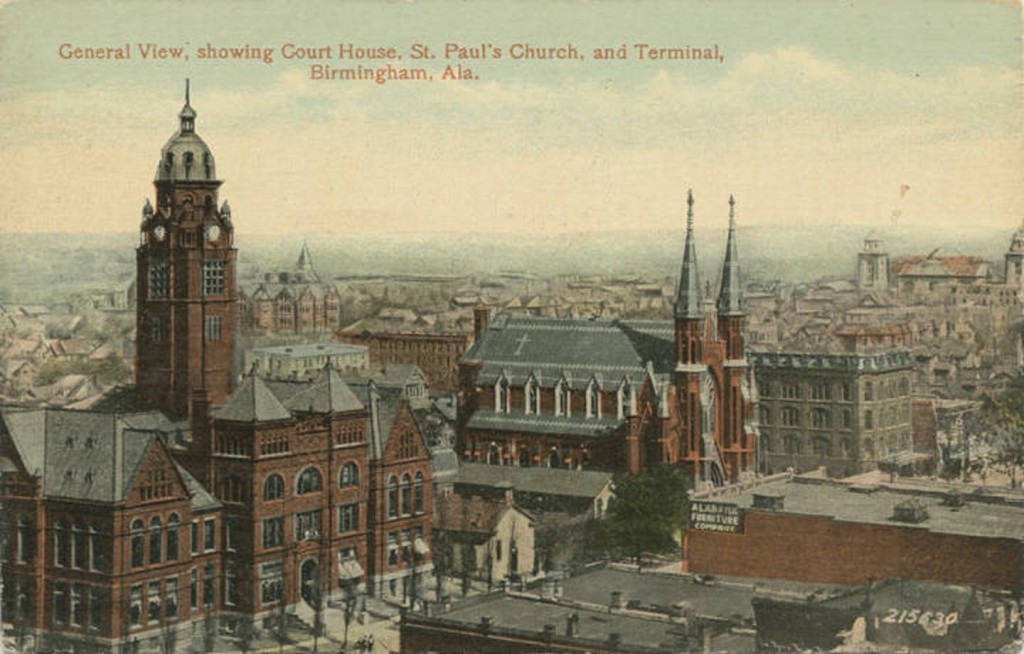 General View, showing Court House, St. Paul's Church, and Terminal, Birmingham, Ala. (Postcard, Alabama Department of Archives of History)
Glad of his escape
His wife's people were about as glad of his escape as he was himself, but not for the same reason. His character and methods had grown to be such a thorn in their side that they were relieved by his absence— they want him gone, and forever.
These indictments are of record and can be seen by any one who choses (sic) to look for them. Having been in the office of the state's attorney some time I naturally could come across them frequently. And this man, with such career, now kills a nineteen-year-old boy.
Verily, it does seem that the Kolb contingent are led by some very bad men. His party seems to be the asylum of all the convicts and ex-indicted politicians who could not lead the organized Democracy. The eyes of the good men who are following Kolb will be opened by this last act in Bowman's career: and, like Titania, they will exclaim, "Methinks I was enamored of an ass." I have no direct interest in your politics, but my many friends there have and for their sake I drop these lines.
L. B.
San Antonio, Texas June 15, 1894
In this action packed novel depicting true events the family saga continues with Ambrose Dixon's family. George Willson witnesses the execution of King Charles II and is forced to leave the woman he loves to witch hunters in 17th century England as he flees to his sister, Mary, and her husband Ambrose Dixons home in Colonial American. Ridden with guilt over difficult decisions he made to survive, George Willson and the Dixon's embrace the Quaker faith which further creates problems for their existence in the New World.