Biographies of the Delegates to the Alabama Secession Convention
Part III- 1
John S. Brasher
Blount County
Although little is known of his family, John S. Brasher was the grandson of a soldier of the American Revolution. He was born near Yellow Leaf Creek in Shelby County, Alabama, on December 29, 1820, but the identity of his parents is unknown. A Methodist minister, he held several charges in Blount County, Alabama, and adjacent areas. His objection to secession was so strong that, according to rumor, he was forced to flee to the North for protection during the war. The only information available about Brasher's children shows that he had one son, John L., who was born in Etowah County, Alabama, in 1863. This son was also a Methodist preacher who at one time lived at University Park, Iowa. Brasher died in 1886, but it is not known where his death occurred.
NOTE: Findagrave.com memorial 37237079 indicates that he is buried in Etowah County, Alabama and had more children.
William McLin Brooks
Perry County
Judge William McLin Brooks, ca. 1860 (Photographer Clary, J. W., Selma, Alabama, Alabama Department of Archives and History)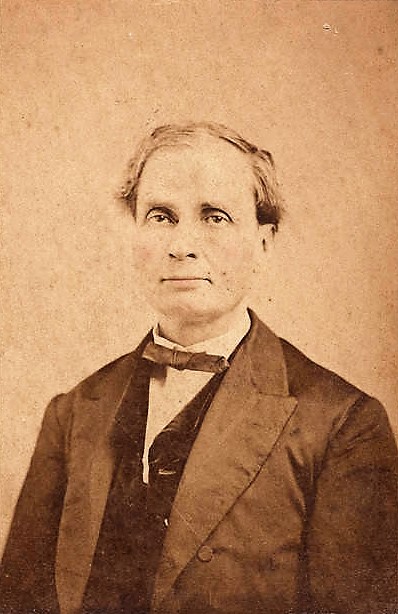 Destined to play a large part in the withdrawal of his adopted state from the Union, William McLin Brooks was born in Sumter District, South Carolina, before Alabama became a state. A son of William Middleton and Elizabeth Wiche Brooks, he was born in 1815 of the English stock who espoused the cause of the colonies during the American Revolution. Brooks received his early schooling in a preparatory school in South Carolina and was attending the South Carolina College at Columbia when he had to return to Alabama and assume charge of the family estate because of the death of his father. Continuing with his literary and legal studies, he was licensed to practice law in 1838. He opened a law office in Linden, Alabama, and, while there, he was associated with William Robinson and William M. Boyd. In 1840 he was elected solicitor of his judicial district and was reelected again in 1844. From the solicitorship in 1846, Brooks went to Mobile and began the practice of law with A. R. Manning. The yellow fever epidemic caused him to move from Mobile to Marion, Alabama, in 1853. In 1857 Governor John A. Winston appointed him to the circuit bench to fill the vacancy caused by the resignation of Governor-elect A. B. Moore; a few months later he was elected to the same position by the people of the circuit. Subsequently, he resigned from the bench and formed a law partnership with Colonel Warren Garrott.
Judge Brooks was considered one of the three foremost lawyers in the state. An anecdote to this effect is told of a Perry County preacher finishing his plea for the sinners with the statement: "Remember, when you die, not even Brooks and Garrott will be able to save you from hell." A delegate to the Democratic Convention at Charleston in 1860, Brooks withdrew with the Alabama delegation in protest to the nomination of Douglas. During the war, he was chairman of a committee to provide sustenance for dependents of Confederate soldiers, especially those non-slaveholding families of the hill section around what is now Birmingham. When men of his age were being accepted for military service in 1864, Brooks enlisted and was elected colonel of a regiment of reserve troops. Garrott was killed during the war and his place in the law firm was taken by A. B. Moore. Moving to Selma in 1866, he practiced law with John Haralson until he went to Birmingham twenty years later as the senior partner in the law firm of Brooks, Bush and Vary. One of the outstanding lawyers at the Supreme Court bar in the history, of the state, Brooks died on October 27, 1894. His profound and clear thinking as shown in his writings on slavery still attracts the attention of students of history. After his death, one of the Birmingham newspapers eulogized him and stated that "his commanding talents were always devoted to the cause of justice, truth and his country." His first wife was Ann Eliza Terrell of Dayton, Marengo County, Alabama. After her death, he married Annie E. Thomas of Virginia. The children were William Terrell, Julia, Frank, Richard Leonidas, Fanny, Henrietta Julia, and Ida. One of his sons was an officer in an Alabama regiment during the war. Judge Young and Hon. William Fluker of Marengo and Mr. John Vary of Perry married sisters of Judge Brooks. (See Letter Dated May 13, 1861, from William M. Brooks to President Jefferson Davis Regarding Twelve Months Volunteers from Perry County, Alabama)
ADDITIONAL NOTES:
WILLIAM MACLIN BROOKS was born on October 15, 1814, in Sumter District, South Carolina. Brooks was educated at South Carolina College at Columbia and read law in Alabama, entering the legal profession officially in 1838. While he was at Columbia College, his parents moved to Alabama and settled in Marengo County. A month after his father died, young Brooks was called from his studies to take charge of the estate and to provide for a widowed mother and her seven daughters. Notwithstanding these obstacles, he read law and was licensed in 1837. He opened a law office in Linden, Alabama in Marengo County where he associated himself with the county's most notable lawyers. At one time he was associated with Judge Byrd. In 1840 and 1844, he was elected solicitor for that judicial district. In 1842, Brooks successfully convicted William H. Jones for murdering his slave Isabel. In 1846, Brooks moved to Mobile, and where he associated with Hon. A. R. Manning, but left that city during the yellow fever epidemic of 1853, moving to Marion, Alabama. Shortly after arriving in Perry County, he was appointed Circuit Judge by Gov. Winston to fill the vacancy created by Hon. A. B. Moore's resignation, and the ensuing spring he was elected by the people for a full term. He was active in politics and, in 1856, became a law partner of Isham W. Garrott and together Brooks and Garrott became the premier law firm in Alabama.
Brooks belonged to the Southern wing of the Democratic Convention, led the Alabama secession movement and a leader in the establishment of a Southern Confederacy. He supported Breckinridge for President but Lincoln won leading to secession. When the Secession Convention assembled in 1861 to decide if Alabama would remain in the Union or leave, Brooks was elected as the President of the Convention. When the Convention voted to secede from the Union on January 11, 1861, Brooks declared that Alabama was a "free and independent commonwealth." In 1861, he was the chairman of a committee to provide food and other support to the families of soldiers in the Confederate Army. He also was chairman of a committee to provide sustenance for the support of Confederate soldier's families. He entered the military in 1864 and served as Captain of Company H and Colonel of the 3rd Infantry Regiment of Alabama Reserves. He was paroled from the army on May 16, 1865, at Marion, Alabama. At the time of his parole, he was Captain of Company H of the 3rd Alabama Reserves.
After the war, he moved, in 1866, to Selma, Alabama where he practiced law with John Harellson. In 1886, he moved to Birmingham, Alabama where he formed the law firm of Brooks, Bush and Vary.
SOURCES
[Lovelace, Siloam History, p. 18; England, Hospital in Marion, p. 32; Harris, Heritage, v I, pp. 130-131, 176-177, 206 and 210; 1860 Slave Census, Perry County, Alabama; Owen, Alabama Biography, vIII, p. 242; Muster Roll of the 3rd Alabama Reserves; 1880 Census of Selma, Dallas County, Alabama, p. 458A]
Alabama, Her History, Resources, War Record, and Public Men: From 1540 to 1872, By Willis Brewer, Barrett & Brown, 1872
Jefferson Buford
Barbour County
Jefferson Buford, a lawyer in Alabama ca. 1859 (photo by Abbott, W. R., Opelika and Auburn, Alabama, Alabama Department of Archives and History)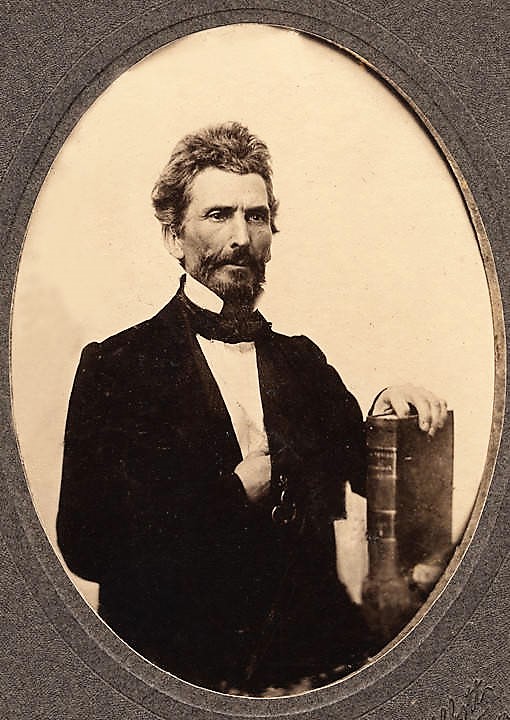 Born in 1805 or 1806 in Chester District, South Carolina and died at Clayton, Alabama, August 28, 1862, Jefferson was the son of John Ragsdale and Esther Buford. He read law in the office of his uncle, Nathaniel Eaves, and was enrolled as an attorney in 1828. In 1832 he came to Pike County, Alabama, and practiced law until his removal to Eufaula, Alabama, six years later. He also served in the Indian War of 1836. Elected to the state senate from Barbour and Russell counties in 1840, he served seven years in this capacity. During the Kansas episodes of 1855, Buford advocated the South's sending pro-slavery families to settle that state. (See the Buford expedition) The following year he financed an expedition of several hundred settlers and went along to help them find homes; several others conducted similar undertakings but all failed. He was associated with his law practice in Eufaula with James L. Pugh and E. C. Bullock. The only available reference to Buford's marriage was that his first wife was a daughter of Major John H. White of Barbour County, and his second was a Mrs. McNeil. There was apparently no children. Michael Jefferson Bulger Tallapoosa County Planter, Confederate Army officer and state senator, Michael Jefferson Bulger was the son of Pierce and Sarah A. Bulger. He was born February 13, 1806, in Richland District, South Carolina, and died in Tallapoosa Col. Michael J. Bulger County, Alabama, September 11, 1900. When only seventeen years of age Bulger came to Montgomery and was apprenticed to a gin maker. In 1834 he removed to Nixburg, Coosa County, Alabama, and from there to Tallapoosa County four years later. Although he was a planter the remainder of his life, Bulger was in the state legislature from 1851 to 1855; a delegate to the Charleston Convention of 1860; a candidate for election to the Douglas electoral ticket; unsuccessful candidate for governor against Robert M. Patton; and a state senator in 1866. A man of great courage, he is known better for his military exploits than any other thing. While brigadier general of the militia for a period prior to his resignation in 1861, he labored diligently to infuse and maintain a military spirit among the people. When war came he assisted Governor Shorter to reorganize the calvary; recruited and organized a company and became a captain in the Forty-seventh Alabama Infantry Regiment; was wounded twice while commanding a regiment at Cedar Run; but remained at his post until the loss of blood forced him to retire. He was left on the field and reported dead at Gettysburg, but Federal soldiers cared for him; after recovering he was exchanged, the following spring. While recovering from an operation Bulger was commissioned a brigadier general, but the Confederate Army surrendered before he could assume his command. He was a Presbyterian. In 1829 he was married to Parmelia Donnell of Rea County, Tennessee; eighteen years later he married Mary Elizabeth Bozeman of Tallapoosa County, Alabama. Children by his first wife were Pierce, Mary, Michael, and Parmelia; by the second wife, Nathan, William, Catherine, Thomas, and Carrie. (Findagrave.com memorial 30386777)
NOTE: Additional information from Kansas Historical Society: On November 11, 1855, Buford heeded the call. He enlisted fellow southerners in a colonization effort that would locate in Kansas and make sure the territory entered the Union as a slave state. "Buford's Expedition," as it became commonly known, encompassed some 400 men gathered mostly from the states of Alabama, South Carolina, and Georgia. These men all agreed to settle in Kansas in return for free transportation there, a year's guaranteed means of support while there, and a homestead of 40 acres of first-rate land upon arrival. On April 5, 1856, this group of proslavery men finally left by steamboat from Montgomery, Alabama, for Kansas and they arrived in the territory on May 2.
The newly arrived proslavery group was immediately enrolled into the Kansas territorial militia to help arrest several free-state men in Lawrence, who had been indicted by a Douglas County grand jury. The posse, as it became known, was under the leadership of U.S. Marshal Israel B. Donalson. It entered Lawrence and made a few arrests of free-state men. After disbanding, the posse was once more reconstituted under the leadership of Douglas County Sheriff Samuel J. Jones to assist in serving some writs. What soon followed was the sacking and burning of several buildings known to be free-state businesses. After the looting and burning had ended, Buford disclaimed he had come purposely to Kansas to destroy property and condemned the course of action that had occurred in Lawrence.
In June Buford left Kansas for the South and then Washington, D.C., where he attempted to muster greater support among proslavery men for relocating as colonists to Kansas. Late in 1857 he finally returned to Kansas only to find the company of proslavery men he had originally raised in 1855 had disbanded with many returning south to their respective homes. Upon learning of the course of events, Buford also elected to leave Kansas for Alabama. He journeyed to Clayton, Alabama, where on August 28, 1861, (1862) he died of heart disease.
1 Transcribed from The Alabama Historical Quarterly, Vol. 03, Nos. 03 & 04, Fall and Winter Issue 1941
BUY ONE GET ONE FREE! The first four Alabama Footprints books have been combined into one book,
ALABAMA FOOTPRINTS Exploration
ALABAMA FOOTPRINTS Confrontation
From the time of the discovery of America restless, resolute, brave, and adventurous men and women crossed oceans and the wilderness in pursuit of their destiny. Many traveled to what would become the State of Alabama. They followed the Native American trails and their entrance into this area eventually pushed out the Native Americans. Over the years, many of their stories have been lost and/or forgotten. This book (four-books-in-one) reveals the stories published in volumes I-IV of the Alabama Footprints series.