(Excerpt from ALABAMA FOOTPRINTS Confrontation: Lost & Forgotten Stories (Volume 4)
Tecumseh Causes Earthquake
The Native American Chief Tecumseh arrived in Alabama in 1811 for the purpose of uniting all Native Americans against the intrusive Americans. He spent many days traveling through the Cherokee, Creek, Seminole and other tribes in the south to secure their support. He gave many speeches wherever he traveled. On a visit to Tuckabatchee, he faced some opposition from Chief Big Warrior as described below.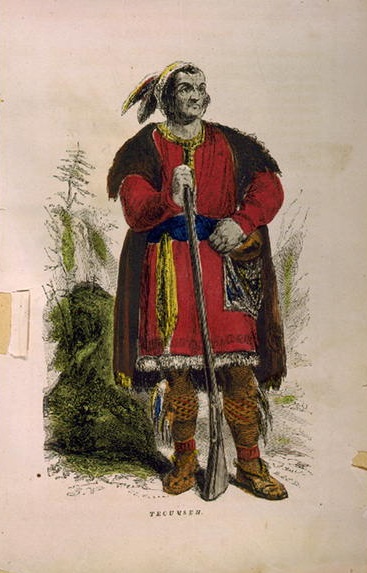 Promises are like the wind
As Tecumseh continued to speak to the Native Americans throughout the southern United States, many warriors joined with him, but others doubted his promise of success. Many were infatuated by his persuasive eloquence and promised their allegiance to him and his cause, but at Tuckabatchee he faced resistance.
His remarks were not greeted with the same cordiality he had received elsewhere. Chief Big Warrior told him, "Promises are like the wind. The wind is free. Talk is nothing."
I shall shake down all the houses in Tuckabatchee
Tecumseh became angry and stamped his foot upon the ground, and he replied, "Your blood is white. You have taken my talk, and the sticks, and the wampum, and the hatchet, but you do not mean to fight. I know the reason. You do not believe the Great Spirit has sent me. You shall know. I leave Tuckabatchee directly and shall go straight to Detroit. When I arrive there, I will stamp on the ground with my foot, and shake down all the houses in Tuckabatchee."
A few weeks later, on December 16, 1811, the New Madrid Earthquake shook the United States, and a large tract of land on the Mississippi sank. It was so powerful that the Mississippi River reversed its southerly flow and threw riverboats against the shore.
Native American lodges trembled and shook, then suddenly toppled over. Every house in Tuckabatchee was demolished and the Alabama Indians believed it was Tecumseh's prophecy coming true.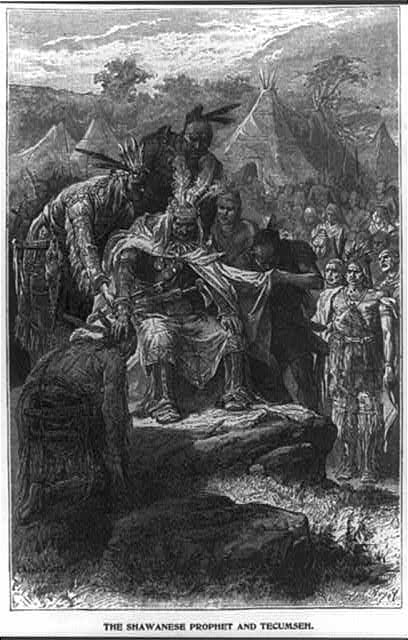 Print of a wood engraving ca. 1810-1890 -Shawnee Prophet and Tecumseh (Library of Congress)
His threat has come true
Terrified and alarmed, the Creeks rushed wildly about, crying: "Tecumseh has arrived at Detroit. His threat has come true. We must join with him in his confederation or all will be lost."
Some believe that Tecumseh had heard from a white astrologer that an earthquake was soon to take place and used this information to his advantage. How much fact there is to the story we do not know, but stories will grow and the later versions of this story state that the earthquake took place on the very day of Tecumseh's arrival in Detroit.
They prepared for war
No matter where the truth lies. The fact remains that warriors took up their rifles and prepared for war; prophets and witches became numerous, and murders were committed on the frontier. The earthquake secured for Tecumseh a great and lasting reputation.
However, Big Warrior, though sadly troubled, did not follow, and continued firm in his allegiance to the United States.
This story and more can be found in

ALABAMA FOOTPRINTS Confrontation: Lost & Forgotten Stories (Volume 4)

is

a collection of lost and forgotten stories that reveals why and how the confrontation between the Native American population and settlers developed into the Creek-Indian War as well as stories of the bravery and heroism of participants from both sides.
Some stores include:
Tecumseh Causes Earthquake
Terrified Settlers Abandon Farms
Survivor Stories From Fort Mims Massacre
Hillabee Massacre
Threat of Starvation Men Turn To Mutiny
Red Eagle After The War