SATSUMA DAY
The town of Satsuma in Mobile County, Alabama was originally named Fig Tree Island but was renamed Satsuma in 1915 for a mandarin orange presented to Alabama in 1878 as a gift from Emperor Meiji of Japan. In less than two years, this mandarin orange was planted widely along the Gulf Coast and soon became a booming new industry for the Gulf Coast of Alabama and Southern Mississippi in the 1800s.
During the boom year of 1916, "it is estimated that three million orange trees were being grown in Mobile and Baldwin county".

The people along the Gulf coast lost no opportunity to advertise their crop. Satsuma Day, was set aside in Mobile in the winter of 1914 by Citrus Growers along the Gulf Coast as a celebration of the value of the Satsuma orange. It quickly became an annual event and judging from the long list of names of those serving on committees included in this article, Satsuma Day must have been a huge festival. Recent reports, state that the popular satsuma orange is making a come back along the Gulf Coast.
(Transcribed from The Grand Bay News, Grand Bay, Alabama, October 1, 1915)
SATSUMA DAY AT MOBILE ANNOUNCED FOR DEC. 8
Mr. W. H. Reynalds is General Chairman of Committee to Arrange Annual Fete
Satsuma Day will be observed in Mobile this winter for the second time on Tuesday, December 8, and although the celebration is several months off, Dr. O. F. E. Winberg, president of the Gulf Coast Horticultural Society, is taking all preliminary steps to make the day as appropriate as possible.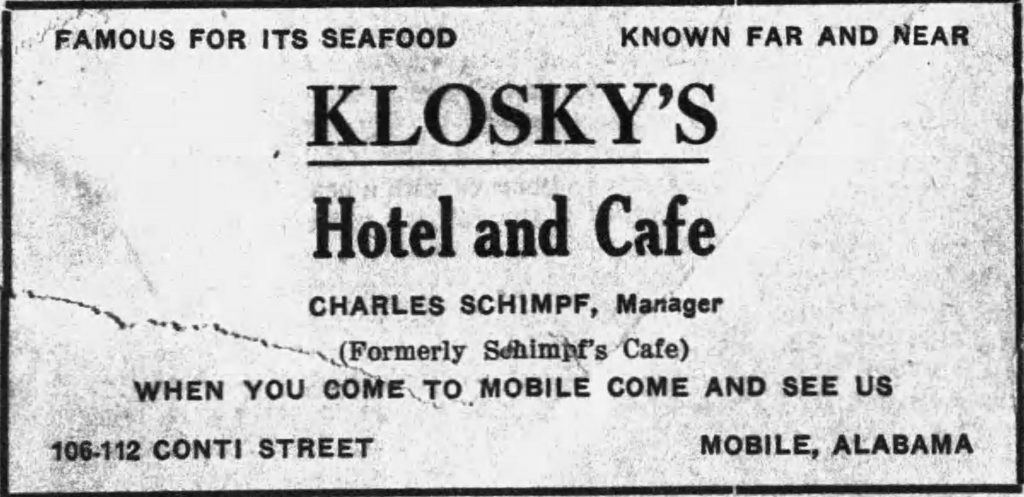 He has named Mr. W. H. Reynalds of this city as general chairman of the Satsuma Day committee. While Mr. Reynolds has named the Mobile county members of his committee, he has left the appointment of those of Baldwin county to Dr. Winberg, and those from Southern Mississippi to Dr. Henry D. Powell of Ocean Springs.
In asking that each and every member co-operating to make Satsuma Day one of the biggest occasions of the winter, Mr. Reynalds says:
"Satsuma Day will be celebrated in Mobile on the first Tuesday of December. In order to make this celebration a success it is necessary that I shall have the active co-operation of every member of the committees. Realizing that you are very busy, I am going to call for just as little of your time as possible, but when I do, I hope to have your hearty co-operation, as in this way only can we expect to make a success of the celebration.
"The first thing that I shall ask of you is to write to me as soon as possible and as fully as possible your ideas as to what sort of a program should be carried out on Satsuma Day. We want to make it interesting for the public, but more interesting for the citrus growers and would like in the arrangements of the program to give the growers as much opportunity as possible to get better acquainted with each other."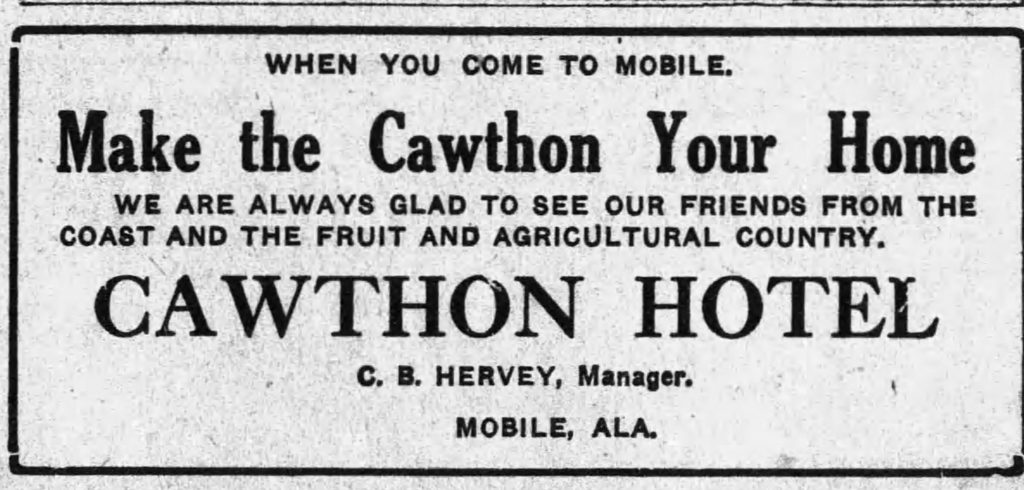 THE COMMITTEES
Rollin Broughton, Mobile; Dr. E. W. Cawthon, Plateau; J. P. Calhoun, Grand Bay; J. Osman Cox, Satsuma; E. DeCalle, Crichton; W. M. Clemens, Mobile; W. B. Delchambs, Mobile; E. K. Dyar, Dawes; J. B. ODrtch, Mobile; A. H. Daves, Irvington; Mrs. Helen I. Dennis, Mobile; C. K. Funk, Cmunchula; W. H. Fitzpatrick, Mobile; G. B. Green, Irvington; Heyman Gabriel, Mobile; W. C. Griffing, Grand Bay; William Holcombe, Mobile; R. S. Hunter, Fowl River; B. L. Hoover, Mobile; Howard W. Hall, Grand Bay; Waring M. Harrison, Mobile; L. H. Horn, A. S. Johnson, Fowl River; J. A. Joulian, Coden; George E. Kittle, Mobile; J. C. Kelsey, Grand Bay; T. Kiyono, George Kilmer, Herbert Lyons, H. P. Loding, S. LaVergy, C. O. Lundquist, J. J. McMahon, Mobile; C. A. Max, Dawes; C. H. Myers, Grand Bay; John E. Mitchell, G. E. Newman, D. W. Partridge, Mobile; J. W. Pennell, Jr., W. H. Pollock, Irvington; Capt. J. C. Pritchett, Coden; Lt. Reaves, Citronelle; Hugh Rolston, Toulminville; H. G. Reiser, Mobile; J. E. Rolston, Coden; M. C. Skinner, Citronellel; R. M. Seager, C. W. Stillwell, Grand Bay; George F. Stain, Semmes; R. L. Scott, Citronelle; L. G. Swartout, Fowl River; F. L. Spalding, Mobile; R. B. Thurston, Irvington; G. Van Antwerp, Mobile; N. S. Wing, Irvington; J. H. Webb, Mobile; Theo.Winholt, Fowl River; Parham and Welch, Mobile; W. A. Weaver, Fowl River; P. S. Wright, Creola; H. B. Scott, Irvington.
FOR BALDWIN COUNTY
C. A. Smith, Foley, Ala.; Dr. W. H. Ludwig, Foley, Ala.; Frank Fesler, Foley, Ala.; A. M. Troyer, Fairhope, Ala.; Mr. Powell, Fairhope, Ala.: E. B. Gaston, Fairhope, Ala.: A. F. Hutchings, Battles, Ala.; A. J. Aubert, Robertsdale, Ala,; James Graham, Lox,-Robertsdale, Ala.; James Graham, Lox-Robertsdale, Ala.; C. M. Seevers, Robertsdale, Ala.; James Graham, Loxley, Ala.; George Lacey, Loxley, Ala.; Robert Mahler, Loxley, Ala.; C. C. Hand, Bay Minette, Ala.; J. A. Stover, Bay Minette, Ala.; Mrs. T. A. Banning, Robertsdale, Abner Smith, Bay Minette.
FOR SOUTH MISSISSIPPI
Dr. H. B. Powell, Dr. A. Babendreer, Robertson Palmer, Theo. Bechtel, A. B. Acander, Ocean Springs; Aug. Edwards, Lucedale; A. Brodie, Biloxi; F. H. Lewis, Pascagoula.
ALABAMA GENEALOGY NOTES: Volume IV
Table of Contents
Introduction
ALABAMA'S FIRST LICENSED LAWYERS
GENEALOGY QUERIES published in The Alabama Historical Quarterly, Vol 1, No. 1, Spring Issue 1930
SOME ALABAMA MARRIAGE NOTICES From 1852 Newspaper
EVERGREEN CEMETERY INSCRIPTIONS Before 1942
GREENWOOD CEMETERY INSCRIPTIONS Before 1942
GENEALOGY QUERIES FROM THE 1930s
RECORDS IN OLD BIBLES ca. 1790s
ALABAMA MARRIAGE NOTICES From 1850 Newspaper
MONROE COUNTY, ALABAMA MARRIAGES 1834-1880