A staple of most any Southern Thanksgiving dinner, cornbread dressing or stuffing, appears to have had its beginnings as a Native American tradition when a ceremony took place at the end of the growing season. At this time corn was ready to store away and thanks was given for food. The ceremony was called gathering corn bread and nearly every family prepared for the event by baking a batch of corn bread. The bread was brought to the longhouse and a speaker was appointed to address the people. He congratulated them on the success of their crop or harvest and thanks given to the Great Spirit that the people had been well supplied. (Iroquois Foods and Food Preparation, F. W. Waugh, facsimile 1916 edition [University Press of the Pacific:Honolulu HI] 2003 (p. 38)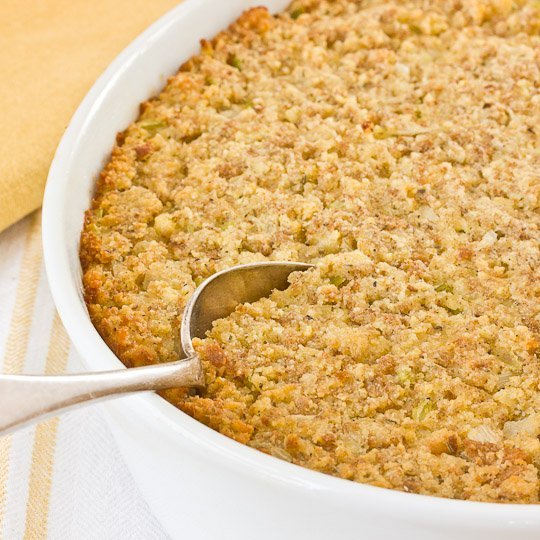 While Northerners call the dish "stuffing" Southerners usually refer to the dish as "dressing". Of all food served on Thanksgiving, the ingredients in what constitutes a great "stuffing" or "dressing" has to do with personal origins and family traditions. While there are many variations, Southerners are probably most familiar with old-fashioned corn bread dressing. Many recipes have been handed down in the family for years. The basic recipe below is a traditional one that I am familiar with from the kitchn.com  Some people like to include meats and additional spices.
This is definitely not a recipe for dieters. A pre-seasoned cast-iron skillet is essential for making good cornbread dressing.
Southern-style Cornbread Dressing
Serves 10-12
For the buttermilk cornbread:
1 cup plain yellow cornmeal
1 cup all-purpose flour
3 tablespoons sugar 
1 tablespoon baking powder
1 1/2 teaspoons kosher salt
2 eggs, lightly beaten
1 stick (1/2 cup) unsalted butter, melted
1 cup whole buttermilk
For the cornbread dressing:
1 (14 ounce) bag herb-seasoned stuffing, preferably Pepperidge Farm*
2 sticks (1 cup) unsalted butter, divided
2 cups finely chopped sweet onion
1 1/2 cups finely chopped celery
5 cups chicken or turkey stock
5 large eggs, lightly beaten
2 teaspoons dried sage
Salt and pepper
For the buttermilk cornbread, grease a 10″ cast iron skillet and place on center rack in the oven. Preheat oven to 425°F.
In a large mixing bowl, combine the cornmeal, flour, sugar, baking powder, and salt. In a separate bowl, whisk the eggs, melted butter, and buttermilk. Add the wet ingredients to the dry ingredients and stir until just incorporated.
Pour the batter into the preheated skillet and smooth the top. Bake until cornbread is golden yellow, about 16 to 19 minutes. doesn't overcook or dry out. Immediately remove the cornbread from the skillet and allow to cool.
The cornbread can be made up to 2 days in advance when using for the dressing. Store until needed, then crumble and follow instructions for the dressing.
For the cornbread dressing, preheat oven to 350°F.
Crumble the cornbread into small pieces (makes about 5 cups). Combine the crumbled cornbread and stuffing mix in an extra large mixing bowl (or stock pot) and toss to combine.
Melt 1 stick butter in a large skillet over medium heat. Add the onion and celery and sauté, stirring frequently, until soft and translucent, about 10 to12 minutes. Add the onion and celery to the cornbread mixture.
Melt the remaining stick of butter. In a large mixing bowl, combine the butter, chicken stock, eggs, and sage, and whisk to combine. Add to the cornbread mixture and mix until thoroughly incorporated. Season generously with kosher salt and pepper. Pour into a greased 9 x 13 inch casserole dish. Bake, uncovered, until the dressing is set and golden brown, about 45 minutes to 50 minutes.
*Pepperidge Farm stuffing may not be available to everyone or you may prefer not to use it; biscuits (homemade or store bought) make a good substitute.
Get FREE SHIPPING from Amazon.com by clicking the link below.