The first Birmingham Municipal Airport was located near Ensley. This is the story of how it started.
In 1919, Major James A. Meissner, a WWI flying ace and a former member of Eddie Rickenbacker's famous "Hat-in-the-Ring" Squadron, organized ten to twelve ex-aviators from WWI in Birmingham. The club was named the Birmingham Flying Club with its primary purpose to promote aviation in the City of Birmingham and the State of Alabama. The club eventually culminated in the first Birmingham Municipal Airport.
Major James A. Meisser (from Jefferson County Historical Association)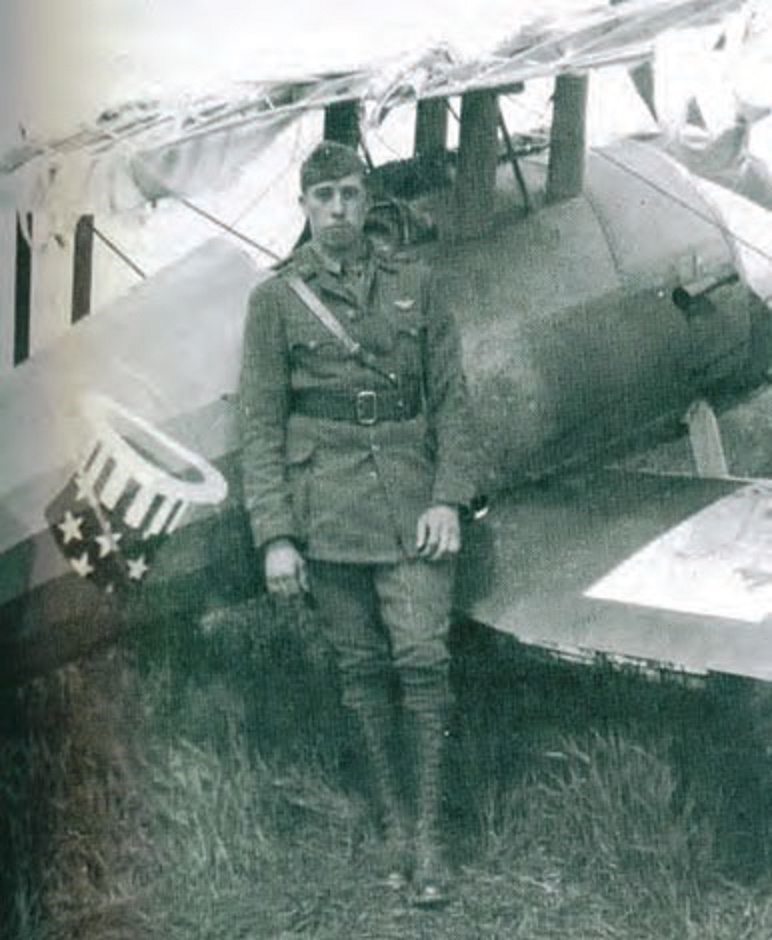 Born in Novia Scotia
Major James Armand Meissner (1896–1936) was born in Loudoudery, Novia Scotia. He lived in Birmingham as a child and young man. His father was an executive with U.S. Steel and was here as a an officer of TCI. The family home was in New York.  He received his high school education in Brooklyn, New York and attended Cornell where he studied engineering. As a member of the college's corps of cadets, he enlisted in the U. S. Signal Corps and graduated with the first class of the School of Military Aeronautics on July 14, 1917 against his father's wishes.
Meissner was commissioned a 1st lieutenant on November 20, 1917 and reported to the famous 94th Pursuit Squadron, one of the oldest units in the United States Air Force. Among his colleagues in the unit were Eddie Rickenbacker and members of the Lafayette Escadrille.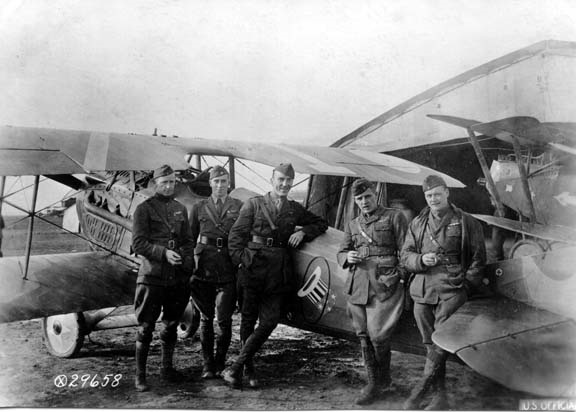 L-R: Joseph H. Eastman, James A. Meissner, Edward "Eddie" Vernon Rickenbacker, Reed Chambers, and Thorne C. Taylor stand beside the plane of famed American "Ace of Aces" and Medal of Honor winner Captain Rickenbacker. The SPAD XIII.C.1 was powered by a 220 hp Hispano-Suiza engine capable of a top speed in level flight of 131 mph. At the 94th Pursuit Squadron ("Hat in the Ring") of the American Expeditionary Force, France 1917-1918.
Piloted a French-made Nieuport 28
As the first American squadron in operation, its aviators were allowed to create their squadron insignia. They used the opportunity to commemorate the United States entry into World War I by taking the phrase of tossing one's "hat in the ring" (a boxing phrase to signify one's willingness to become a challenger) and symbolizing it with the literal image of Uncle Sam's red, white and blue top hat going through a ring.
Piloting a French-made Nieuport 28, Meissner scored his first aerial kill over the Forêt De La Rappe on 2 May 1918; he was fortunate to survive, given the fabric was shredding off his top wing even as he scored. At any rate, the feat earned the Distinguished Service Cross and the Croix de Guerre. He was accredited with eight aerial victories and awarded two Distinguished Service Crosses.
He was discharged as a major on March 25, 1919 and returned to Cornell to complete his master's in engineering. After receiving his diploma, Meissner moved to Birmingham where he was employed at Tennessee Coal, Iron and Railroad Company's rail mill. He married Elve Kessler from Augusta, Georgia.
Dixie Field served the city of Birmingham in 1919
Only one airport, Dixie Field, served the city of Birmingham in 1919. It was a small grass strip east of Elmwood Cemetery.
In 1919, Major James A. Meissner and Henry Badham (father of the director John Badham) organized the Birmingham Flying Club. Some local businessmen contributed liberally their time and money to assist the group and leased a tract of land near Ensley.
On January 21, 1922, the 135th Observation Squadron of the Alabama National Guard was formed.
Roberts Field was built in 1922
Roberts Field, located west of downtown Birmingham and north of Dixie Field was built in 1922 and served as Birmingham's municipal airport for a number of years. The 90-acre site was bounded by Village Creek and the Frisco Railroad to the north and by 13th Street Ensley to the south. Its 3,200 foot main runway area ran southwest-northeast across the property. Its hanger buildings were located on the southeast corner, near present-day Roberts Industrial Drive and the right-of-way for I-20/59.
Roberts field (from Avondale Sun 1921 Birmingham Public Library Archives)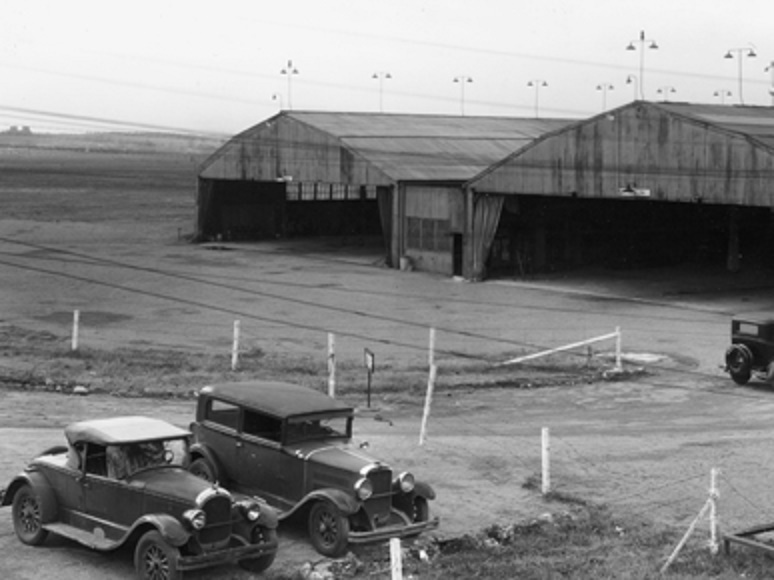 The airfield was named Roberts Field after Lieutenant Arthur Meredith Roberts, a Birmingham native that was killed in France during WWI. The club was recognized as the 135th Observation Squadron on January 21, 1922 and was Alabama's first Air National Guard and the 7th in the United States.
Two men working on an airplane engines at the Air Corps Base at Robert's Field 1920-1929 (Alabama Department of Archives and History Q8936)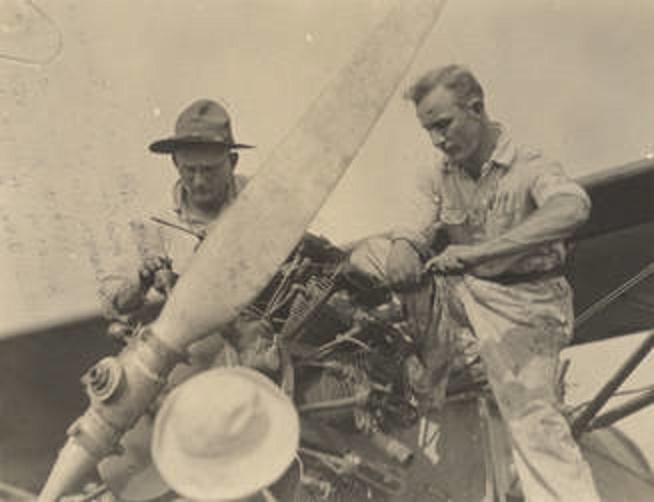 An employee of the Wright brothers was the first pilot over Birmingham
Aviation was not new to the city of Birmingham. The first airplane had been brought to the city in 1909 when E.T. Odum brought one to the Alabama State fair. An employee of the Wright brothers by the name of Phil Parmalee was the first pilot to fly over the city.
National Guard flew first airmail routes in 1928
By the end of July, the unit was operating a fleet of seven Curtiss JN-4D "Jenny" airplanes, housed in metal hangar buildings. The observation squadron mapped and surveyed many government projects as highways, dams and inland waterways. The National Guard flew the first airmail routes in Alabama in 1928.
St. Tammany Gulf Coast Airways used Roberts Field, beginning on May 2, 1928 for the state's first regularly scheduled commercial air service, which included a stop at Bates Field, Mobile's municipal airport, on the route between Atlanta and New Orleans.
Delta used the air field  in 1929
Delta Air Service began using the field in 1929 for their 6-seat Travel Air service that went from Dallas to Birmingham but American Airways could not land their Ford built planes there. This prompted the city to begin construction of its new Municipal Airport which opened in 1931.
In 1931, Birmingham replaced Roberts Field with a big new municipal airport and passenger service to Dallas, Atlanta, and other cities. Roberts Field remained open for at least ten more years, but was redeveloped for industrial uses around the 1960s.