The Elks Club was originally formed in New York as the Jolly Corks from the theatrical profession.
Elks Club house in Mobile ca. 1900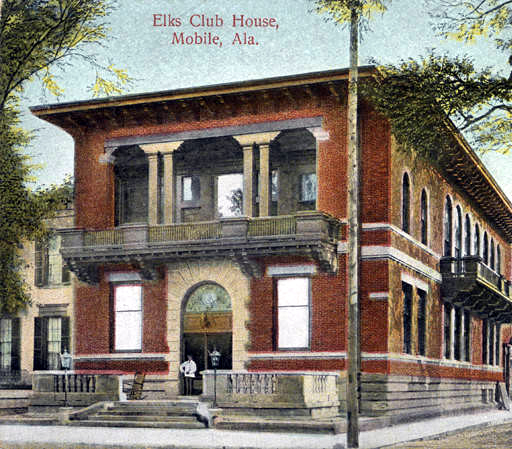 Organized in New York City
The Benevolent and Protective Order of Elks was organized in New York City, February 16, 1868, as the outgrowth of a social club known as the Jolly Corks, composed principally of members of the theatrical profession. The Grand Lodge of the order was incorporated March 10, 1871, and two days later the power to form subordinate lodges was given to the Grand Lodge.
Contributed to relief of suffering
In addition to assisting its own members, the order has been a liberal contributor to the relief of suffering in national calamities, by fire, flood, earthquake, etc. Each lodge of the order holds a memorial service to its dead on the first Sunday in December of each year, which is termed the "Sacred session of the order." The term "lodge of sorrow" is applied only to funerals. The "Elks Antler," published monthly in New York City is the official organ of the order. There were 1,400 subordinate bodies, with a total membership of 500,000 around 1918.
Entered Alabama in 1888
The order entered Alabama with the organization of Birmingham Lodge of Elks, March 25, 1888, with 18 charter members. The Alabama Association of lodges was formed at Montgomery in 1916. with John B. Leedy, Birmingham, president, and J. T. Mainor, Eufaula, secretary. The grand secretary of the order is Fred C. Robinson, Dubuque, Iowa. In 1917, here were 3,000 members in Alabama with lodges at Birmingham, Anniston, Tuscaloosa, Talladega, Huntsville, Blocton, Bessemer, Florence, Ensley, Gadsden, Mobile, Selma, Montgomery, Demopolis, Opelika, Eufaula, Troy.
SOURCES
New International Encyclopedia;
letter from L. M. Zilling, office of grand secretary, Dubuque, Iowa, in the Department of Archives and History.
Alabama Deaths from World War I – listed by county and town – great source for family research
REVIEWS:
E. Peden:Thank you for putting this together, great help in family research! Was exactly the way it should have been written by county and town.
Linda S. Potts: It's so nice to find something that I can actually use right away in my genealogy program!
Donna does her research and has her sources right in there.
Great Job!