Excerpt from
DALE COUNTY AND ITS PEOPLE DURING THE CIVIL WAR
(Reminiscences of Mary Love (Edwards) Fleming)
WAR TIME FARMING, FOOD SUPPLIES
Like the other farmers, Mother made some few changes in the crops raised during the war. The farmers in our section had always produced most of the food crops needed to supply their families and slaves, but not a great deal of cotton was raised. During the war, some new food crops were cultivated, among them sorghum cane, chufers, and rice. I never saw sorghum or chufers before the war but since that time they have become common. The difference in the crops raised during and before the war was mostly in the quantity of the different kinds produced.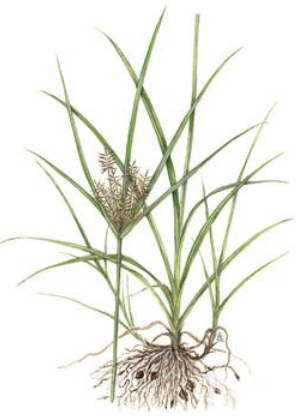 (Note by transcriber: Chufers (also called Chufa) is a very grassy, bunchy looking plant that grows in sandy soil. It bears fruit that grows underground like a potato or peanut, called tubers. These tubers look and taste like almonds, and are a favorite wildlife food.)
As a general thing before the war, after enough of food crops for home use had been planted, the remainder of the land was planted in cotton in order to bring in all the money possible. Cotton was the money crop. But during the war, just enough cotton was raised as could be used at home in the making of cloth, mattresses, rope, etc. Not half of the families raised sheep so nearly all of the clothing was made of cotton.
A few men, too old for war services or physically disabled, raised corn and other food crops in sufficient quantities to see to the wives of soldiers and to others, but most of the families considered that they were doing well if they raised enough for their own use.
We had a little more cotton than needed
At the close of the war, my mother had a little more cotton than she would need. Father advised her to sell it and buy cloth and other things. So we spun coarse thread of cotton and from this thread wove bagging for baling it. We sold the cotton in Greenville, Alabama, and received either thirty-two or fifty-two cents a pound for it. And how we did enjoy the things bought with this money—calico and muslins for dresses, hats, hoopskirts, things for the boys, flour, sugar, coffee, and other things that we had been deprived of so long and that we were so glad to have again. But there were few families in our country that were fortunate enough to be able to buy such luxuries so soon after the close of the war.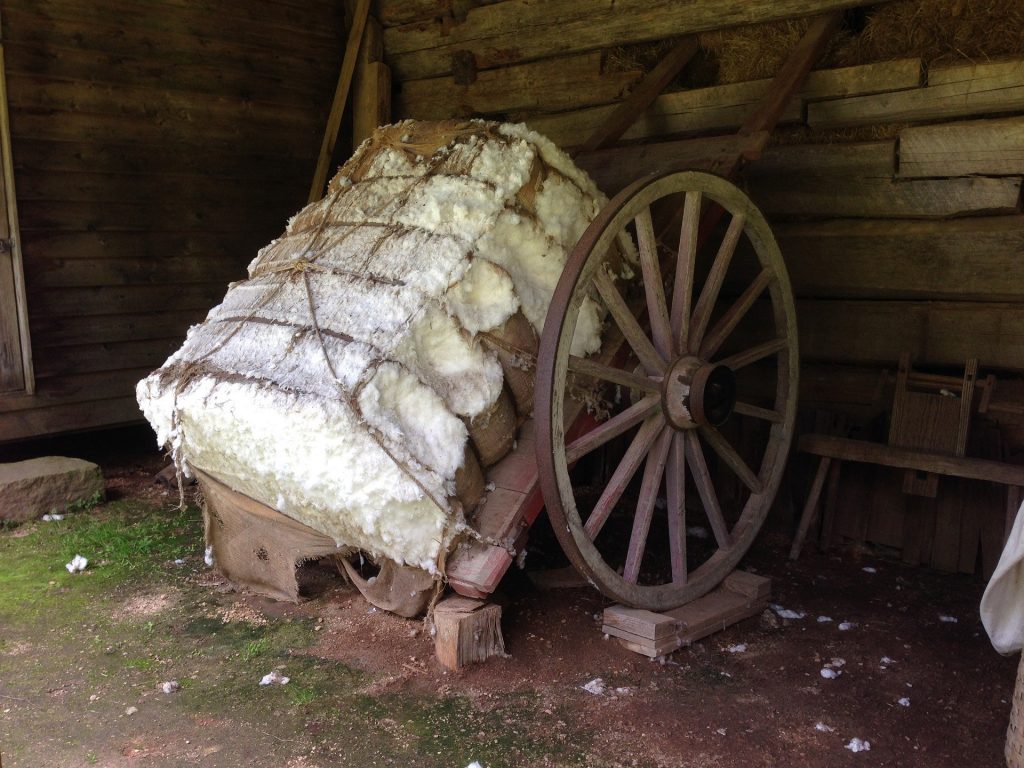 We raised little and sold no cotton during the war, but we made good food crops each of the four years of the war. We raised corn, a little cotton, sweet potatoes, rice, sugar cane, sorghum cane, ground peas, field peas, green peas, collards, beans, okra, squash, cucumbers, watermelons, canteloupes, turnips, mustard, and pumpkins. No Irish potatoes and cabbage were raised because we could not get seed from the North.
Cabbage does not make seed in our country and it was impossible to make Irish potatoes keep long enough to be used for planting. So we had neither of them. We raised very good rice. Some families beat the rice kernels out at home; others sent it to the mills to be cleaned. We had some fruit-apples, peaches, plums, and a few pears, and some of the fruit was dried for winter use.
Shortage of meat
We had enough of most eatables except meat, for much of our supply of this was sent to the army. More than enough hogs were raised to supply all except when cholera killed many of them. This happened during two or three years of the war. We had chickens but not enough of them to furnish eggs and to be used also for meat very often. Besides, we soon tired of so much chicken. Taxes for the government were about one-tenth of everything raised on the farm— of corn, cotton, potatoes, peas, and other food crops including meat. This produce was used for the army.
Some cattle were raised, and we usually had beef often enough to make the living better. But there was not enough of this and other kinds of meat to furnish a variety. No bacon or hams or fresh pork, nor any fresh or cured beef could be bought even by those who had the money. Sometimes when a family killed a beef, a part of the meat was exchanged for something else. But the young people sometimes thought it very poor fare.
We had nothing made of wheat flour, and sometimes there was no meat of any kind for the meals, but as long as the sweet potatoes lasted we fared very well.
Our menus grew tiresome
For breakfast, we usually had sweet potatoes, milk, and butter, a substitute for coffee, cornmeal batter cakes and syrup. The syrup was usually sorghum, but we did not always have this, for it was much used in place of sugar, though not considered a good substitute. Sugar cane did not grow very well on our lands except in the swamp and low places, so little of it was planted as compared with sorghum, which would grow anywhere and the leaves were also good for fodder. But the juice of the sorghum would not make sugar, and it was generally considered more economical to make the juice of the cane we had into a syrup instead of into sugar.
Sorghum (Wikipedia)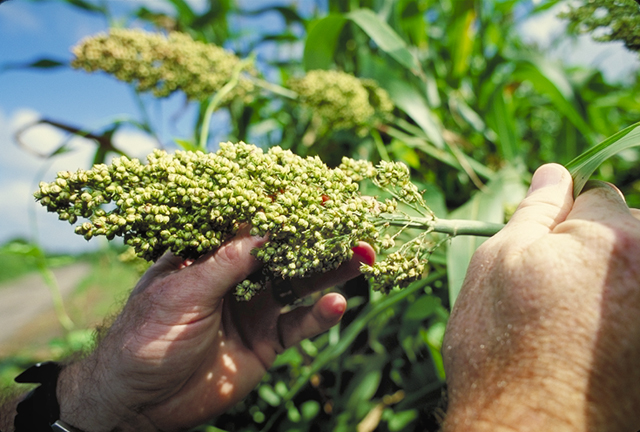 Few farmers had enough cane for both sugar and syrup, so more syrup than sugar was used for sweetening coffee, puddings, cakes, etc. But Mother never liked her coffee sweetened with syrup though Grandmother Edwards claimed that she learned to like the sorghum flavor almost as well as the sugar. We had no white sugar. The sugar that we had was brown and was made by slowly dripping the cane syrup into
We had no white sugar. The sugar that we had was brown and was made by slowly dripping the cane syrup into barrels; or it was made by crushing in mortars the crystals that formed on the sides and bottom of the syrup barrels.
For dinner, we usually had some kind of meat, vegetables, puddings or cakes that were made of cornmeal and sweetened with syrup or brown sugar, and sweet potatoes. For supper, we had potatoes again or rice, milk, coffee substitute, butter, cornbread, and syrup. Often we had two meals a day of cornbread and butter, field peas, milk, and sorghum syrup. There was little variety, especially when fresh vegetables and fruits were out of season and the cholera had killed our hogs so there was no fresh pork or bacon or ham. Fresh beef kept such a short time, and we had little of dried beef and chicken. Tallow was used when the supply of lard ran low, and when tallow was mixed with lard it looked much like the uncolored oleomargerine we see today.
Wheat flour was also used to stiffen dresses
For more than two years I saw nothing made of wheat flour. Grandfather Edwards made one visit to his brothers in Russell (now Lee) County, and when he returned he was given several bushels of wheat. This he brought home and had ground into flour and divided it with his married children. Everything made of it tasted so delicious that the food made of flour today does not seem to compare with it. But we did not use all this flour. When the supply was nearly exhausted, Mother put aside the rest to be used making starch for stiffening our finest cotton dresses. We children could not persuade her to let it be cooked. We lived so far south that wheat did not grow well and little was planted. Grandfather Edwards and Mr. Chalker, one neighbor tried to raise it, but it nearly always had "rust" or "smut" or some such plant disease, so they gave up trying. And we had no wheat flour at all during the war except the small supply that Grandfather brought from Russell County.
We lived so far south that wheat did not grow well and little was planted. Grandfather Edwards and Mr. Chalker, one neighbor tried to raise it, but it nearly always had "rust" or "smut" or some such plant disease, so they gave up trying. And we had no wheat flour at all during the war except the small supply that Grandfather brought from Russell County.
No good range for cattle
Sometimes I would get so weary of the plain fare that I could not eat breakfast, but after I had spun thread awhile I could eat some of it. But all of us were healthy except our oldest sister, Sarah, whose health had not been good before the war. Often she could not eat the coarse food, and she suffered from want of medicine and delicate food which we could not give her. For the sick, we had milk and eggs, and we could make chicken soup, beef soup, and other delicacies.
Though in the spring and summer we had a good many chickens to eat, this was not so in winter. Eggs were a great help all during the year to vary the monotony. I have since wondered why mother did not raise more chickens, as meat was so scarce, and we had a fine place to raise them. And also try to get some bees for the honey.
There was not a good range for cattle, so not many were raised for beef. The community was too thickly settled to have good range for cattle. They were raised on the farms and the creek swamps. We usually killed two or three cattle a year, and after eating the beef fresh for a few days, the remainder was put on a scaffold, a small fire was built under it to dry the meat, and then it was sacked up to be used later. The dried beef tasted well and was healthful. None of it was ever sold; we kept it all for home use; and none could be bought.
Everyone in the community had the same food
No others in the community lived better than we did; all fared about the same. Even the Ardis and Crittenden families, with all their negroes and land, lived as poorly as we, and sometimes worse.
Owing to the fact that Mr. Ardis moved from Pike County to Dale County just after the war began, he found it very difficult to feed his slaves for the first year or two. There was not enough foodstuff in the country for sale that he could buy for them, he could not sell cotton nor produce large enough food crops. He even made syrup of cornstalks and resorted to other make-shifts that his neighbors were not compelled to make. It was said that sometimes his slaves did not have enough to eat, but he did the best he could for them, and his neighbors helped him. Few people went hungry or lacked food.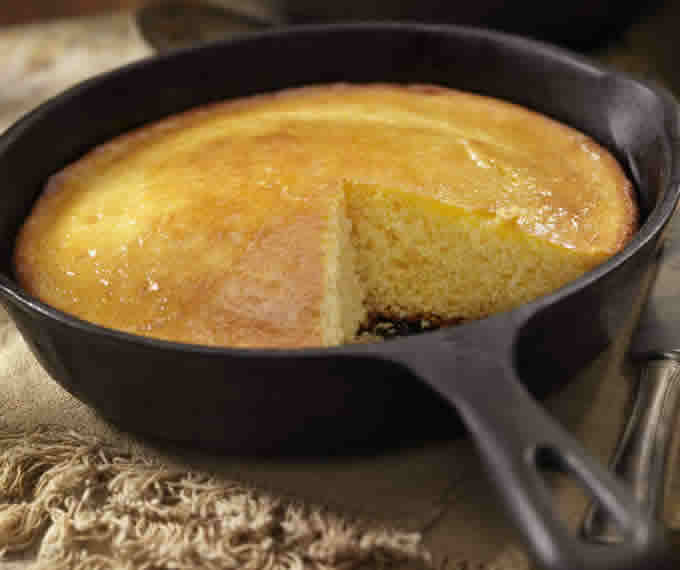 There were some soldier's families rather out of our community and in the poor "piny woods" about Newton who needed and received help. When our people heard of a needy case, they sent supplies. The war was hard upon poor people who had no negroes, for after the men went into the army the women could hardly keep the wolf from the door. But they could always get assistance from neighbors.
SOURCE
Excerpt Transcribed from The Alabama Historical Quarterly, Vol. 19, No. 01, Spring Issue 1957