The old Tuscaloosa Highway is one of the oldest roads in Alabama, parts of the remains of the Old Huntsville road one of the early settlement roads can still be seen near it.
Old town of Bucksville
The stretch of this Highway that I want to discuss is around the Tuscaloosa/Jefferson county line in the old town of Bucksville. This area was settled early in our history and was a busy little hamlet due to the Tannehill ironworks(1865) operations and later the Iron ore pits and Coal mines that dotted the area. During the 1920s and 1930s many roadside taverns and beer joints began to spring up along this main road to quench the thirst of the roughneck iron ore and coal miners and were known for their knife and gunfights. Some of these bars were Shorty's, Twin Springs, The Green Lantern and many more who's names are lost to history.
Raised in a sawmill camp
Geraldine Ledbetter was born and raised in a sawmill camp, she grew up hard and she grew up mean and could handle her own against girls or boys. She later met and married young a coal miner by the name of Grady Humphries and moved to Bucksville. Grady loved hanging out at these taverns and Geraldine would march down to these local watering holes and haul him home most times against his will. This broad shoulder lass begin to get a reputation of holding her own in starting and breaking up fights.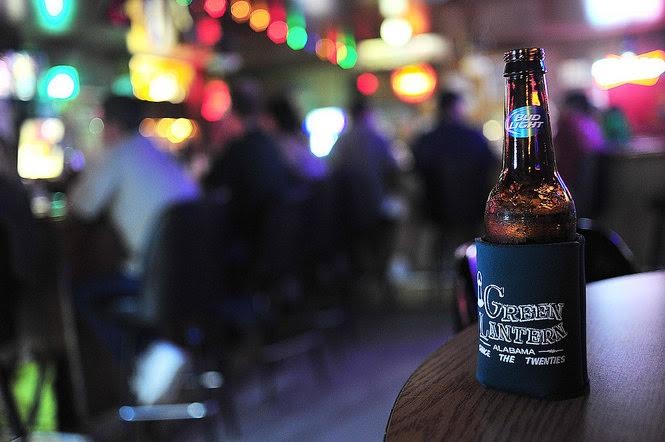 One of the legends is the time Geraldine served as the unofficial bouncer at the Green Lantern and one of the male patrons began to smart off to her before he could finish his rant Geraldine had grabbed him by the nap of the neck and knocked him through the front door of the Green Lantern into the dirt parking lot.
Geraldine passed away in the early 1980s and is buried in the Bucksville cemetery but her legend and the Green Lantern are alive and well especially on a Saturday night when the jukebox is playing and the beer is flowing.
ALABAMA FOOTPRINTS Confrontation: Lost & Forgotten Stories

is a collection of lost and forgotten stories that reveals why and how the confrontation between the Native American population and settlers developed into the Creek-Indian War as well as stories of the bravery and heroism of participants from both sides.