The Arnold family in Alabama has a Revolutionary War ancestor and has been a part of Alabama since statehood.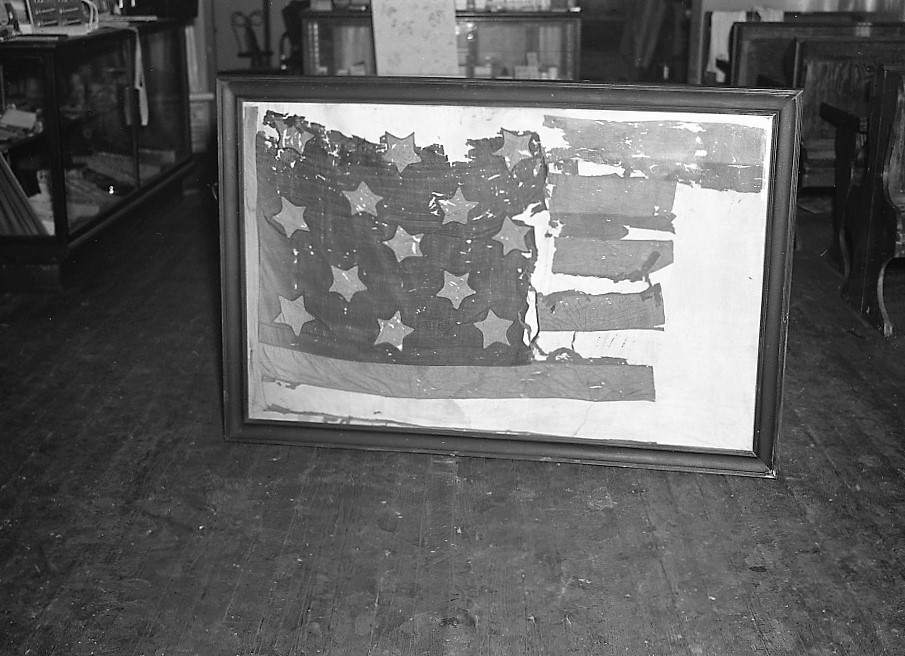 One of two Revolutionary War flags in existence. This one was carried at the Battle of Stoney Point, General Posey commanding (Library of Congress)
This book includes considerable research completed by others.
"Don't waste precious time and money completing genealogy research others have done! Take advantage of what other genealogy researchers have discovered and download this E-books in minutes to your computer or E-reader today
This compilation includes notes, sources and information found on descendants of Benjamin Arnold and his wife Ann Hendrix of Virginia found in Alabama records. Descendant, Thomas Arnold, was a Revolutionary War Soldier and his pension claim for military service is included in this compilation.
Descendant surnames include: AGNEW, ANDERSON, BAIRD, BATTLE, BECK, BENJAMIN, BETTISON, BLACKWELL, BOLLING, BOWDEN, BROWN, BRYSON, BUFORD, CAFFEE, CAMP, CANNON, CARSTAPHEN, CARTER, CASH, CASTLE, CORLEY, COX, CRANE, CRISP, CUMMINS, CURBE, CURT, DAVIS, DEASON, DILLARD, DOUGLAS, DUNKLIN, EADY, EICHELBERGER, ELLIS, ELLISON, FARRINGTON, FULTON, GAINES, GAITHER, GARRETT, GLOVER, GRAVES, GRAY, GRIFFITH, HAMILTON, HARDIN, HARPOLE, HART, HENDRICK, HENRY, HICKS, HOLCOMBE, HOOPER, HOPE, HURLEY, JAMES, JONES, KAFER, KERSH, KIRKPATRICK, KNIGHT, LANGSTON, LAMONT, LAW, LOWE, LYBRAND, MARTIN, MCATEE, MCCOLLUM, MCCRARY, MCCUEN, MCDAVID, MCEACHERN, MCFALL, MCKINNEY, MEADOWS, MERCHANT, MERRITT, MILLER, MILES, MIMS, MITCHELL, MOONEY, NUNN, OWEN, PARKER, PINSON, PRATT, PRIDGEON, PRINCE, RAMSEY, RAY, REYNOLDS, ROSS, ROTTENBERRY, RUSSEL, SANDERS, SAUNDERS, SCHWARTZ, SEWELL, SIMS, SMITH, SMITHERMAN, STARR, STEVENSON, STONE, STUCKEY, SUGGS, SULLIVAN, TALLET, TAYLOR, THOMAS, THOMASON, THOMPSON, TIERCE, TRUCKS, WALLACE, WALLER, WATERS, WATKINS, WEAVER, WESTMORELAND, WHARTER, WILLIS, WILSON, WINN, WOOD, WOODSON, WOOLLEY, WRIGHT, WYATT, ZELLARS
Anyone can read Ebooks if they own a computer.

Ebooks can be downloaded directly to your computer with Amazon's FREE READING APPS