The Red Horse
by
WPA writer
Demps A. Oden
1936
During the 1930s, Great Depression era, many writers were employed to interview people around the United States, so their experiences and life history could be recorded. The program was named the U.S. Work Projects Administration, Federal Writers' Project and it gave employment to historians, teachers, writers, librarians, and other white-collar workers. This is one of those unedited stories.
A type of fishing once popular on Coosa River, was that method by which fish were taken in shoal water by "gigging" as it was called.
Adapted from the Indians
Two fishermen in a canoe, 1 in the stern to paddle and the other in the bow, armed with a gig for killing the fish. The gig was a 3-pronged spear of iron, on a wooden handle 10 to 12 feet long, and in the hands of a skilled operator, a very effective weapon to kill and recover the largest fish. The method was adapted from the Indians, who were expert in the practice.
Near the middle of the boat was an elevated stand on which a bright fire of pine fagots burned. This light was supposed to attract the fish and aided the spearman in his aim. A common and, to those hardy fishermen, amusing incident, was of frequent occurrence, when the man in stern of the boat got interested in his companion's efforts to land a big fish and permitted the boat to drift against a rock and upset – putting out the light, losing the catch and giving the fishermen a thorough wetting, without danger of drowning in the shallow water.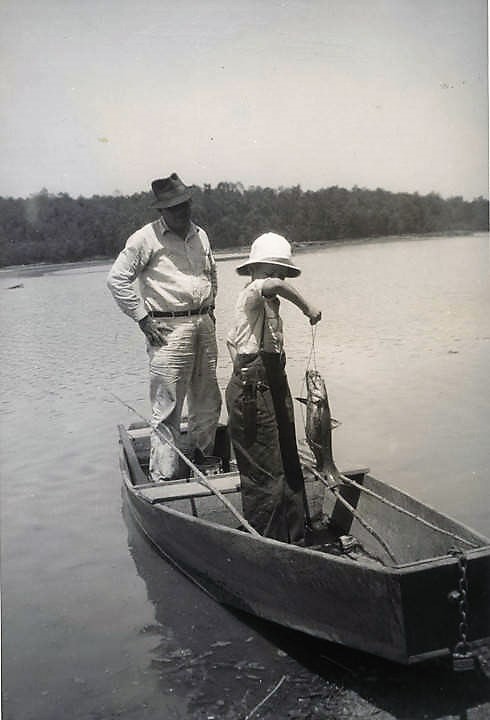 Unidentified man and boy fishing on the Coosa River, Talladega County ca. 1930s (Alabama Department of Archives and History)
The run of the Red Horse
The high-water mark of this type of fishing was associated with the annual runs of the "Red Horse", a species of salt-water fish that spawned in the upper reaches of Alabama rivers. These fish came in vast numbers at the same time every year, the dark of the moon in April. The run lasted about one week and during that period were taken in such numbers as to be used even to feed hogs; since it was not unusual for a couple of men to fill a canoe more than once in the course of a single night.
Since the great dams have been built across Coosa and Tallapoosa Rivers, the fish are unable to pass; hence, this type of fishing has become a thing of the past, to the regret of the many people living in the vicinity of those shoals whose murmur has been stilled in the interest of industry.