During the War Between the States, men who volunteered for service from the South had to furnish their own clothing and equipment while in service. Below is an article with suggestions that appeared in The Spectator on June 2, 1861, Elmore County, Alabama at the beginning of the War.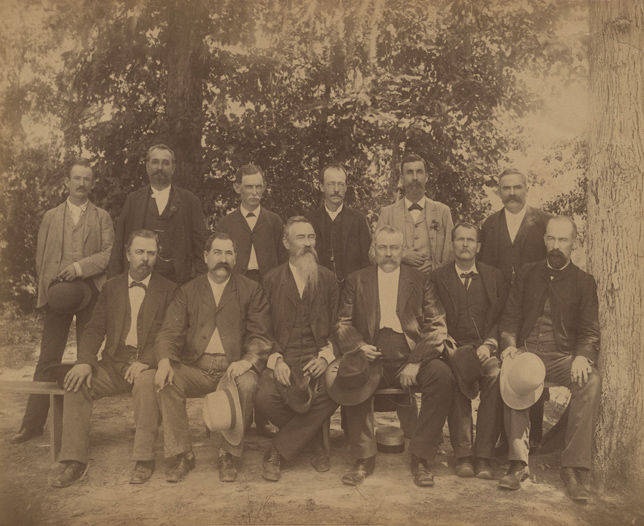 6th Alabama Infantry reunion at Jackson's Lake in Elmore County, Alabama. Seated, left to right: Whitten; Higgins; M. B. Kirkpatrick; Ben Chapman; Leary;and Tom Scott. Standing, left to right: Frank Vickers; Tom Herbert; Finegan; Felix McManus; George C. Clisby; and Wade McBride.
CLOTHING AND EQUIPMENTS
A general order from the Executive Headquarters of Georgia recommends the following outfit for Volunteers in service:
1 Coat or Jacket (as may be the uniform)
2 Pairs Trousers
1 Forage or Fatigue Cap
2 Flannel Shirts
2 pairs Drawers
3 pairs Socks, Woolen or Cotton, Woolen best
2 pairs Bootees, Ankle or Jefferson, or Brogans, with full broad soles (sic) and low flat broad heels
2 colored pocket handkerchiefs
1 light black neck tie
1 comb
1 strong pocket knife
1 small ten cup
1 iron spoon
1 knife, 1 fork
It would be well also, if each man would take with him a flannel band, of from eight to ten inches wide, provided with strings, to be worn over the abdomen, next to the skin, for the prevention of camp diarrhea or dysentery when exposed to damps, or on the first indication of a change of habit.
Red for flannel shirts is to be avoided, as it presents an excellent mark for the enemy. Green or Blue are the better colors.
High or narrow heels to the boots or shoes should not be worn, as they are injurious to the feet. Bootees are far preferable to boots of any kind in summer.
Such articles are not worn or carried about the person to be neatly packed in, or be attached to the knapsack or valise.
To facilitate arrangements for securing a regular supply of clothing from home it is recommended to companies to consider the advantages of turning over to the Captain, or other responsible agent, their commutation, as paid, to be applied in such manner as may have been determined upon.
It is essential to the health of the soldier, whether in barracks or camp, that he be clean in person, regular in his habits, and physically exercised. – The two first can be attained by dividing each company into four squads or messes, and assigning to each a subaltern, or non-commissioned officer, to supervise the persons, habits, and diet of the men, who by word of friendly counsel when required may correct neglect in either. The third, or physical exercise, rests with the Captain or Commander of the company, who for its discipline and efficiency, should in some manner or other employ his men actively every day.
Faith and Courage: 2nd edition -A Novel of Colonial America 

Inspired by real people and actual events, the family saga of colonial America continues with Ambrose Dixon's family. Faith and Courage

presents

the religious persecution of Quakers in Pre-Revolutionary War days of America intertwined with a love story.