Anne Royall (June 11, 1769 – October 1, 1854) was one of the first newspaperwomen in America. When her husband died in 1813, she traveled Alabama for the next four years and wrote letters to her friends about the evolution of the young state. The letters were published as a book entitled Letters from Alabama in 1830.
In January of 1818, Anne was in Huntsville, Alabama. In the following transcribed letter, she provides a glimpse of some topics of conversation at the time. The letter has been transcribed exactly as published in the book with misspellings.
Huntsville, Jan. 4th , 1818
Dear Matt,
After packing up last evening for the Bluff, I sat musing in my parlour, when all at once my ear was saluted with the sound of mirth and jollity below. Eager to learn what was going on, 1 descended to the parlour, and there I found the sweet girl, the grave matron, the sparkling belle, the conceited fop, the modest young gentleman, vetran soldier, and a sociable old planter. They were all talking and laughing about the gas, (all the rage,) planting cotton, courting, philosophy, biography, &c. Every one expressed themselves with freedom and good humour; but I perceived great deference was paid to the old planter, a Virginian by birth, immensely rich, and a widower.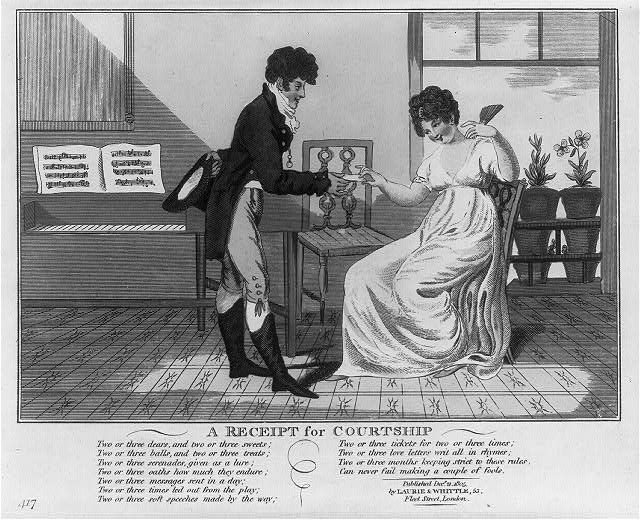 Print shows a young man handing a young woman a note. Text of poem is caricature of romantic courtship – published by Laurie & Whittle, 1805 (Library of Congress)
Many a girl would jump at you
I had scarcely seated myself when my landlady, a sprightly black-eyed woman, and no fool either, joked the old planter about the girls. "Poh, poh," said the planter, " I don't care a cent for the girls: why, they won't let such an old fellow come within a squirrel's jump of 'em." "But you must persevere—don't give up the ship—I'll engage you will succeed— many a girl would jump at you." "Faith, that's the greatest fault I find with them; but instead of jumping at me, they jump away; and if I offer to lay my hand on one, she runs and squalls, as though 1 were a robber, and were tempting her life." "But," says the sprightly Mrs. Mosely, "there you are wrong: no one offers to touch a lady in these days. I am surprised at you. When you court a girl, you must set off at a distance and talk to her; and write verses in her praise, and send them to her; the old time's fashion, when you and my mother were young people, will not do now-a-days." "The d—1 it won't; then they may all die old maids for me. I tell you what, Mrs. M., I think the gals was as virtuous in my young days, and may be, a little more so, than they are now—and many an arm have I laid round 'em, see." "Oh, fie! don't talk so—you will make the ladies faint. These were old times, the fashions have changed."
From good to bad
"Faith, I believe so; but it is from good to bad. I am opposed to all these new kick-ups. Whenever I see a gal so very coy and prudish, and won't let a man come near her, it gives me a bad opinion of her; and I'll tell you why—when I was a young man, I happened to be at a ball—your mother was there too. So, there was one gal there; a m-i-g-h-t-y precise creature, and would not let me touch the tip of her finger. No, Sir, I do n-'t d-a-n-c-e  t-o-n-i-g-h-t;' and primped up and tossed her head, and cried out to a friend, sitting by her, 'how odious it was, for men to be taking hold of ladies' hands—she was surprised at my presumption;' and not long after this, this same nice lady met with a misfortune ladies, which I leave you to guess. Ever since that I marks 'em—I has my own opinion of 'em." "La, what nonsense," said the belle; "such talk ar quite ridiculous."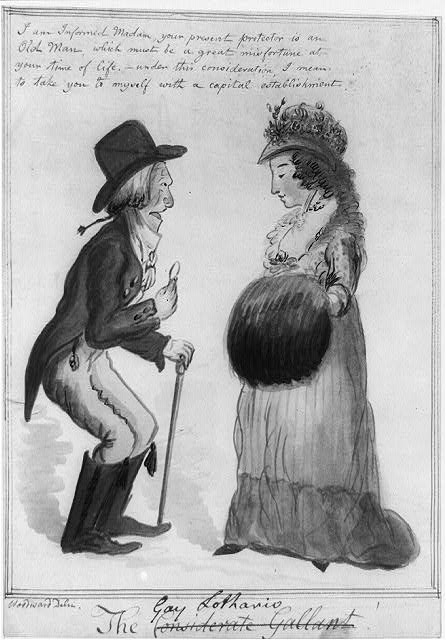 Print of a homely, elderly man dressed in fashionable clothing ogles a pretty young woman standing opposite him, with her hands in a large muff. 1803 by George Moutard Woodward (Library of Congress)
The subject of gases
While the old planter and the ladies were conversing, Mr. Fop, and the young gentleman were engaged in an analasys of the gases. "And what is gas?" inquired Mrs. Mosely: "I hear nothing but gas, gas, gas, where I go— and I know no more about it than a monkey. I have asked hundreds, and either they, or I, must be fools: Not a soul that I meet can explain it in terms I can comprehend. They stuff it with such a number of outrageous hard words, that I could understand Greek sooner. Now, gentlemen, do if you please, tell me in plain words what is this gas." She looked at Mr. Fop as she spoke, who being appealed to, cocked his head, spit, and hemmed; and edging his chair towards the ladies, said: "Have you never read Accam's theoretical, practical, chymistry, Madam?" "No I have not," said Mrs. M. in a pet, "and I should not understand a word of it if I had. I despise your theoreticals and practicals. I understand none of your hard names. If you cannot tell me, in plain English, what gas is; where it comes from; and what it is made of; or whether made at all, or not, you need say no more. I am sick of the gases." Now thought I, I shall hear what these gases are at last. She will certainly get it out of him. "There are several sorts of gases"—" Oh, if you have more than one gas, I am sure I will never understand it, so you may stop at once—just tell me what is gas?" "Gas, Madam, is a combination of certain substances, reduced to a gaseous stale, formed by adding a solvent substance, and by their joint formation." » Thank you. Sir, I have heard enough of it," said the lady, very short and illnatured. She must be one of the Honorables, as he took it all in good humour.
Newfangled fashions
The old planter, who had listened attentively, said, "faith Mrs. M. this is more of your newfangled fashions, I suppose. What the d—1 it means I don't know. It is like your new fashion of wooing. I mean no disparagement to you, ladies and gentlemen; but I think the good old times were the best; and I never herd a word about Gushes, or what you may call it.  Landlord, times are dry, hand round some wine." I was pleased to hear the order, though I could not join them, as I wished to hear the old man talk another talk.
A littl bustle succeeded, but in a short time all were seated again; when I asked Mrs, M. if she gave up the gases?— The other young gentleman blushing deeply, and regarding Mrs. M. earnestly, at first, faultering, but growing firm as he proceeded, (being very young) addressing himself to the ladies expressed himself nearly as follows: "Gas is a fluid substance, and is similar to air. It is transparent like water; and like water, elastic, forcing itself to its level. It is heavy, but invisible. It cannot be affected by cold, but can by heat. Gas exists throughout nature. There is gas, more or less, in all substances; and all gases (for as my friend said, there are several kinds of gas) are a combination of substances, such as common salt and water; to these add half their weight of sulphuric acid; heat applied to these, gas is produced, and may be collected by an instrument suited to the purpose; but to retain it, it must be placed over mercury. There is gas in all substances, and three distinct kinds, viz: Oxygen, hydrogen, and nitrogen, gas. These are produced by different processes, and their properties differ: Oxygen gas, for instance, is indispensable, to the respiration of animals—it is the cause of animal heat. In its artificial state, it will, when brought into contact with any combustion, burn, and emit a flame. Hydrogen gas, is what was formerly called inflammable air. Animals will die in it instantly, as they cannot breathe in it, though vegetables will grow in it. When brought in contact with atmospheric air, or what is the same thing, oxygen gas, it will burn fiercely. Nitrogen gas, in its primitive state, will not burn on touching combustion. In chymistry it has various uses. It is a component part of all animal substances, and communicates to them their most distinctive characters." tie concluded by adding, that he " had a very limited knowledge of the gases, having but just commenced the study of cbymistry, and that it was a science the most difficult of all others to explain to those who have not a practical knowledge of the same." Loud were the plaudits of the ladies,' and the old planter said, " the young man must take a glass of wine with him: he spoke like a man of sense, though he (the planter) did not understand his argiification." The party ended with a dance, and I retired shortly after they commenced, as I had to rise betimes.
Yours, &c
ALABAMA FOOTPRINTS: Settlement: Lost & Forgotten Stories is a collection of lost and forgotten stories of the first surveyors, traders, and early settlements of what would become the future state of Alabama.
Read about:
A Russian princess settling in early Alabama
How the early setters traveled to Alabama and the risks they took
A ruse that saved immigrants lives while traveling through Native American Territory
Alliances formed with the Native Americans
How an independent republic, separate from the United States was almost formed in Alabama