"I (Rev. R. W. Brooks) am not only a retired Baptist minister but also a Justice of the Peace, railroad agent, Express agent, Postmaster, Editor and writer. I can tell many amusing incidents that came along and lives in my memory that most folks would have forgotten," he told me.
"My mother, Mary Walker, was a native of Mecklenburg, North Carolina. Her family moved to Alabama long before the Civil War and brought with them three hundred Negro slaves. My father, Jordan Gilmer Brooks, came from Georgia. Sam Houston, "The Defender of Texas" who was born in Virginia in 1793 was my great uncle. I am distantly related to Dorothy Dix (Elizabeth Wilmer) on my father's side. In my modest home in Atmore I like to sit and muse and sometimes talk of my active life.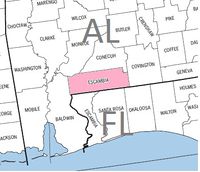 We lived through the horrors of the Civil War in Greenville
"When the weather is good, I always like to take a walk. Such good exercise keeps me in good shape. As for my wife, she gets all the exercise she needs, taking care of the house and chickens.
"Yes, I'll be eighty-eight years old if I live until the 12th of July. My mother was twenty-nine years old when I was born. That was in Pike County in 1852. I spent my babyhood there and I can't recall anything of importance that happened there."
"When I was seven years old, we moved to Butler County one cold Christmas day about five miles south of Greenville. There we lived through all the horrors of the Civil War."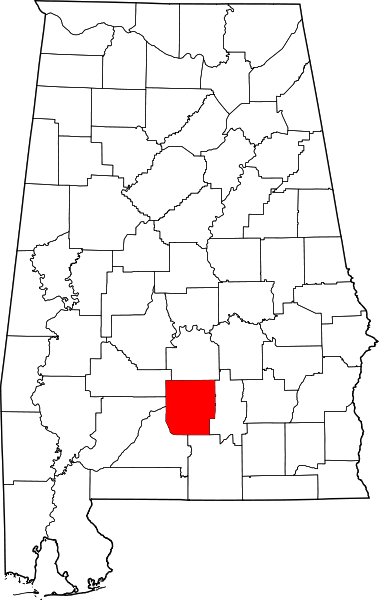 How well I remember my school days. They were spent in a little improvised log house. That was over seventy years ago when John Bolling taught us the Blueback Speller and Davies Arithmetic, Smith's Grammar and McGuffy's Reader.
"My father went to the war and was killed. Mother was left a widow with eight children to support and educate as best she could. Later on in the war my brother Lee, had to go and was in the company with Frank Creech and J. B. Stanley, the Editor."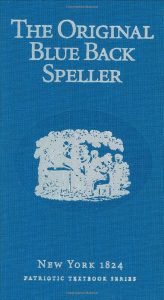 "I well remember going to the post office two or three times a week from that simple country home to Greenville; many times returning without the mail that my mother asked for. Of course, I would tell her that there was none but the woman at the post office never looked. As a child, that was tragedy to me; as I was sure if she had looked, my mother would not have been disappointed. Years after, I was appointed Postmaster during Cleveland's first term in my town; and no child ever came to my office and asked for mail that I or my assistant did not look, yet we knew that there was none."
"I wander back to those far-off days and the hardships we and especially my mother went through. I can see again the care-worn brow and tired hands as she toiled on to try to raise her brood creditably. Well, she made a fairly good job of it. The girls all married very well. Two of the boys got to be judges in the counties in which they lived. One boy was a railroad man and the other one has been a Baptist minister for sixty-three years."
"I first saw Greenville on Christmas day in 1859. It was then a struggling village and now it is a progressive up-to-date city with a citizenship of which any place might be proud."
Circus animals escaped
"I hope I am not boring you by this rung-by-rung description of my early climb; but how could you get the picture unless I sketched in some background?"
"After coming to Escambia County, Alabama, on October 25, 1869, at seventeen, I was a clerk in a store in Evansville, a now forgotten sawmill town located near Miles Crossing. I came down to work from my home on the hill the first morning and just as I reached the crossing, I heard a train coming and saw the section foreman waving frantically. I saw that he had the culvert taken out and was repairing it leaving a gap in the track. The engineer saw the situation and called for brakes by one long blast of the whistle. The brakeman had to climb up the steps of the cars and run the whole length of the train to put on each brake. I saw those boys doing their best to stop the train, but on it came.
The engine struck its nose in the opening and turned a complete somersault and the train came to a stop all at once. The sudden stop caused the doors to fly open and a lot of circus horses and animal cages fell out. Two leopards got away and were never heard of again. I forgot my job at the store as I was a boy; and stopped to see what was going on. I did not have long to wait before the fun started. The circus belonged to a Jesiish (?) lady. She was back in the passenger coach. Even as a boy I thought I had heard some bad cursing but I think that that lady was a prize 'cusser'. She swore at everything that had any connection with the railroad, from the President down to the section hands."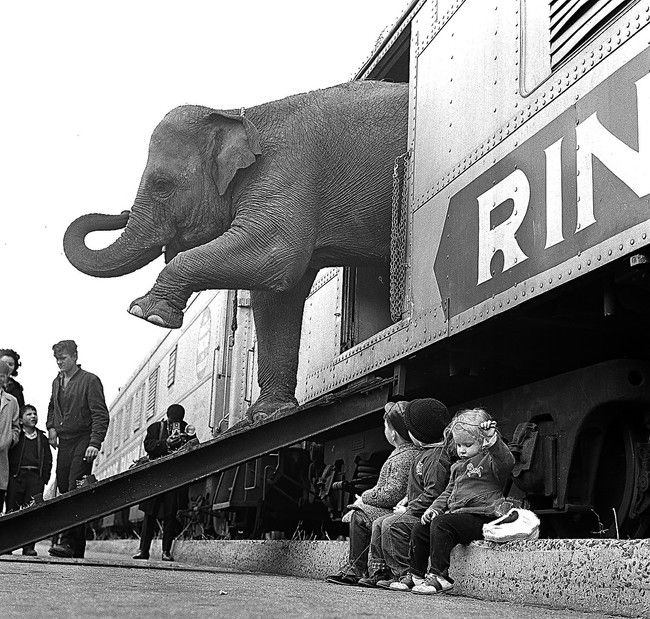 Circus elephant on train  
Remember the telegraph system
"One of the changes that has come about during my long life is in the telegraph system. When I worked in the store at Evansville, there was one long wire that was stretched along the track on poles twelve feet high. There was a telegraph office in the store and this was where I got my first lessons in the rudiments of telegraphy and learned the Morse Code. From then on I was both clerk and telegraph operator for this little village."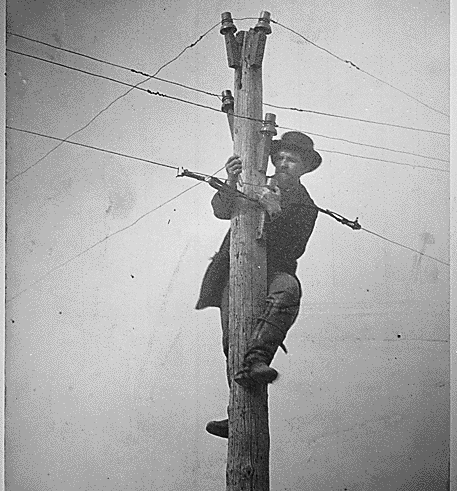 Cutting telegraph wire (Library of Congress)
"In 1872 I moved to the north end of Escambia County, Florida, or perhaps 'moved' is not the word for it. Perhaps 'went there' would be more appropriate as at that day I had nothing to move. There I lived at the little village of Bluff Springs for thirty years or more. In that space of time, I watched men and women of prominence pass into eternity."
2/8/39
Prior to statehood, Alabama was a vast wilderness with a large Native American population. It is only natural that when new immigrants from other states arrived, conflicts over the land would arise. Soon, these small conflicts exploded into war.
Alabama Footprints Confrontation is a collection of lost and forgotten stories that reveals why and how the confrontation between the Native American population and settlers developed into the Creek-Indian War as well as stories of the bravery and heroism of participants from both sides.
Some stores include:
Tecumseh Causes Earthquake
Terrified Settlers Abandon Farms
Survivor Stories From Fort Mims Massacre
Hillabee Massacre
Threat of Starvation Men Turn To Mutiny
Red Eagle After The War