Happy Birthday!
WILLIAM FARRINGTON ALDRICH
BIOGRAPHY and GENEALOGY
(1853-aft. 1904)
Shelby County, Alabama
At Aldrich, Alabama was one of the handsomest residences in the State, lived the Hon. William F. Aldrich, president of the Montevallo Coal Mining company and ex-congressman of the fourth congressional district. Mr. Aldrich was born at Palmyra, N. Y., March 11, 1853. He was educated in the public school of his native village until 1865 when he removed with his father to New York city, in which city and vicinity he attended several schools. He was graduated from Warren's Military academy, at Poughkeepsie, N. Y., taking a course in civil engineering.
He moved to Alabama in 1874, and engaged in mining and manufacturing, and built up the town that now bears his name. Mr. Aldrich was elected to the 54th Congress by the combined votes of the Republicans and Populists of the fourth congressional district, against Gaston A. Robbins, Democrat.
Hon. William F. Aldrich (Library of Congress)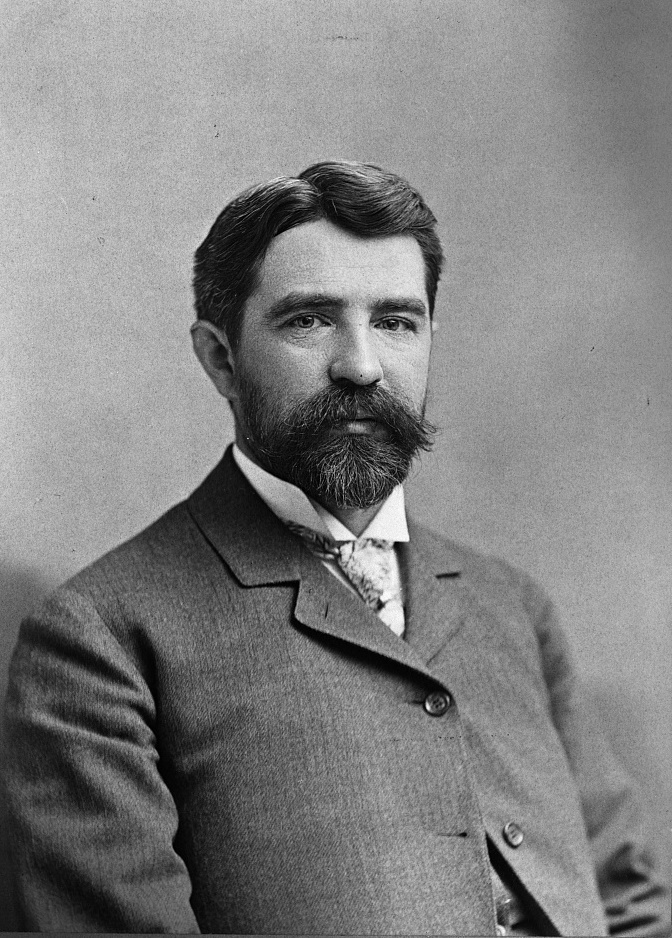 The latter received the certificate of election from the governor on the face of the returns. Mr. Aldrich instituted contest and was seated by the house, Friday, March 13, 1896. He was elected in November 1896, to the 55th Congress as a Republican, defeating Thomas S. Plowman, Democrat, who, however, received the certificate of election. Mr. Aldrich instituted his second contest and was seated by the house on Wednesday, Feb. 9, 1898. In November of 1898, he was elected to the 56th Congress by the Republicans, opposing his former rival, Gaston A. Robbins, Democrat. The latter received the certificate, as he did in the former case. Mr. Aldrich then instituted his third contest and was seated by the house, Thursday, March 8, 1900. In the election following this, Mr. Aldrich declined to allow his name to be further used, preferring to devote his attention to business.
He had not, however, lost interest in national politics. He was a delegate to the Republican national conventions of 1896, 1900 and 1904, and represented Alabama on the Republican congressional committee for six years. He also took an active interest in State politics, serving on the Republican State committee. His standing in Washington was attested by the fact that he was chosen by President Roosevelt as one of a committee of three to act as an advisory board to the President in the matter of Alabama Federal appointments.
He was a member of the Episcopal church, a York, and Scottish Rite Mason, with membership in the Blue lodge, chapter, council, commandery, shrine and the consistory. He was a past master of the Blue lodge, high priest of the chapter and past grand officer of the commandery. He maintained a palatial home.
His wife was Josephine Cables of Rochester, N. Y. Their marriage occurred April 16, 1889. A few brief notes will be of interest concerning the Aldrich connection. Mr. Aldrich was the son of William F. Aldrich and his wife, Louisa Klapp. His father was born at Mendon, Mass., was there reared and educated, entered the field of law, and passed his life in Palmyra, N. Y., and in New York City in the practice of his profession, his New York practice being mostly in the handling of receiverships for banks and large corporations. He also organized the Union Trust company and was its secretary for several years. He resided in western New York in the 1850's and was prominent and influential in the organization of the Republican party. His wife was the daughter of John Klapp, a captain in Washington's army during the Revolution, and to her were born four children, of whom two were living in 1904. He died in New York city in 1878.
The Aldrich family is of English descent, the first representatives coming to this country in 1667. In England its coat-of-arms, was a white bull on a green sward, through which coursed a stream of, water, the whole being emblematical of the place in which the family originated, Oxford, England.
William and Josephine (Cables) Aldrich had two children;
William F. J. Aldrich born 1889 in New York
Lillian Grace Aldrich born 1876 in New York. Lillian Grace Aldrich married John Weathered Pratt, son of John W. Pratt and Frances Emeline "Emma" (Weathered) Pratt Nov. 1898 in Alabama.
William Farrington Aldrich died oct 30, 1925. He is buried in Rock Creek Cemetery, Washington D. C.
SOURCES
History of Alabama and dictionary of Alabama biography, Volume 3 By Thomas McAdory Owen, Marie Bankhead Owen
Find A Grave Memorial

# 6417167

Wikipedia