Anne Newport Royall – Traveling to Huntsville on horseback in 1817 was not without humor as this letter reports
Anne Royall (June 11, 1769 – October 1, 1854) was by some accounts the first professional woman journalist in the United States. Left penniless after a brutal court battle with her dead husband's relatives, Anne traveled Alabama for the next four years. She wrote letters to her friends about the evolution of the young state. The letters were published as a book entitled Letters from Alabama in 1830. Below is a letter she wrote when she arrived in Huntsville in 1817.
Huntsville, December 24th, 1817.
Dear Matt,
Here I am, landed safe and sound, and in high spirits. This will go by the same mail with yesterday's adventures* I broke off short last night, being sleepy: but, taking up the subject—The little man dropped his leathers quite low, upon the departure of his friend, who, immediately arose and walked out of the house. The Tuckahoe, (a Virginian) after asking the girl for mo' milk, and mincing awhile, left the table likewise, and walked into the tavern. Had the latter as much spunk as he had impudence, they certainly would have fought—but I heard no more of it. The old lady said, " if my Billy had been at home he would have slapped his jaws."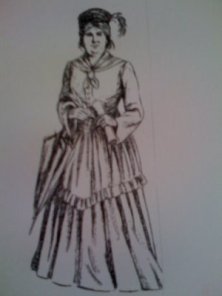 Anne Newport Royall 
She traveled with two men to Huntsville
This morning very early, upon sallying forth, I found my little fop inquiring for his mar, [mare,] and it was laughable enough to hear him insist upon sending his mar to water, the very self-same way we were going. "I always has my mar wartered befo' I starts."
They were both going to Huntsville, where the fighting gentleman lived, as I found in the course of the day. We will have a merry time of it, thought I; and, taking leave, we all set out.
Having every prospect of a rainy day, we whipped on pretty brisk. I found the land high and dry after leaving Wells', and another change in the growth, which is very light, and in many places none at all. The land is of a red is h black, light as ashes, and very rich.
I attached myself to the Tennesseean, (he of Huntsville,) being pleased with his manners, and, above all, with his spirit. He related many anecdotes of the recent battles, and was very communicative on the situation and prospects of the territory.1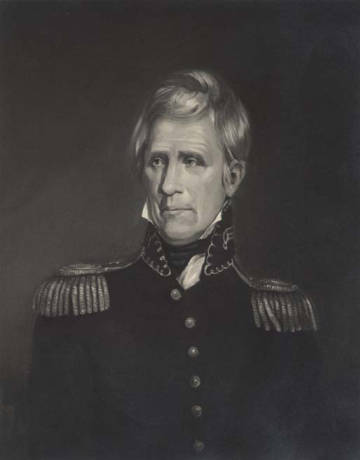 General Andrew Jackson
General Jackson was the topic of conversation
We had taken up more company, and at length the conversation turned on the renown of General Jackson. My little Tuckahoe, (a Virginian) not pleased that he was overlooked in the conversation, would some times be alongside, often before, but never behind. His hat stuck on the top of his head, to the hazard of falling off. He twisted and turned, his head now on one shoulder, and now on the other; and again elevated, and next bending forward to look at his stirrups. Finding all his evolutions failed to attract attention, after displaying all his fine parts, and the fine parts of his mar, he could brook the indignation no longer.—" By G—d, I suppose, you think General Jackson is a G—d almighty about here." "By G—d, sir, I think he is next to him," said the Huntsville man; "and none but a d—d fool would have made the remark." Now thought I, they will fight. "You, nor no other man, Sir, shall speak disrespectfully of General Jackson, in my presence." This spirited reply, rather cooled the little gentleman's ire. He ventured, however, to draw a comparison in favor of General Washington. The other said he "was disposed to acknowledge all possible praise to General Washington, but, at the Same time, Sir, the man who dares to impugn the name of Jackson in my presence, does it at his peril." I begged the gentleman to resume his good humour, and turn the little gentleman over to me. Thus he fell out of the pan into the fire. "That ar a fine mar of yours, Mr. Jones," said I, that being his name. "How far have she toted you?" "She have toted me a thousand miles, and she could a toted me a thousand miles mo'." I then inquired after the lobster family, at Norfolk; said I understood "they were a numerous and respectable family." "Humph!" he replied. "I ar astonished to hear some folks talk: the lobsters ar a fish."2 Thus I continued to torment him, to the great amusement of the party. He had the only umbrella in company, and the Huntsville gentleman, who could scarcely sit on his horse for laughing, asked "if he would not compromise with the lady, by giving her the umbrella?" which I would not accept, though it rained moderately fast. He had the most scornful lip I ever beheld.
Cotton fields were impressive
The cotton fields now began to appear. These are astonishingly large; from four to five hundred acres in a field!—It is without a parallel! Fancy is inadequate to conceive a prospect more grand! The cotton, as it now stands, has the appearance of buckwheat when ripe, being divested of the cotton, (as my friend informed me,) which is picked out. Although the land is level, you cannot see the end of the fields either way. To a stranger, coming suddenly amongst these fields, it has the appearance of magic. He is lost in wonder, and nothing hut the evidence of his senses can persuade him it is reality. In laboring to do this, I was forced to abandon my ideas of human industry, which I could not accommodate to this novel appearance.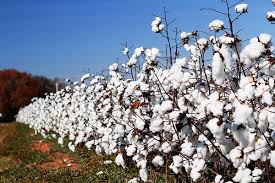 We arrived in Huntsville about 2 o'clock, P. M. and met another wonder at the entrance of the town, which was one of the great cotton machines.
Yours, &c.
2A lawyer, in one of the lower counties of Virginia, being in court one day, arose and observed to the court, "my witnesses is come, and I ar ready for trial." The opposite counsel, whom I believe was Mr. Wict, rose up, and, bowing, replied, "am you, Sir."
SOURCE:
Royall, Anne Newport, Letters from Alabama, 1830
ALABAMA FOOTPRINTS: Settlement: Lost & Forgotten Stories is a collection of lost and forgotten stories of the first surveyors, traders, and early settlements of what would become the future state of Alabama

.
Read about:
A Russian princess settling in early Alabama
How the early setters traveled to Alabama and the risks they took
A ruse that saved immigrants lives while traveling through Native American Territory
Alliances formed with the Native Americans
How an independent republic, separate from the United States was almost formed in Alabama