Happy Birthday!
JOSEPH ALEXANDER SMITH ACKLEN
BIOGRAPHY and GENEALOGY
(1816-1863)
Madison County, Alabama, and Louisiana
Joseph Alexander Smith Acklen, a lawyer, was born July 6, 1816, at Huntsville and died September 11, 1863, at Angola Plantation, West Feliciana Parish, Louisiana. He was the son of Samuel Black Acklen and Elizabeth (Hunt) Acklen; grandson of Capt. John Hunt, the founder of Huntsville. He was United States Attorney of Alabama under Presidents Van Buren, Tyler and Polk. He served with the rank of colonel in the Mexican War, 1846-1848, and was promoted for personal bravery.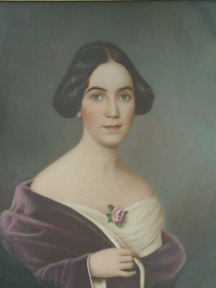 He built the villa of "Belmont Mansion," near Nashville, Tennessee, now Belmont College, which is said to have been the finest private residence in the Southern States prior to the War of Secession. He became a cotton planter in West Feliciana Parish, La.; was owner of seven plantations on the Mississippi River, and is said to have had 1,100 slaves.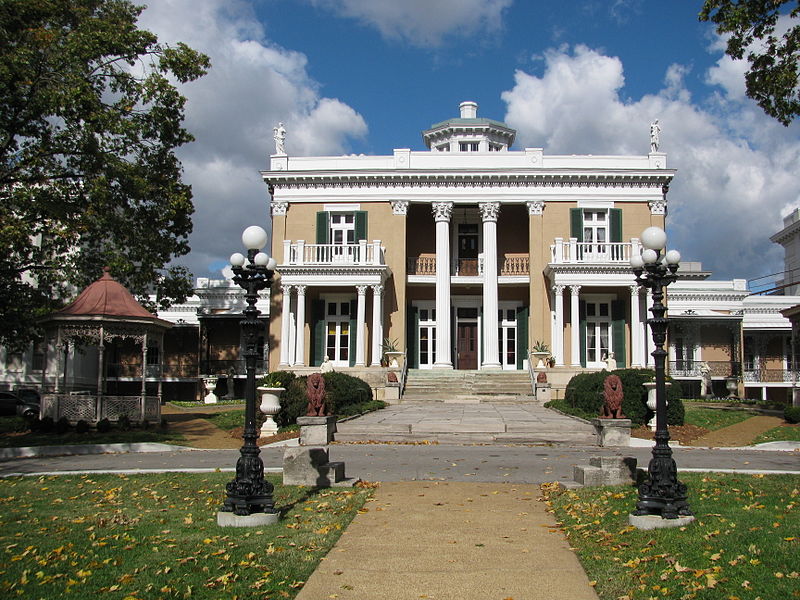 J. A. S. Acklen married May 9, 1849, at Nashville, Tenn., Adellcia (Hayes) Franklin, born March 15, 1817, daughter of Rev. Oliver Bliss Hayes and Sarah Clements/Clemmons "Sallie" (Hightower) Hayes, who lived at "Rokeby," near Nashville, Tenn., the former a descendant through his mother of the Rev. Charles Chauncey, second president of Harvard University, and a relative of the Eyre family in England, the latter maternally descended from the English family of Clements; granddaughter of Dr. Richard Hightower and Nancy L. (Smith) Hightower.
"Mrs. Acklen, the daughter of Oliver D. Hayes, a native of South Hadley, Massachusetts, was a prominent leader in the social life of Nashville, Tennessee. Her mother was Sarah T. Hightower, the daughter of Richard Hightower, of Williamson County. Their daughter Adelicia married when quite young Isaac Franklin, a planter and professional slave trader of Louisiana, who lived but a few years. After his death she married Colonel Joseph Acklen, of Huntsville, Alabama, who also lived but a few years. After his death Mrs. Acklen spent much time in Europe After her return to this country she married Dr. W. A. Cheatham, making her home in Nashville, where she became noted for her cordial hospitality and her house a resort for the celebrities of that section."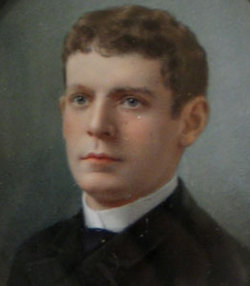 Their children were :
Joseph Hayes Acklen, lawyer, representative in congress, m. Hattle Leonora Bethell;
William Hayes Acklen, lawyer, (b. September 6, 1855 – d. Feb. 16, 1940), at Belmont, Davidson County, Tenn.; educated at Neuilly, France, at Montgomery Bell Academy, Nashville, Tenn., and a graduate of the Law School of Vanderbllt University, Tenn.; author of "Sterope," "Sketches of Travel;" translator, from the French, of "Essays on Bancroft, Longfellow, Sidney Lanier," resided in Nashville, He married Laura Crocker (1871 -1931) on Jun 2, 1896 in Cleveland, Ohio. – They had no children. non-cemetery burial – reinterred in 1958 in the Ackland Memorial Art Museum at the Univerisy of North Carolina at Chapel Hill.
Laura Acklen (b. Oct. 20, 1852 – d. January 25, 1855) set of twins, died of scarlet fever
Corine Acklen (b. Oct. 20, 1852 – d. Feb. 11, 1855) set of twins, born with a caul
Claude M. Acklen, (b. July 25, 1857) educated at Norwood, Va., and at Southwestern Presbyterian University, Clarkesville, Tennessee
Pauline Acklen, (b. October 10, 1859) married Unknown Lockett ca. 1889
The family residence in Louisiana was Angola Plantation, West Feliciana Parish, Louisiana Joseph Alexander Smith Acklen died September 11, 1863 and is buried in Mount Olivet Cemetery in Nashville, Davidson County, Tenn.. His wife Adelica Hayes Acklen died May 4, 1887 and is also buried in Mount Olivet Cemetery in Nashville.
SOURCES
The part taken by women in American history By Mrs. John A. Logan
History of Alabama and dictionary of Alabama biography, Volume 3 By Thomas McAdory Owen, Marie Bankhead Owen
Find A Grave Memorial# 21012245 # 12307201 # 12307217 # 58090766 # 12307237 # 12307254 # 21013707
Did you know that all E-books can be downloaded immediately from Amazon.com? Click below to see how.