[There appears to be some question as to who was actually the first merchant in Tuscaloosa, Alabama according to this article written in the early 1910's]
EARLY HISTORY OF TUSCALOOSA
By
THOMAS P. CLINTON
(This is transcription (with misspellings) of a portion of Thomas P. Clinton"s article "Early History of Tuscaloosa", Published in The Alabama Historical Quarterly, Vol. 01, No. 02, Summer Issue 1930. —EDITOR.)
THE FIRST MERCHANT
It is hard to determine who was the first merchant in Tuscaloosa. In Judge Smith'si writings the opinion is expressed that Levin Powell was the first merchant. Nearly fifty years ago I used to hear the statement made that Levin Powell was the first postmaster and that the first post office stood a little north of the Baptist church on Market street, but this statement would not verify that he was the first merchant.
I was told by a Mr. Henry Johnson, who lived here a great many years ago, that his father, David Johnson, an Irishman, came here in 1818, and built a log store either on the corner now occupied by the First National Bank or on the corner east of it where Maxwell Brothers' wholesale business stands, and that David Johnson was the first merchant. But this statement would not harmonize with the statement of a man named John McClary, who in the year 1898, lived near Havana, Hale County.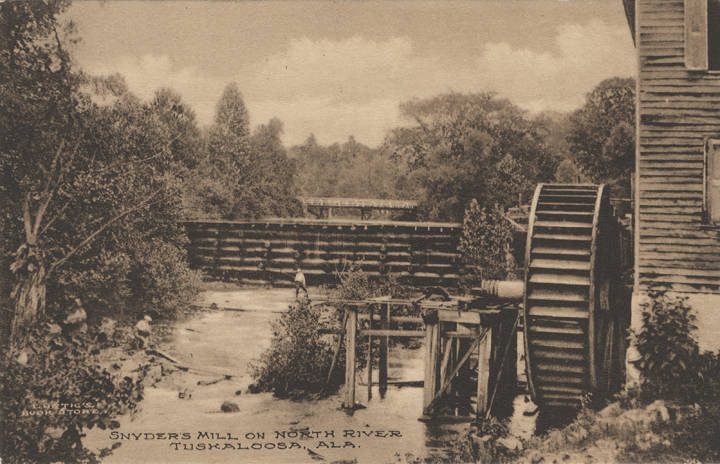 Snyder's Mill on North River, Tuskaloosa, Alabama (Alabama State Archives) ca. 1900
He was then 93 years of age. He used to tell of his passing through Tuscaloosa in the year 1817, moving with his parents from South Carolina to Hale County, Alabama, and that in passing through Tuscaloosa he found there was only one store house "and it was made of pine poles." He never mentioned the location of this store or of the merchant who ran it.
Several writers have made the statement that John Click was the first merchant. But no one makes mention as to the location of his store. There must have been several log stores on Broad street about this time. Major Dearing had one on the spot now occupied by the Gluck store, and there was a two-room log house on the Merchants Bank corner when Dr. Neilson came here in 1831. It had been built in very early days by a man named Thomas Lovel.
As to where these early pioneers built their homes, we have reason to believe that most of them were very near where the old state capitol stood. Mr. Finley, whose memory must have gone back to the twenties told me this was his recollection. He said "a few log cabins stood close to where the Baptist College now stands," which of course, we understand as the same locality. And Judge Smith, in his book of reminescences (sic) speaks of Captain Dearing being here at Christmas time in 1816, and putting up at a "shanty of a hotel kept by Joshua Holbert."
Many years afterwards Captain Dearing who was a kinsman of Br. W. S. Wyman, told Br. Wyman that this shanty of a hotel stood at a spot perhaps about 200 feet west of where L. & N. freight depot now stands and near where the old water tower was built. This statement corroborates Mr. Finley's statement.
Judge Smith also mentions that Captain Dearing made the first eggnog that was ever made in Tuscaloosa and at this hotel Christmas, 1816. From this we infer that the "wet" element was in evidence in Tuscaloosa at a very early period— when the settlement was nine months old.
While yet musing on this particular year—the first year of Tuscaloosa—it might be of some interest to make some selections from the Journal of Richard Breckenridge, who, with some companions, visited the little settlement that year. He was looking for a location in the Creek Indian country to make his home. He had ridden horseback from some point in Tennessee to the Bigbee (Tombigbee) River near where Columbus now stands. There he turned east, and from the wording of his journal in which he wrote each day one would infer that he passed through portions of Marion, Winston, and Walker counties, and that through all this region there was not a single settler.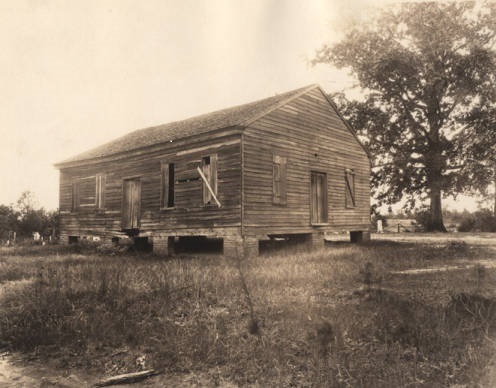 Wooden church building "Shakerag Church" in rural Tuscaloosa County, Alabama (Alabama State Archives ca. 1920)
When he entered Jones Valley in Jefferson County he made the following entries: "
August 23rd noon: Having this morning met with Mr. George Reed and others going down to the Falls of the Black Warrior, and Cahaba, I concluded to accompany them and so returned with them.
Night: We continued down Jones Valley—saw some excellent land and then camped about four miles above Click's store. "
August 24th, 1816. Started early. Went down to Pennington's mill where we bought some meal and corn at one dollar per bushel. Having left Mr. Pennington's we traveled about five miles to a fine spring and then moved, at which time Mr. Reed offered Mr. McCoy 50 cents if he would kill a small swamp rabbit that appeared wonderful restless. He took the rifle and notwithstanding its restlessness he hit it at the first shot."
From this entry we see that at least Mr. Breckenridge, Mr. Reed and Mr. McCoy were in the party. The Journal continues: "
August 25th. We saw some good land and some fine springs, but the water was not (words illegible). We camped at a fine spring but the land was broken.
August 26th. We came over some high pine ridges to Hurricane creek, where we found another good spring but the land was not very good, and we went down the creek some distance, but saw no good land. "
August 27th, 1816: We came down this day to the Falls. (Tuscaloosa). We saw some excellent land and good springs. There is as handsome a situation for a town as I ever saw. Within half a mile of the river springs are plentiful and excellent. I want a home that (several words illegible) move as soon as possible. "
August 28th, 1816: I take the third start for home this morning much better satisfied than I have ever been before. 10 o'clock: I traded for a small improvement and engaged the same man to cut the logs of a home 20 by 16 on an adjoining spring. I then started and went (words illegible) to a small branch being 10 miles from Hurricane Creek, the first water."
Now from these extracts from Richard Breckenridge's journal, we get the information that Hurricane Creek had its name one hundred years ago, and that the land adjacent was regarded as "not very good." We also learn that there was a merchant in Jones Valley named Click. And a man named Pennington, who had a mill.
Richard Breckenridge had fought in the Creek war in 1813. In his statement of August 28th, it will be noticed he traded for a "small improvement", but he did not make this town or county his home. After getting back to Tennessee he started over land to Columbus, and there built boats and went down the Bigbee River to Marengo County, where he died in 1840.
iWilliam R. Smith, lawyer, author, M. C., born in Kentucky, 1815, died in Washington, D. C., 1896.
Discordance: The Cottinghams (Volume 1

) is a novel inspired by the experiences of the Cottingham family who immigrated from the Eastern Shore of Virginia to Alabama.