THE ORIGINAL "BOTTLE CORPS"
AT THE UNIVERSITY OF ALABAMA IN 1886
by
Edward C. Crow
This "Corps" was organized by several members of the regular graduating class of 1886. I was a member of each.
Three cadets, Tom Brown, "Dick" and Harry Wilson, all of Mobile, lead the music upon a flute, piccolo and violin. The rest of us accompanied them by blowing appropriate notes at proper times into similar shaped and sized bottles filled with water to different heights, (beer and whisky (sic) being strictly prohibited by school rules) thereby lending harmony of the music of our leaders.
Cadet class University of Alabama 1887
(Alabama Department of Achives and History)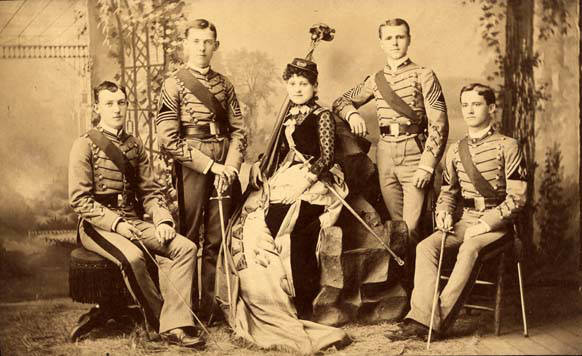 These bottles were pocketed in cups of white webbing at our left sides, the webbing crossing our right shoulders and fastened around our waists by bands of the same material with large, bright brass buckles in front. We often "played" at public enterainments, (sic) especially at the "recitals" given by the Baptist and Methodist College girls, and serenaded our young lady friends, our activities being confined to the limits of the Druid City.
Do not confuse our organization with the only recognized University band of that day, which was composed of "John", with his flute, (who also brought our mail from and performed errands in Tuscaloosa for the cadets) as leader, accompanied by the other two darkies, Mike and Neal, upon bass and kettle drums.
This band "sounded" all military calls and lead our dress parades, the University then ranking very high as a military school, as it does today in sports, particularly football.
Note: Here is a modern version of the same technique
(Alabama Department of Achives and History)
Names of Glee club members in picture:
Harpeles, Tyson Patterson Simpson Coleman Goodbrad Bailes Jones, W. F. Coston Seale
Jones, R. A. Latham Kirkpatrick Bryce Jobe Garner Wiley Hogue Hill Enslen Johnson
White Bibb McCormack Owen Stollenwerck Fosgue Cody Woods Perry Adams
What contrasts of these bands with the present University Glee Club, with my old friend and school mate Tom Garner as Conductor, and its "Million Dollar Band", of one hundred or more members!
Note: The article above is an exact Transcription of article from The Alabama Historical Quarterly, Vol. 05, No. 02, Summer Issue 1943 (Prepared and contributed by Edward C. Crow, 1151 11th Avenue South; Birmingham, Alabama – 1943)
Check out these books by the Author Donna R. Causey
You can now give a gift of Amazon Prime = click this link to learn how – Shop Amazon – Give the Gift of Amazon Prime
Discordance: The Cottinghams (Volume 1)

–

A novel inspired by the experiences of the Cottingham family who immigrated from the Eastern Shore of Virginia to Bibb County, Alabama