Old York USA Heritage & Music Park 
C. J. Harris, one of three finalists from Alabama on American Idol, in 2014, brought considerable attention to his home in Jasper, Walker County, Alabama. Walker County can also boast of other international entertainers such as: George Lindsey of Jasper (Goober Pyle on Andy Griffith) and Tallulah Bankhead, Broadway and film actress.
Walker County was established in 1823
Walker County was established by the Alabama legislature in 1823 from parts of the counties of Tuscaloosa and Marion. In 1850, a part of the northern section was cut off to be part of Winston County, Alabama. Walker County was named foe Hon. John W. Walker of Madison County, Alabama.
Some of the earliest towns and settlements in Walker County were Jasper, Eldridge, Oakman, Parrish, and Sipsey.  Walker County is very rich in coal, iron, building stone, and other minerals, and in 1920 ranked second to Jefferson County in the production of coal.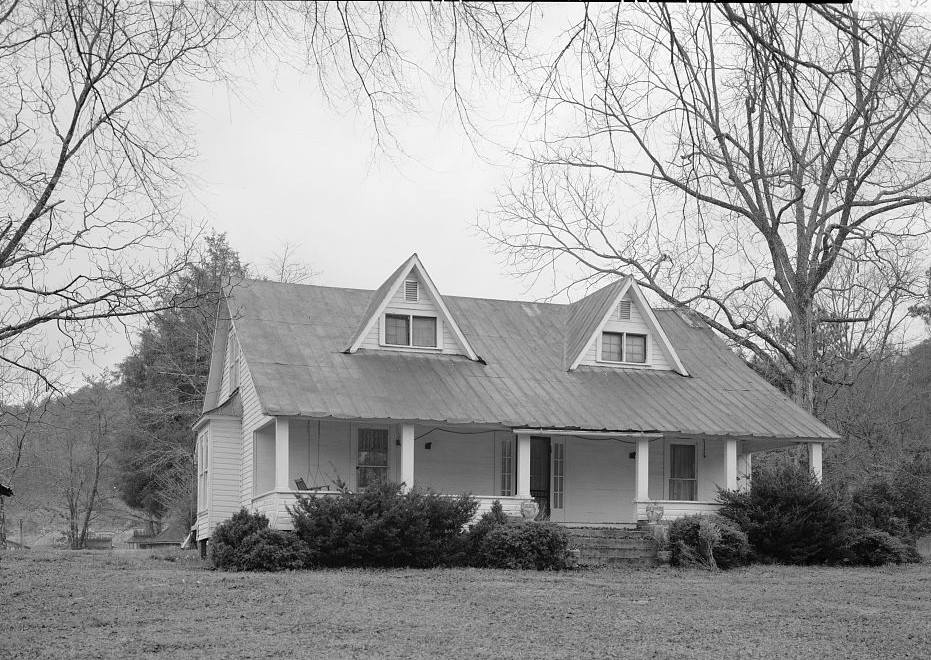 Old Corry Homeplace
The Corry house pictured above was one of the early structures in Walker County. It was erected around 1848 as a two-story log structure in what was then a remote and mountainous agricultural area known as York, about 38 miles north of the contemporary state capitol, Tuscaloosa. The house stood near the road to Jasper, which was established as the seat of Walker county in 1823 in the town of Oakman.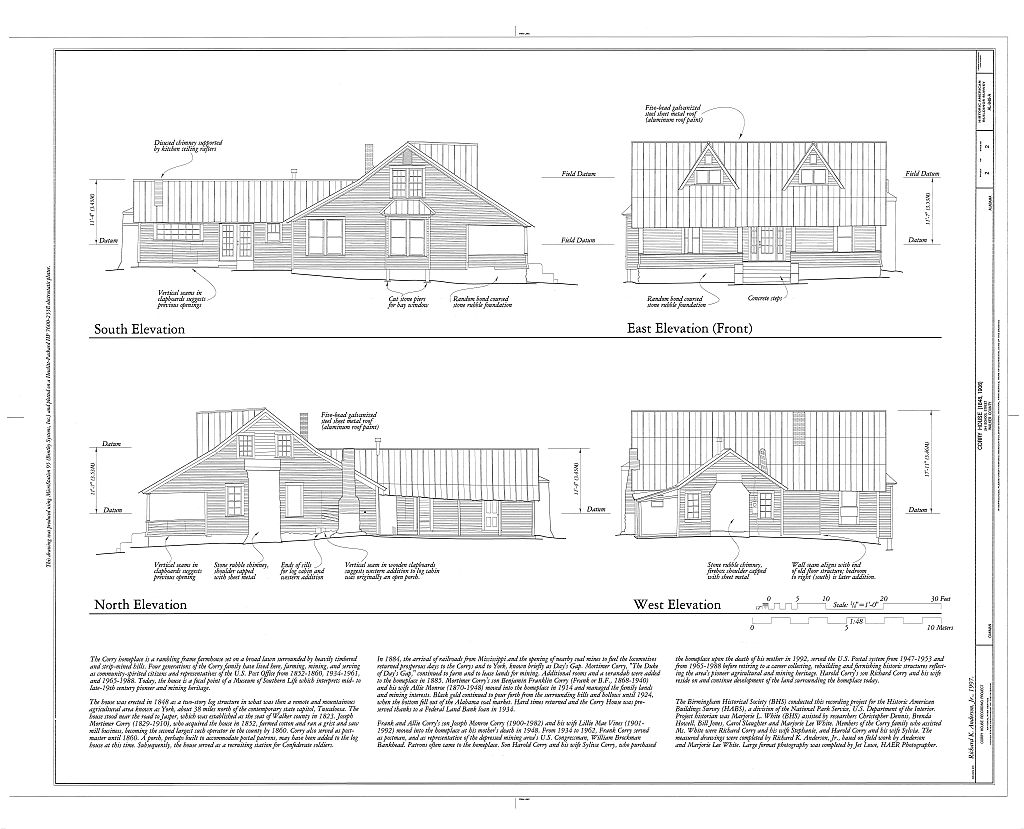 Heritage Music Park
Today, part of Old York USA Heritage & Music Park is on the historic site of the Corry homeplace, a rambling frame farmhouse set on a broad lawn surrounded by heavily timbered and strip-mined hills. Generations of the Corry family lived there, farming, mining, and serving as community-spirited citizens and representatives of the U.S. Post Office from 1852-1860, 1934-1961, and 1965-1988. The house became a focal point of a Museum of Southern Life which interpreted mid-to late-19th century pioneer and mining heritage. The original log house marked rural to industrial transition and wealth of farmer/coal mine operators.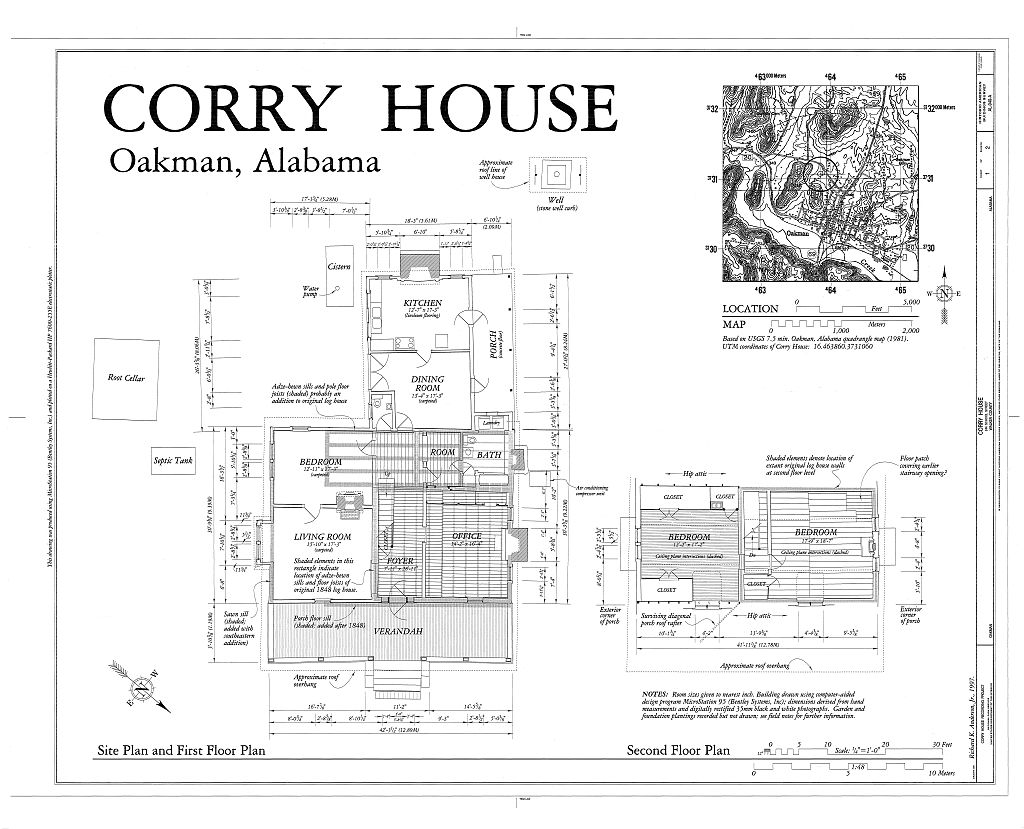 Center for enlistments in Civil War
Joseph Mortimer Corry (1829-1910), who acquired the house in 1852, farmed cotton and ran a grist and saw mill business, becoming the second largest such operator in the county by 1860. Corry also served as postmaster until 1860. A porch, perhaps built to accommodate postal patrons, may have been added to the log house at this time.
During the early stages of the Civil War the homestead at Old York Farms was the center for enlistments, and in February of 1862 Company E of the 50th Alabama Infantry of the Confederate States Army was formed at the York Post Office, which was located inside the residence that still stands on the property today. A Civil War Living History Confederate Camp held their in 2012 to refresh their training and train new recruits.
Step back in time
Richard "Bull" Corry described the day, "It will be like we have stepped back in time here at the farm this weekend, and we invite everyone to come see what the 1860's camp life of Confederate Troops was like as they learned to drill, march and target shoot," said Richard "Bull" Corry, owner of Old York Farms. "They will also have a swearing-in of the troops as well, just like they did here during the Civil War, and I think it will be neat to see."
"I think it's great that the kids who are learning about history in the schools 400 yards from here (Old York) can actually come out and experience it on the grounds where it actually happened 150 years ago," Corry said. "The troops were sworn-in right here in front of the house, which was used as post office during the Civil War. I just think it's a great history lesson."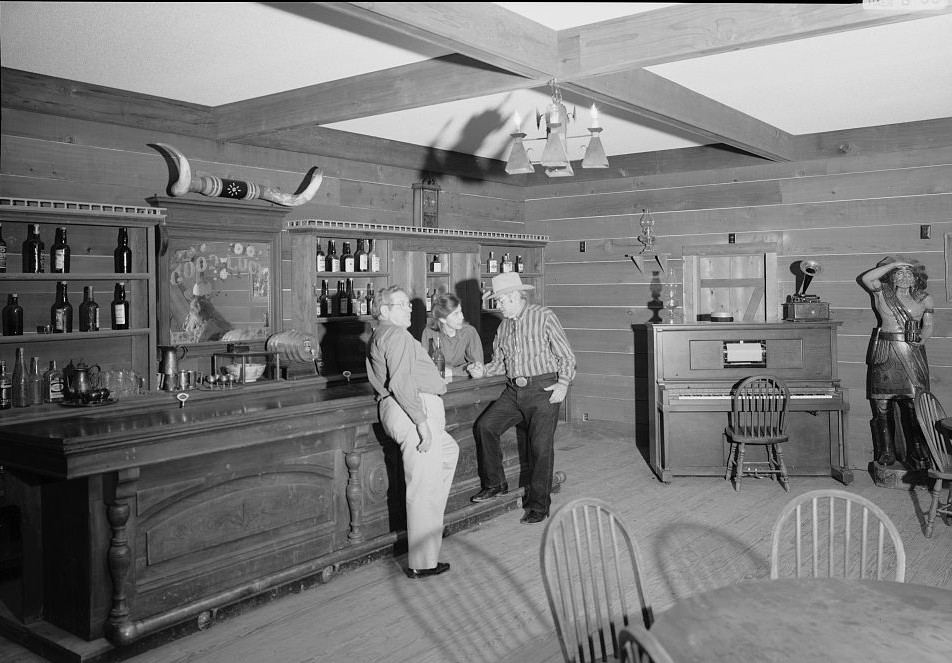 Railroads arrived
In 1884, the arrival of railroads from Mississippi and the opening of nearby coal mines to fuel the locomotives returned prosperous days to the Corrys and to York, known briefly as Day's Gap. Mortimer Corry, "The Duke of Day's Gap," continued to farm and to lease lands for mining. Additional rooms and a verandah were added to the homeplace in 1885. Mortimer Corry's son Benjamin Franklin Corry (Frank or B.F., 1868-1940) and his wife Allie Monroe (1870-1948) moved into the homeplace in 1914 and managed the family lands and mining interests.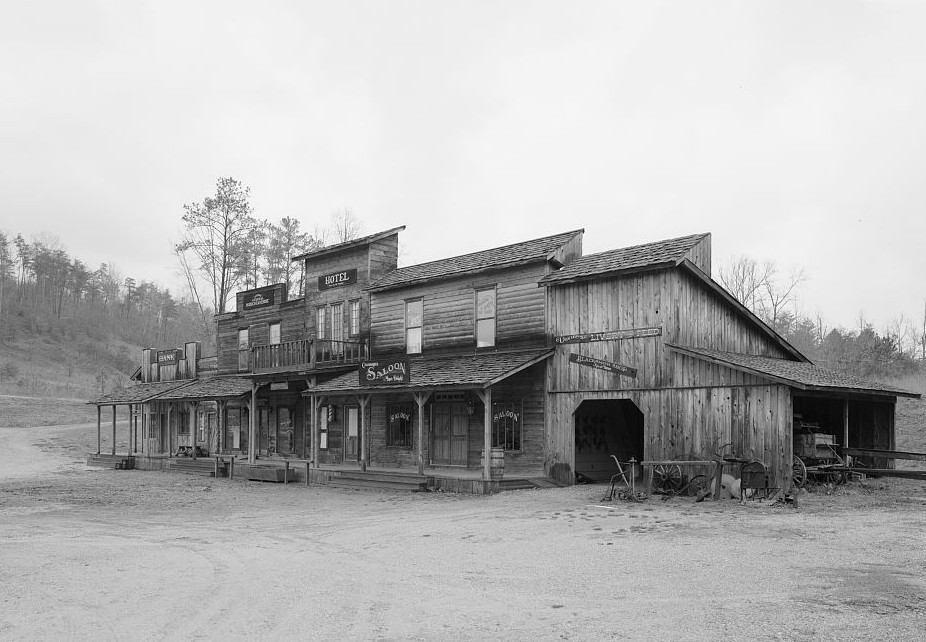 Black coal was a mecca
Black gold continued and in its day, the area was a mecca for coal mining activities. Five saloons sprang up with the addition of the railroad – the backbone of our nation. One of such watering hole – the Chamborden Saloon, is recreated, complete with the original bar, liquor cabinets and mirror.to pour forth from the surrounding hills and hollows until 1924, when the bottom fell out of the Alabama coal market. Hard times returned and the Corry House was preserved thanks to a Federal Land Bank loan in 1934.
Frank and Allie Corry's son Joseph Monroe Corry (1900-1982) and his wife Lillie Mae Vines (1901-1992) moved into the homeplace at his mother's death in 1948. From 1934 to 1962, Frank Cory served as postman.William Brockman Bankhead was a U. S. congressman from the depressed mining area's U.S. Congressman. Son Harold Corry and his wife Sylvia Corry, who purchased the homeplace upon the death of his mother in 1992, served the U.S. Postal system from 1947-1953 and from 1965-1988 before retiring to a career collecting, rebuilding and furnishing historic structures reflecting the area's pioneer agricultural and mining heritage. Harold Corry's son Richard Corry and his wife resided on and continued development of the land surrounding the homeplace.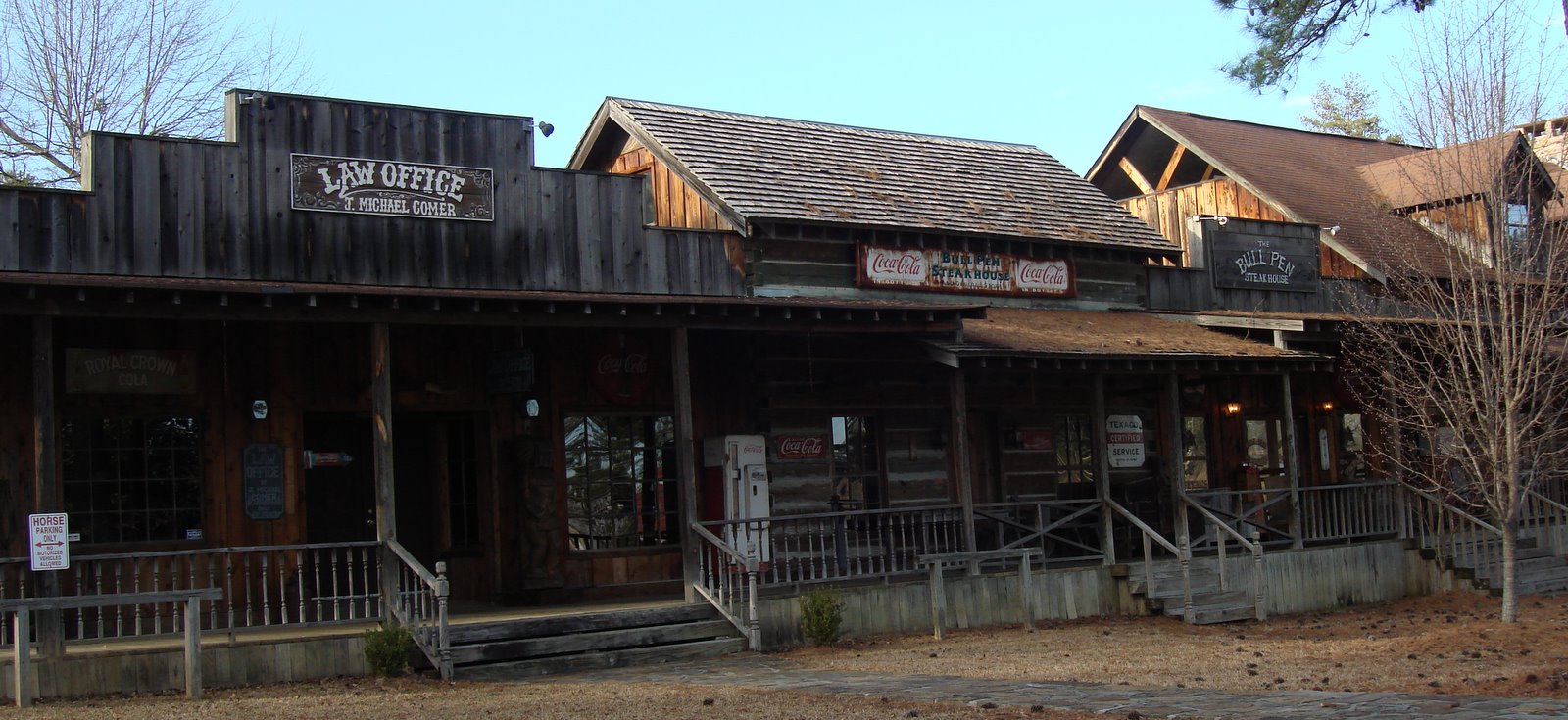 Today, the site features more than 20 old buildings including a steakhouse, gift shop and western store and is described by historians as "being 'as authentic as you can get', Old York shines with ghost of the Confederacy and the old West.
SOURCES
Library of Congress
Encyclopedia of Alabama
Stories include: The Yazoo land fraud; daily life as an Alabama pioneer; the capture and arrest of Vice-president Aaro nBurr; the early life of William Barrentt Travis, hero of the Alamo; Description of Native Americans of early Alabama including the visit by Tecumseh; Treaties and building the first roads in Alabama.