A short (approximately 30 minute) drive on Highway 10 in southeast, Alabama from Clio in Barbour County to Abbeville in neighboring Henry County, takes, you through three historic sites; the birthplace of Gov. George Wallace, a famous spring that has moved twice and a childhood home of Rosa Parks.
If you travel a little further within Barbour County, you can also visit the birthplace of eight Alabama governors. In 2000, the Alabama Legislature established the Barbour County Governor's Trail in southeast Alabama which runs for 55 miles between Clio and Eufaula, Alabama. The trail follows Alabama Highway 51 to Alabama Highway 30 to US Highway 431 and it honors the Barbour County birthplaces of six of Alabama's elected governors, and two active governors.
Governors from Barbour County include:
Gov. John Gill Shorter from Eufaula.
Gov. William Dorsey Jelks from Eufaula
Gov. Braxton Bragg Comer from Spring Hill
Gov. Charles S. McDowell from Eufaula
Gov. Chauncey Sparks from Eufaula
Gov. George Corley Wallace from Clio
Lurleen Burns Wallace from Clayton
Jere Beasley from Clayton
Clio is Gov. George Wallace's birthplace
Clio, the birthplace of former Gov. George Wallace, is located on the East side of what is known as "Jugg Branch," in Barbour County, Alabama. Gov. George Corley Wallace (b. Aug. 25, 1919) was the son of George Corley Wallace, Sr. and Mozelle Smith.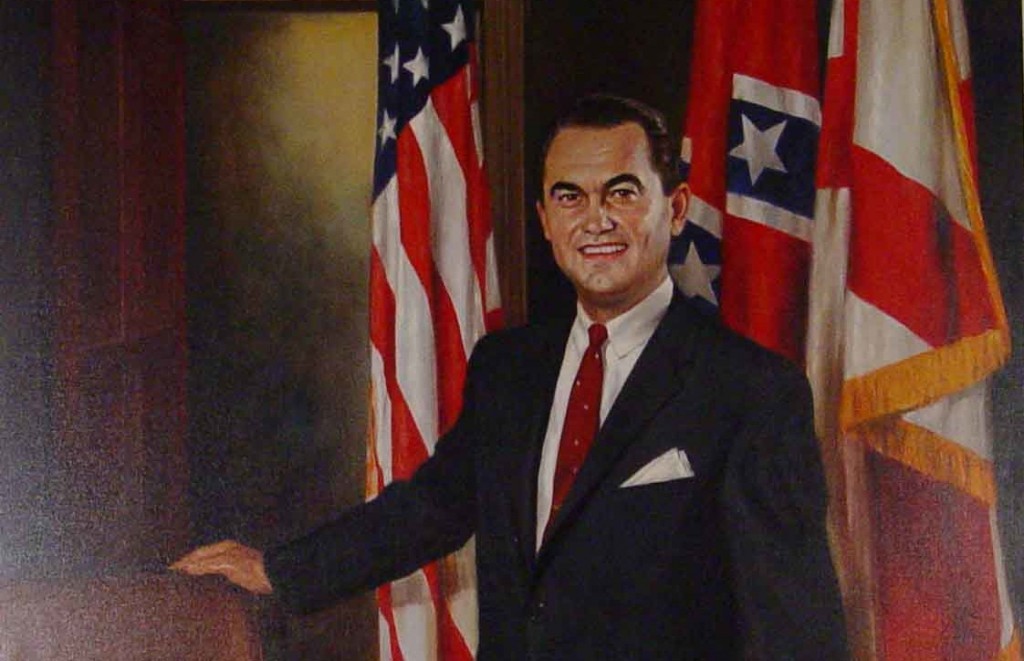 Gov. George Wallace portrait (Alabama Department of Archives and History)
First settlers of Clio
When the Central of Georgia Railroad was extended from Clayton to Ozark in 1887, old Clio was moved some distance so that it might be nearer the railroad.
The first merchant and one of the oldest settlers in Clio was Murdock Martin who came from the Louisville settlement in Barbour County. Other merchants were L. A. Hunt, Duncan McRae, and Alex Shaw. Mrs. Mattie Hunt ran the first hotel and W. A. Arnold was President of the Clio Banking Company in 1905. J. N. Stephens organized the Farmers' Bank.
The first Mayor of Clio was P. W. Shaw and the first Marshal, H. C. Thompson. Prominent business of old include Frank McRae, C. W. Knight, Baxters, Martins, Shaws, McInnis, Strickland, and Faulks.
The first church was built through a cooperative effort
The Clio Baptist Church was organized at a "bush arbor" evangelistic meeting conducted by Rev. Harry Martin of Ozark, Alabama, in 1897. The charter members of the church were Mrs. Sara Elizabeth Reynolds, Miss Ella Cooper, Mrs. and Mrs. Ed Murdock, and Mr. W. L. Kennedy and Augusta Phillips Kennedy Smith.

Alabama Heritage Mural on side of building in Clio, Alabama (Wikipedia)
Church erected in 1899
The first church building was constructed in 1899 through a workable arrangement of determination and cooperation. Mrs. Sara Elizabeth Reynolds offered to make a contribution of the lot for the erection of a church building, to give the pulpit furniture, and to give $25.00, which said $25.00 was to be duplicated by Mr. and Mrs. Ed Murdoch, Miss Ella Cooper, Mrs. and Mrs. W. L. Kennedy, Mr. and Mrs. John Gulledge and Mr. And Mrs. William Hunt. Mr. W. L. Kennedy, who operated a sawmill was to furnish and saw the lumber for the building and donate it, and Mr. William Hunt was to contribute his labor as a carpenter in the erection of it.
The original church building was not built without disappointment for, about the time the outside was complete and all that remained was to finish the interior, the entire church was leveled to the ground by a windstorm. Undaunted by this happening, the small band of members completed the edifice, which was of frame construction, and it was considered a great addition to the young, growing town.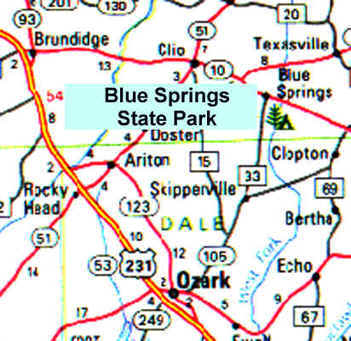 In the 2010 census, Clio had a population of 1399. Don Sutton, a member of the Baseball Hall of Fame was born in Clio. Blue Springs State Park (the spring that moved twice before settling down) is located seven miles east of Clio.
SOURCES
History of Barbour County, Alabama. Eufaula, Alabama 1939 by Mattie Thomas Thompson Barbour Churches
ALABAMA FOOTPRINTS: Statehood – presents the times and conditions they faced in lost & forgotten stories which include:
Who Controlled And Organized The New State of Alabama?
Tuscaloosa Had Three Other Names
Chandelier Falls & Capitol Burns
Alabama Throws Parties For General LaFayette
Francis Scott Key Was Sent to Alabama To Solve Problems