Birmingham, the Chicago of the South?
Excerpts From The Iron Age
Birmingham, Alabama
April 19, 1883
The Moon Boys Discharged
The Moon boys, who were charged with murdering their grandmother, were acquitted at Fort Payne last week. They were confined in the county jail in this city for more than a year, as attempts were made to lynch them shortly after the old lady was killed, ant they were brought here for safety.
Mr. J. Shahan, who has been merchandising in this city the past year, has formed a co-partnership with Mr. A. G. Ware, of Attalla, and they will engage in the mercantile business in Birmingham. Mr. Shahan left for that city last week. We take pleasure in commending Mr. Shahan and his new firm to the people of the magic city. They are fine business men and deserve success. — Gadsden Times
Difficulty at Warrior
From parties who came down on the Louisville & Nashville south bound train we learn that there was a cutting scrape at Warrior, last Saturday. A shoemaker by the name of Wm. Turner and Jim Farley, a miner, renewed an old quarrel in front of Sander's dry goods store, and Farley drew a large pocket knife and cut Turner across the abdomen producing a serious and perhaps a fatal wound.
Preliminary Examination
Robert Williamson, a convict "boss" at the Milner mines was brought before Justice B. M. Allen Monday on a charge of assault and battery on James Cleveland, an ex-convict. The charge was brought by Cleveland, who alleges that while he was a convict working at the Milner Mines, he was assaulted and struck with a heavy stick by Williamson, who was at the time his "boss" or overseer.
Williamson was bound over in the sum of $150 to appear the county court.
Birmingham's Police 1883 (Birmingham Public Library)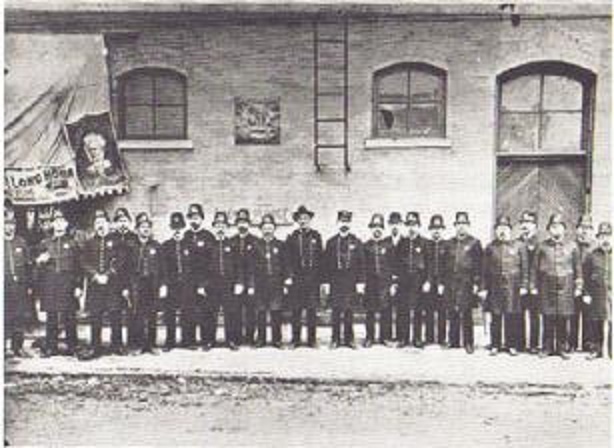 An Opinion of Birmingham
Mr. W. A. Dueress, in letter to the Niles(Mich.) Republican, which is published at his home closes with the following highly complimentary remarks about Birmingham:
We returned to Jacksonville, and after a week's sty, started homeward, stopping at Montgomery and Birmingham, Ala., for three weeks. The latter city, in my judgment, will be the Chicago of the south. The production of coal and iron will suppass (sic) any other section of country to-day known. Also the construction of several trunk line railroads into Birmingham gives it a bright future. We found the people very courthouse and desirous of as many northern men as may wish to come to help open up the undeveloped resources of the sunny south.
Buggies, Wagons etc. at Special Bargains
John W. Snow proposes to sell for the next fifteen days all the vehicles he has on hand at greatly reduced prices. Two horse wagons heretofore sold at $60, $65 to $125, will be sold at $45 to $75, and everything in proportion. Bargains in fine top buggies, several second hand jobs of every description at almost any price. Call at once and get a bargain. Most of the work is manufactured at his shop and is first class work. Cash or credit. Repairing and horse-shoeing done on short notice.
Vinegar of the Four Thieves was a recipe that was known for its antibacterial, antiviral, antiseptic and antifungal properties for years. It was even used to cure the Bubonic Plague. See Thomas Jefferson's recipe in VINEGAR OF THE FOUR THIEVES: Recipes & curious tips from the past
(Visited 2,163 times, 1 visits today)