Once Christopher Columbus discovered America, other explorers from many countries quickly followed in his path. One of these explorers was Pánfilo de Narvaez. Born in Spain, Pánfilo de Narváez first embarked to Jamaica in 1510 as a soldier and completed several other trips to the New World. On June 17, 1527, with a fleet of five ships and six hundred men, he arrived on the west coast of Florida in April 1528. His expedition was weakened by storms and desertions.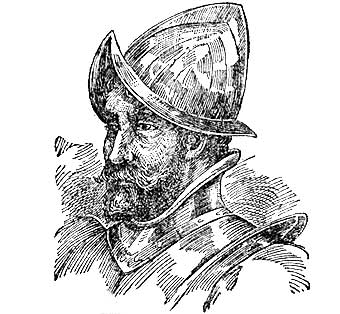 Pánfilo de Narváez
Narváez was forced to land with 300 men near the Rio de las Palmas—at what is currently known as the Jungle Prada Site in St. Petersburg, Florida among hostile natives, where he was soundly defeated by the Indians.
Unable to find the gold and other riches he sought and tired of the hostilities with the Indians, Narváez ordered the construction of four rafts to return to the sea. Narváez party moved slowly westwards with some men on land and others on the raft. As the party was crossing a river the wind pulled the raft to sea, with Narváez on board, and he was never seen again. Of the original company, only four survived and eventually made their way to Mexico City eight years later to report the fate of Narváez.
Jean Ortiz was De Soto's interpreter
Meanwhile, Spain had sent explorers in search of Narváez. Jean Ortiz, who would later become De Soto's interpreter in the wilds of Alabama, was a soldier on one of these ships. He arrived with other Spaniards in America and was almost roasted alive by the Indians for his effort.
The traditional story states that when Jean Ortiz arrived, the men on the ship were captured by the Indians. All their clothing was removed and the soldiers were compelled to run for their lives while the Indians shot at them with their deadly arrows. Ortiz alone survived.
The Indians captured him and were about to roast him on a wooden gridiron, when his life was spared through the entreaties of a beautiful girl, a 'Southern Pocahontas', the daughter of Uceta the Indian Chief.
Given responsibility
Instead of being burned alive, Ortiz was given a responsibility by the chief to take care of their temple situated on the edge of the dark, dense forest where the bodies of their dead were interred. The lids were kept upon boxes containing the dead by means of weights. Ortiz was ordered to protect the dead from the incursions of wild animals and death was to be the penalty if a solitary body was removed.
One night he grew weary and fell asleep, but luckily he was awakened by the falling of a coffin lid. Seizing his bow he rushed out, saw in the dim distance a clump of bushes, from whence proceeded a sound as of the crunching of bones.
He directed a swift arrow toward the sound and soon all was still. Proceeding to the spot, he found the dead body of a child, which he replaced in its box. An enormous panther lay dead nearby and he pulled it into the town. His efforts gained the respect of the Indians.
Ortiz would be allowed to return to his people
Three years later, a war broke out between the Uceta and a neighboring tribe. It was the custom among the Indians to make a sacrifice of a human life to appease the evil spirit which caused the war, and Jean Ortiz was selected as the victim. The daughter of the chief heard of the plan, and again saved Ortiz's life. In the dead of night, she led him a mile away to safety and told him to go to Mucoso, a chieftain whom she had promised to wed, for protection. The chieftain received him kindly and promised him that if any white man came to that country, Ortiz would be allowed to return to his people.
When De Soto arrived twelve years later, Ortiz was rescued when the army camped beside Tampa Bay. He became one of De Soto's soldiers and since he'd been a captive for many years, he was able to communicate with the Indians all along the coast. This made him very useful to De Soto as interpreter.
This story of Jean Ortiz is related by Historian, Albert J. Pickett's, in his book, History of Alabama, along with many other historical accounts of De Soto's travels in the Southeast. This account seems to have been derived mainly from a Portuguese narrative about De Soto's travels written long after his trip to America. General Thomas S. Woodward disputed many of the dramatic points of this narrative in a letter written to Albert J. Pickett in 1858.
Is the story real?
Thomas Simpson Woodward was a Brigadier General in Georgia's militia in 1824 and he was an expert on the Creek Indians. In his letter addressed to Historian Albert J. Pickett on August 12, 1858, Woodward disagreed with the accuracy of the narrative on Jean Ortiz. His reasons were:
Panthers do not feed on putrid flesh. They only feed on fresh kill.

Burying the dead in raised boxes was an unknown Native American practice known to him and seemed improbable in "a country infested with animals such as wolves and other animals which preyed upon the dead."
In the letter, he also stated the following about the Portuguese narrative: "If a man willfully misrepresents one thing, he will another; and if he does it ignorantly once, he is liable to do it again."
Considering the time that has past, we will probably never know if this Portuguese narrative is true, but it is very interesting.
Some stories include:
Stories include:
First Mardi Gras in America
The Mississippi Bubble Burst
Royalists settle in Alabama
Sophia McGillivray- A Remarkable Woman
The Federal Road – Alabama's First Interstate
(Visited 845 times, 1 visits today)