Did you know that before the fifteenth century, surnames were not common? Anglo-Saxon names were used 5.000 years ago and were names like Begga, Agrippa, etc., but after the Norman Conquest in 1066, the English and Europeans starting using names like Richard, Henry, etc but did not have surnames.   The Normans only had a small number of these names so there were many Robert's, and Henry's which made it confusing, to say the least.
Church came to the rescue
The Church came to the rescue and suggested that people could use Saints names for their children.  To distinguish themselves further from other townspeople, descriptions were added to the names such as Robert of the Valley, James the tall (if he was a tall man).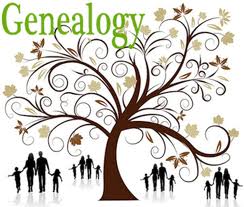 In the fifteenth century, surnames were be coming common but they usually described the way a person looked, lived or occupation.  For example, if Robert was short; his name would be Robert Short; If James lived in Cottingham; his name was James Cottingham. A Weaver might be named Henry Weaver.
Surname changed every generation
Later on, patronymics became popular for descendants. "Patronymics pointed out the individual was the son of a person.  "O" for the Irish, "Ben"(Hebrew), "de" (French), "Mc" and "Mac" (Scottish) and plain "son" attached to the name for the English.  MacGregor is a Scottish name for the "son of Gregory". "Johnson is "the son of John" and Mendelssohn is German for the "son of Mendel'"
A problem quickly developed with patronymics however because the surname changed with each generation.  For example,"John, the son of Peter would be called John Peterson but John's son, Robert, would be known as Robert Johnson.
Henry V stopped the confusion when, he ordered everyone to begin using surnames of all legal documents in 1413 and by the middle of the sixteenth century, family surnames became stabilized and remained the same through descendants.
The information above came from an excellent book How to find your Family Roots and Write your Family History by William Latham and Cindy Higgins.
Some stories include:
The true story of the first Mardi Gras in America and where it took place
The Mississippi Bubble Burst – how it affected the settlers
Did you know that many people devoted to the Crown settled in Alabama –
Sophia McGillivray- what she did when she was nine months pregnant
Alabama had its first Interstate in the early days of settlement
Amazon.com – Read eBooks using the FREE Kindle Reading App on Most Devices
READ THIS BOOK FOR FREE ON YOUR COMPUTER!
THEN SIGN-UP FOR THE 30-DAY FREE TRIAL BELOW: 
(Visited 1,353 times, 1 visits today)