OLD BUILDING'S CHARM
by
I love old buildings. Recently one old building in Tuscaloosa was saved from possible destruction through the efforts of many Tuscaloosa citizens. The building is the old Allen & Jemison Building located on Greensboro Avenue and 7th street. It has had 107 birthdays.
From left to right, Brown's Corner, the Alston Building, the water fountain, Allen & Jemison Hardware, City Hall, & the McLester Hotel photo from Tuscaloosa Trolleys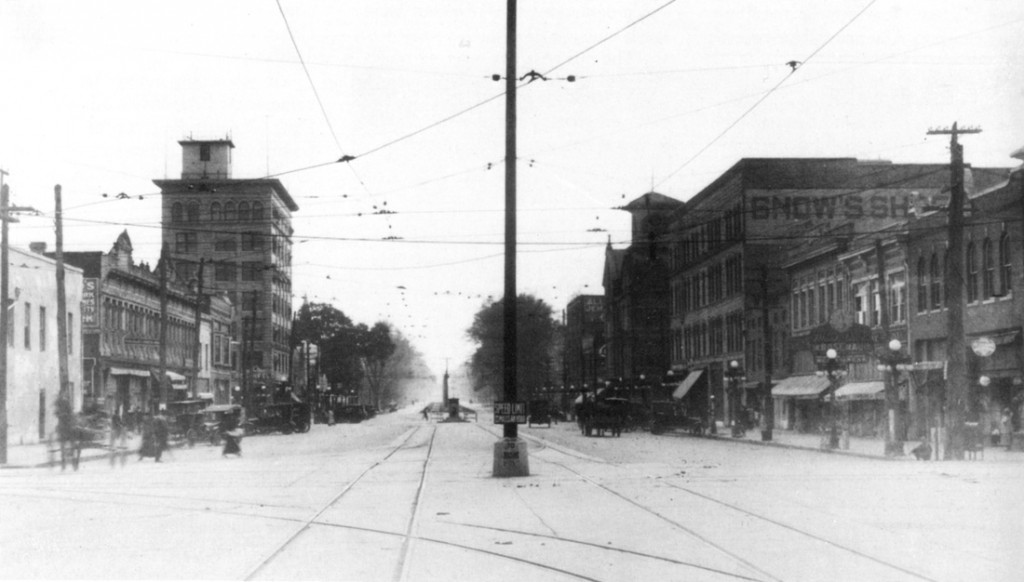 Once, this building housed a very modern upscale mercantile and hardware store for West Alabama. It was close to the railroad where merchandise could be transported in and out, first by mule and wagon, and late by motorized vehicles. Many years later this building became a furniture store.
I have fond memories of shopping in this hardware store in my early teens. This hardware store was not like today's Home Depot and Lowe's.
I was going to be taught how to knit by an older lady in my country neighborhood. At her suggestion I went to Allen & Jemison and purchased skeins of yellow wool yarn. The outcome resulted in a yellow scarf before I called it quits! This was my brief encounter with knitting.
Sometime ago I was rumbling in my cedar chest in the basement and came across this very same scarf! Later, I purchased different colored wool yarn to try my hand at needle point on canvas. I enjoyed this but it was a very time consuming. This time I made a dining room chair cover of which I was very proud.
The old building will be renovated and some of the old aspects of the store will be preserved. One interesting item in the store that will be kept is the pneumatic tube cash system. Remembering this, I can recall how it worked. When I into the store to purchase the yarn I gave the money in cash to the sales lady. She took the money for the yarn and wrapped the receipt around it and then placed it in a small cylinder about the size of a small can of frozen orange juice can. Then she placed the cylinder in the pneumatic tube and pressed a button and the cylinder and money was send zooming up and down to the pneumatic system to a central place where the cashier was located. There were about ten of these tubes.
Pneumatic cash tube system in a store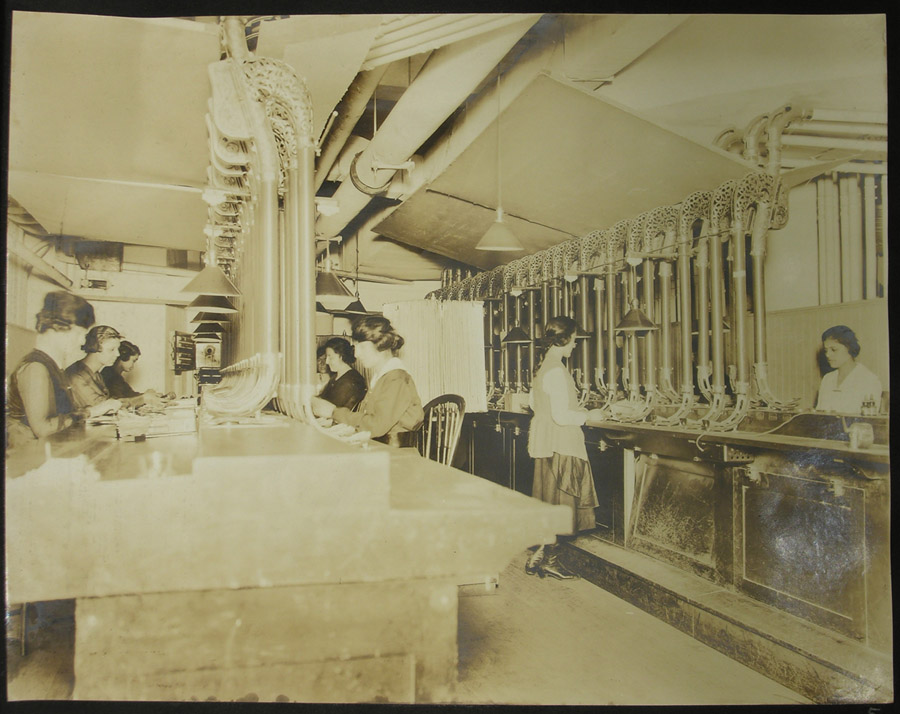 The cashier was kept busy making change and sent it back to the appropriate department via the tube system. Of course this took a little bit of time, waiting for your change. I have to remember that in those days we did not used credit card or write checks.
Allen & Jemison now will become Tuscaloosa Cultural Arts Center. It will house art galleries, space for rehearsals and other cultural space needs.
Old buildings have historical significant and certainly fond memories. I am delighted this one was saved!