The John McQueen House was the center of a large antebellum plantation located in northeast Lowndes County. The McQueen family originally settled the site in the 1820s and were prominent planters.
Located in Burkville, Alabama
Once located in Burkville, Alabama, the McQueen house burned around 1970 and the site was abandoned. In 1825, John McQueen Jr.of South Carolina, received a land patent to eighty acres in Lowndes County, Alabama and moved with his family to Alabama shortly afterward. He continued to acquire additional land and became a prosperous cotton planter and owned many slaves.
The 1830 census lists McQueen as occupying the site with his large family. He built a large frame home on a hill near the western boundary of his property and named it Queensdale. Descendants of the McQueen family state that the house was built around 1830 and it resembled the nearby Young-Nall house in appearance.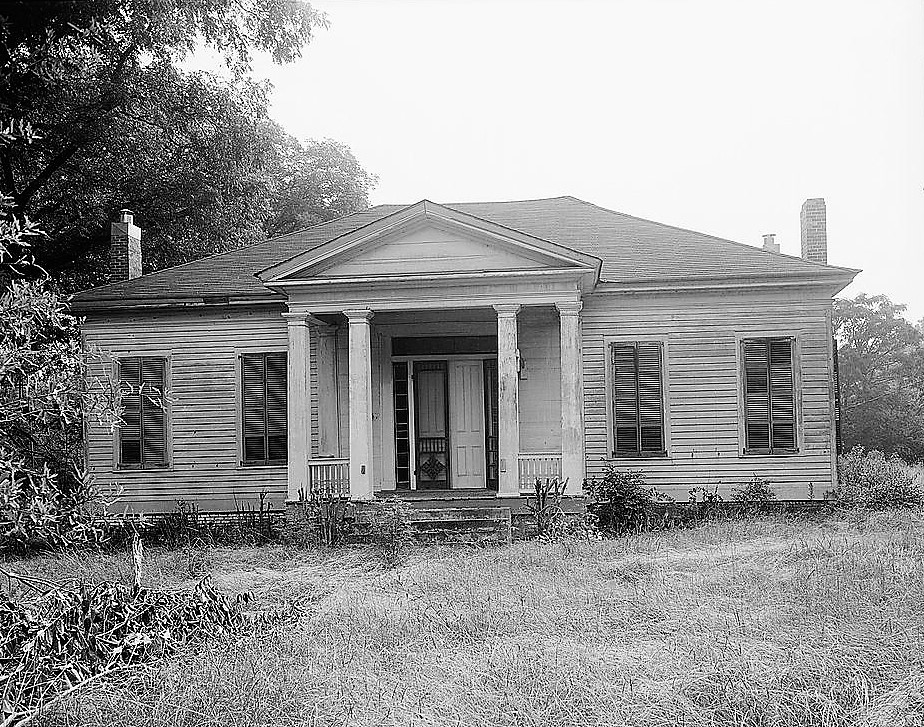 Young-Nall House Lowndes County, Alabama 1939 (Library of Congress)
John McQueen, Jr. accumulated around 1,800 acres by the time of his death. Several of his nine children built smaller homes on the plantation. "The 1855 census shows that the McQueen family owned 142 slaves and cultivated large quantities of corn and cotton. The family also raised cattle, pigs and sheep. When John McQueen died in 1859 all of his property and slaves were divided among his children."
View from southwest – John McQueen Servant's House, U.S. Highway 80 East of Berry Lake Road, Burkville, Lowndes County, AL (Library of Congress)
After the Civil War, the house and lands passed into the hands of Benjamin McQueen who farmed the land by utilizing the tenant system. When Benjamin's son, B. Harris McQueen received the property in 1920, it consisted of 924 acres. Queensdale was continually occupied by the McQueen family until the 1950s when it was sold and subsequently abandoned. All that remains of Queensdale is the foundation after the fire in the 1970s. "A servant's house is located to the southeast of the main house site and the family cemetery is located to the west of the site. Further to the southeast is a surviving tenant house, the McCary House."1
Prior to statehood, Alabama was a vast wilderness with a large Native American population. It is only natural that when new immigrants from other states arrived, conflicts over the land would arise. Soon, these small conflicts exploded into war.
Alabama Footprints Confrontation is a collection of lost and forgotten stories that reveals why and how the confrontation between the Native American population and settlers developed into the Creek-Indian War as well as stories of the bravery and heroism of participants from both sides.
Some stores include:
Tecumseh Causes Earthquake
Terrified Settlers Abandon Farms
Survivor Stories From Fort Mims Massacre
Hillabee Massacre
Threat of Starvation Men Turn To Mutiny
Red Eagle After The War