A Look back at the News on May 12, 1937 in Tuscaloosa, Alabama.
From The Tuscaloosa News May 12, 1937
Duelling Charge Filed
Birmingham, Alabama, May 12 (AP)
Memories of the days when duelling was not uncommon in the deep South were revived today as sheriff's deputies sought to serve a warrant making a charge of challenging to combat.
The warrant sent here from Cullman County, alleges John D. Chambliss "gave a challenge in words and in person to fight in combat with a deadly weapon, to wit: a pistol x x x."
Sheriff Fred H. McDuff said his men had been unable to find Chambliss.
Courthouse attaches said they could not remember a similar charge. The states' criminal statutes provide not less than two years nor more then ten years imprisonment for conviction of challenging to a duel.
Old school house at Mardis House in Talladega taken Feb. 4, 1937 before the new school system with 1,000 students mentioned in the news article below (photograph by Alex Bush Library of Congress)
Talladega, Ala, May 12, 1937 (AP)
More than 1,000 students in Talladega's four grammar schools will begin the summer vacation period Friday, -when the city system ends its eight and one-hald month school term. J. P. Keenon, acting school superintendent said approximately 150 students will enter high school next year.
Greene County
Jamie Coleman Has A Lot Of Fun But He Looks Askance At A 30-Hour Week (by a Tuscaloosa News Staff Writer)
A slender, gray-haired gentleman, somewhere in his 60's, leans a bit forward, his head slightly titled. With a quick smile and a warm chuckle, he expounds his code:
Nobody— politician or preacher, lawyer or lambaster —can "color" anything he prints. He believes everything he puts in his columns. He holds to certain fundamental truths, particularly in government, and he isn't afraid to talk about them in type. But he doesn't want to hurt anybody's feelings, certainly not maliciously, and he is always ready to retract or remedy any statement which might be construed as false or misleading. He never lets his work become drudgery—but he isn't ready to go on a 30-hour week or even a 40-hour week.
Greene County Courthouse ca. 1937 (Alabama Department of Archives and History)
Up In The Air
To call on this veteran of 27 years in Alabama newspaperdom, one must mount 16 steep steps from the paved road to his trim little gray frame building just off the courthouse square in old Eutaw.
James B. (Jamie) Coleman, as editor and publisher of The Greene County Democrat, is housed in a neat structure whose vintage escapes even his own phenomenal memory. The neatness, contrary to the usual newspaper practice, carries into the building itself, whence issues the journal which is the public pulse of Greene County.
James S. Coleman, like the newspaper which he edits, stems back to the earliest history of Greene County. The Colemans are as much a part of Greene County as the big plantations and ante-bellum mansions. They trekked into the county back in 1818 and settled at Grassdale, three miles from Eutaw.
Editor Coleman, the son of Thomas W. Coleman, a distinguished and brilliant lawyer who served on the State Supreme Court, was born at Akron in six-year-old Hale County in 1873.
He Started As Teacher
At the tender age of eight, the future journalist moved with his family to Eutaw. Mr Coleman received his formal education at the Naval Academy in Annapolis and upon entering the world—he did not remain with the navy—he took up teaching.
As an educator, he spread the seeds of learning in Tuscaloosa, Eutaw, Livingston, Mobile and Selma. In Tuscaloosa, back in 1895 and 1896, he taught at the old Verner Military Academy1, conducted by the notable Prof. W. H. Verner.
Young Professor Coleman, a utility man in school work, took a particular liking to modern languages, and 1901 found him studying in Germany and France. He attended Heldelburg University, and he is still something of a linguist. More than once he has been called upon as the official and unofficial interpreter for Greene County. There are others proficient in French but not many are on good speaking terms with German.
Professor Coleman continued as a teacher for several years, but his hearing began to fail and at last he realized that, despite all his preparation, he must turn elsewhere for his life's work.
He cast about for other possibilities in which quick ears would not be vital and at last, spurred on by his father, he hit upon newspaper work as his most likely field of endeavor. That briefly is how Alabama education came to lose a talented teacher and how Alabama journalism gained one of its most distinguished figures in the weekly field. He had the education and the gifted pen to succeed in one as well as the other, and in 1909 he returned to Eutaw as the new editor and owner of the The Greene County Democrat.
Mr. Coleman bought the paper from F. G. Steele. The Democrat having been founded in 1879 by the late W. T. Callahan, a printer and able newspaper man, Mr. Callahan, the father of Artemus K (Temo) Callahan, Tuscaloosa lawyer and former state representative from his county, died at his home near Holt only a few months ago. When Mr. Callahan left The Mirror, he was succeeded as editor and owner by T. J. Anderson and when the paper failed in the 90's, Steele and a fellow printer took it over and changed the name to The Greene County Democrat.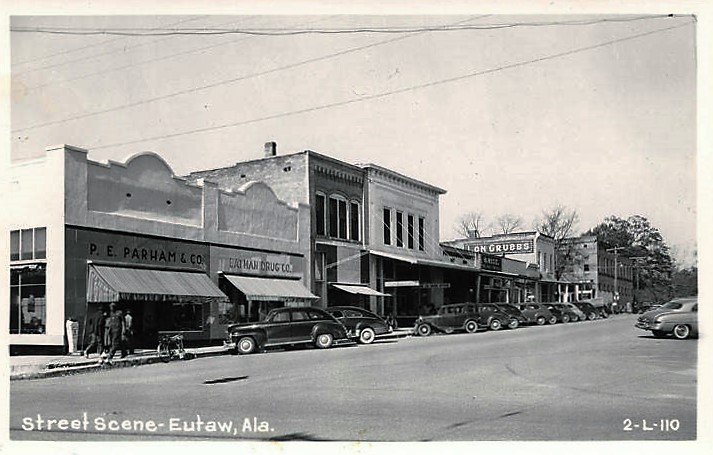 Eutaw, Greene County street scene ca. 1939 (Alabama Department Archives and History)
An Old Competitor
When Mr. Coleman took charge of The Democrat, he had as his competitor one of the oldest newspapers in Alabama, The Eutaw Whig and Observer, founded in 1837. The Whig and Observer, which played a spectacular part in the bitter journalistic battles of the Reconstruction, was widely known and quoted throughout the South.
The Whig an Observer went defunct in 1917 and the following year disaster descended upon The Democrat in the form of fire. Thus, in 1918 Mr. Coleman bought out the remnants of The Whig and Observer, including the frame building which he now occupies. This building was at one time used as the headquarters of The Whig and Observer. W. O. Monroe having for a number of years held the dual office of editor and postmaster.
Twenty-seven years as editor of The Democrat qualified Mr. Coleman to a place as an associate dean of Alabama journalism at least, as there are only eight or nine in the state with a longer record Mr. Coleman recalls that there are only 24 persons in Eutaw who were living there when he moved from Akron in 1881.
With a chuckle, the veteran editor confesses that he long ago gave up any hopes of "getting rich" in the weekly newspaper business but he admits with equal readiness that he has had a lot of fun not getting rich.
Editor Coleman has ideas of his own, and he doesn't mind expressing them, although he insists—and his columns support his contention—that he has personal animosity for no one. He goes in for brevity, and his pungent paragraphs are widely quoted in the Alabama press. One of his pet peeves is the way things are being done down at Montgomery, and the stranger need read only one issue of his newspaper to discover that he is no admire of the Graves administration. He has been equally outspoken about certain phases of the New Deal which he considered in violation to all the laws of economics and common sense. He is, in fact, a Black Belt Democrat, and proud of it.
Location of Greene County, Alabama (Wikipedia)
Family Affair
Under Mr Coleman, The Democrat has been a family affair, and it has been kind to his family. Mrs. Coleman, the former Mary Bell Peteet of York, knows her way about a print shop, and the four boys they have raised to manhood are all on intimate terms with printer's ink.
Until 1922, the Colemans had the tedious job of setting The Democrat by hand, but in that year the editor bought a linotype. His office is now equipped with this machine, two job presses and a Fairhaven flatbed press from which The Democrat issues to its expectant public.
The oldest of the Coleman boys, James, came along before the linotype, but the other members of the family, including Mrs. Coleman, are familiar with this intricate piece of mechanism. James, however, did his share of setting type by hand, to say nothing of press work aplenty. He is now practicing law in Eutaw, also having a mail route, while Wilson Coleman, the second son, is an ensign on the U. S. S. Boggs. Charles H. Coleman, the third son, is a sophomore at the University, and he hopes to enter aviation. The youngest, John, is a strapping fellow who is helping his father as well as attending the local schools.
No Drudgery
It, The Democrat, has ever become drudgery to Editor Coleman, he is not aware of it. he works when he feels like it, he quits when he gets ready—but even with the help of his family, his job would be far from finished on Wednesday night if he adopted a 30-hour week. Only once in 27 years has he missed an issue; that was a couple of decades ago when he had pneumonia and when, in his own words, "Everybody thought I was going to die anyway, and didn't see any use in putting out a paper."
Mr. Coleman keeps in good trim for a man of 63, and it the Lord is kind to him, he plans many more years "in harness." He loves life, and particularly that unhurried phase pertaining to printer's ink in the office of a weekly newspaper. He hopes to carry on for many years as the publisher of a newspaper to whom none dare dictate—a newspaper as indigenous to Greene County as black mud and real hospitality.
1 From The Tuscaloosa News March 6, 1983 by Rhonda Wooldridge News Staff Writer – Verner Elementary School in Tuscaloosa was the third Verner School. The Tuscaloosa Board of Education purchased the Verner Military Academy on Myrtlewood Drive in 1920 and used it as an elementary for several years. William H. Verner had operated the academy, a boys' boarding school.
RIBBON OF LOVE: 2nd edition – A Novel of Colonial America 

 by Alabama author Donna R. Causey – based on ancestors of the Cottingham family of Bibb County, Alabama – 

Inspired by true historical events, Mary and Henry Pattenden flee to America to escape persecution –  It is almost impossible to put the book down until completion. – Dr. Don P. Brandon, Retired Professor, Anderson University 
(Visited 981 times, 1 visits today)