Some News From The Weekly Iron Age, Birmingham, Alabama 5/21/1885
Nineteen Oxen Lost
Mr. W. J. Morgan, of Walker county, was in the city last Friday, and said that a singular thing had happened to a party of country men on Mulberry river. It seems that five men were coming to the city bringing produce, and had teams to which nineteen oxen were used. They camped out and turned the animals loose to graze. The beasts are still grazing, and the owners cannot find them high or low.
A New Manufacturing Company
A new stock company has been organized, to be known as the Birmingham Patent Rotary Churn Company. It is composed of Messrs. A. C. Edwards, Dr. J. H. Eubank, Dr. George Eubank, E. C. Mackey, E. F. Story, W. A. Jones, Judge W. C. Wilson and Mr. George C. Kelley. The amount of stock stated is to be $50,000. The company proposes to manufacture churns in the city and will give employment to a number of hands.
AN OVERMATCHED MARSHALL
Disturbers of the Peace too Many for Warrior's One Officer—Bad Burglaries
Warrior, Alabama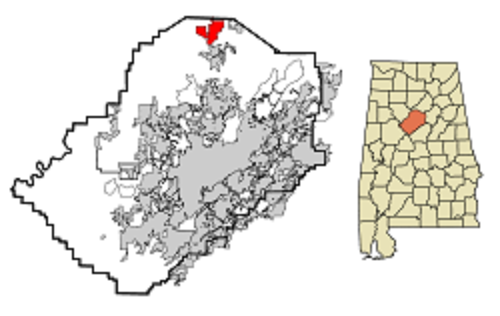 P. W. Thompson and George Ward, both white, were brought in from Warrior Wednesday of last week by Deputy Sheriff Nat Hawkins and turned over to County Jailor Austin on a mittimus from Justice Davidson, of Warrior, the charge against them being malicious mischief. More specifically their alleged offense is that Tuesday night, in the course of a noisy spree, they stoned the house of a negro, breaking in the door. Marshal Blackburn, of Warrior, was unable to arrest them, having several rough customers to deal with about the same time.
Mr. Hawkins says lawbreakers at the same place are constantly proving too much for the marshal, who is the only custodian of the peace employed by the town. Warrior is a prosperous place and a place of much promise, and Mr. Hawkins thinks it deserves better police protection at the hands of the municipal government.
Buckalew & Ustick, a firm of hard-working and deserving jewelers at Warrior offering a reward of $75 for about twenty gold watches stolen from their shop last Saturday night week. One of these belonged to Deputy Sheriff Hawkins, having been left at the shop for repairs. It was a gold watch given to him when he was eight years old by his father and cost $250. Messers Buckalew & Ustick say they mean to make good all losses of their patrons by the burglary, either by recovering their watches or by paying for them.
There were two other burglaries at Warrior the same week. Another jeweler was the victim of one of these and lost nearly everything he had. A saloon keeper was the other sufferer.
Mr. Hawkins arrested and took bond from Alonzo Blackburn, who had a hand in the racket which Fayette Malone is now under eight bonds. Blackburn was deputized by the marshal, his father, to help quell the disturbance, and, finding that he could do nothing in this direction, fired several shots, for which a negro swore out a warrant against him.
TWELVE HOUSES BURNED
At Warrior—Carelessness the Supposed Cause—Exhausted Fire-Fighters
Warrior, Alabama., May 18—A fire broke out in S. Williams' saloon about 12 o'clock yesterday. Cause unknown. Supposed to be carelessness. Twelve houses were destroyed. Several persons were injured from the heat of the fire.
The following in a list of houses burned: The Scott hotel; Dr. J. N. Scott, four houses, losses $3,500; Alvin Whisnant, three houses, loss $1,500; William Cunningham & Son, Nashville, Tenn., one house loss $300.; Advance office loss $1,000; T. J. Brewer groceries $100, C. L. Pierce, general merchandise, $2,000; J. L. & B. M. Brake's store, badly damaged from heat; J. L. Watts residence next to Scott house, badly schorched (sic) saved by the greatest efforts of men and wet blankets; S. C. Davidson's dwelling house was badly damaged by heat and saved by buckets of water. Several men broke down from over-work and over-heat. Nearly all the furniture in the Scott hotel was saved though in a damaged condition.
ALABAMA AFFAIRS
There is much complaint in Colbert county of dynamiters killing fish
The Mineral Age has been moved from Chepultepec, Blount County, to Blountsville
The Wetumpka Times says twenty-eight mad dogs bitten by the same dog, have recently been killed near Mt. Olive, Coosa county.
Marion Standard: This is the seventeen year locusts to put an appearance, and in some parts of the country they area already beginning to come forth from their hiding places in the ground.
The dead body of an unknown man about fifty years old, with an Italian prayer book in his pocket was found on Chacksabogu (?) creek on the L. & N. railroad, four miles from Mobile last Thursday. An arm, a leg and four ribs of the body were broken.
Coffee County News: The editor of the Geneva Bulletin says that he is of the opinion that a white shad has never been caught west of the Ocmulgee river, in Georgia. You are of the wrong opinion, Brother Mitchell. Our citizens have been catching them in Pea river for twenty years.
Carrolton West Alabamian: A gentleman from this county, whose name we will withhold, produced quite a sensation in New Orleans a few weeks ago, by an unusually long set of whiskers projecting from his chin. His beard measures forty-six inches, lacking about a foot of reaching the ground. He is certainly the most bearded man of all the bearded men whom we ever knew in this section of Alabama, Mr. Prewitt Metiowan (?), of other days, not excepted.
THE DOTHAN EAGLE, HOUSTON COUNTY, ALABAMA 1908 NEWSPAPER ABSTRACTS – Find your southeast Alabama ancestor in this great KINDLE Book. Immediate download! Dothan was a railroad hub for Southeast Florida and the editor of this newspaper mentions each visitor and their relation to local citizens.