Thanksgiving Menu from November 25, 1931
(Transcribed from Times Daily, Florence, Alabama)
Clear Tomato Soup
Cheese Crackers
Assorted Relishes
Roast Turkey
Bread Stuffing
Cranberry Jelly
Mashed Potatoes
Giblet Gravy
Squash Croquettes
Creamed Turnips
Thanksgiving Salad
Boston Brown Bread
Pumpkin Pie or Indian Pudding
Nuts
Fruit
Coffee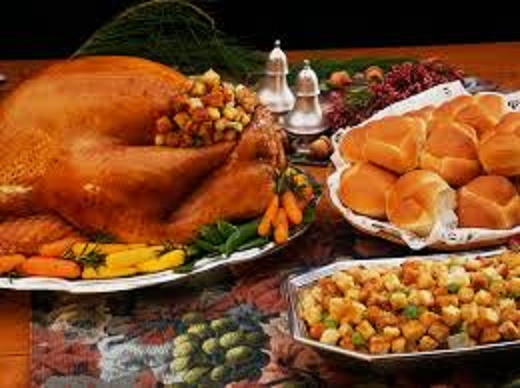 If your dinner is to be a success, every item should be considered and planned ahead of the feast. Then, when it's time to cook the dinner, you can devote all your thought and energy to the actual cooking and serving of the meal.
When you fix your dinner, give the turkey the center of the stage. Keep the other courses simple and of such foods as will form a background for and enhance the glory of the bird.
The soup can be made in advance ready to heat and serve.
Home-made relishes such as pickles and chutney sauce with the addition of celery are suitable and inexpensive.
The turkey should be stuffed, ready for the oven, tonight.
Make the cranberry jelly in advance.
Cook the squash and make into croquettes, ready for egging, crumbing and frying, the day before, too.
Bake the brown bread today also. It can be reheated if wanted warm with the salad.
Let the salad be deliciously crisp lettuce, cress or endive or a combination of the three with a French dressing.
Indian pudding is as popular for dessert as pumpkin pie and if there's room in the oven to bake it while the turkey is roasting, it will be sure to please when served with vanilla ice cream.
If pumpkin pie is chosen cook the pumpkin and run it through a colander on Wednesday. Then the pies can be baked early Thursday morning before the turkey must have the oven.
If the hostess plans carefully and does as much as possible during the time proceeding Thanksgiving Day she can find time to enjoy her guests even if she must cook and serve her dinner herself.
Thanksgiving Dinner Aids
If chilled cocktails are served, be sure to have them very cold. Do not place on the table until the meal is all ready
Croutons are delicious served with soups and they are easily made. Cut slices of bread 1-2 inch thick, spread lightly with butter. Cut off the crusts and cut the slices into 1-2- inch cubes. Toast until well-browned. Serve in a bowl with a spoon.
Wafers spread with butter and then sprinkled with grated cheese are excellent to serve with cocktails, soups or salads.
Remove the cranberry mold from its dish and set in a cold place until ready for serving. This saves time at the last minute.
Pumpkin pie topped with whipped cream and then sprinkled with chopped candied orange peel or a few black walnuts will call forth praises from the guests.
If a steamed or baked pudding is served with hard sauce press it into a deep round bowl and chill until very stiff. Unmold and garnish with halves of pecans as well as good tasting sauce. If individual molds are desired roll in balls and press with nuts. Chill and place several "balls" on each pudding serving.
If you like spiced cranberry jelly add 6 cloves and a stick of cinnamon to the berries, when they are cooking. If the berries seem too acid in taste add ½ teaspoon of soda to them when they are cooking.
If a roasted fowl is served, cover it with a white cloth rinsed out in hot water. This will give a good brown color to the skin of the fowl and it will prevent too hard a crust from forming. Rinse ou the cloth every 25 minutes and of course the cloth will have to be thrown away, but the fowl will be baked to the "desired turn."
Vinegar of the Four Thieves: Recipes & Curious Tips from the Past

 This book is a compilation of some of the funny and helpful tips from our past history. Some recipes and tips date back to 1770s. One or two sound a little dangerous and I would never try them myself, but I've included then in this book for their humorous and historical value. A few are useful, especially for our 'green' society today