ROASTED EGGS IN ASHES
Roasting is a hearty pioneer hearthside method of cooking eggs, probably by the Dutch to these shores. You need two iron frying pans for this, and first heat them both. Then partly fill one of them with hot ashes, being careful not to include any glowing coals.
Place the eggs on these ashes leaving plenty of space between them. Cover with more hot ashes and then with the other frying pan. The eggs should be done in ten minutes. Eat hot with butter, salt and pepper, while munching crisp toast.
Duck and turkey eggs are especially good baked in the ashes.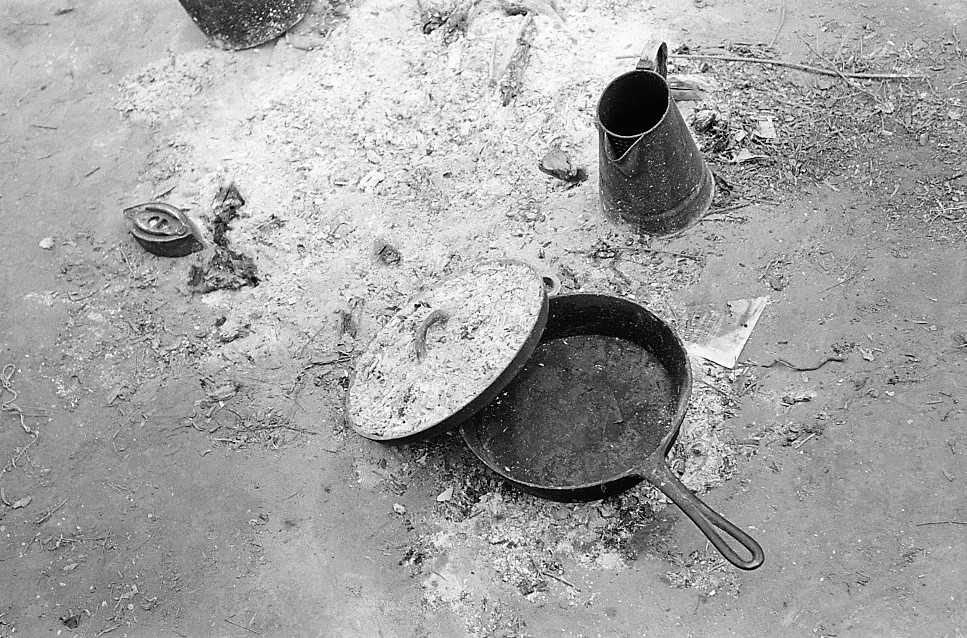 Skillet with skeleton lid and coffee pot in active use by white migrant family from Arizona, near Harlingen, Texas, Feb. 1939, photographer Russell Lee (Library of Congress)
Have you heard excessive brain labor causes baldness or the cure for wrinkles is a tepid bath in bran?
Do you want to know Thomas Jefferson's recipe for Vinegar of the Four Thieves or how to make Ox Tail Soup?
Have you ever had 'blueberry pickles', 'batallia pie' or 'snow birds'? You will learn all this and more in "Vinegar of the Four Thieves."
Our ancestors had to be resilient when they faced obstacles in daily life, from dealing with pests, medical emergencies, caring for clothing and cleaning shortcuts. Almost everything they used in daily life was homemade. Some ideas were great but some were very strange.
This book is a collection of household tips, medical cures, clothing care and old recipes from the 1800's and 1900's. Many of the tips, such as the household cleaners, cooking tips and ways to control pests, still work and are helpful in today's 'green' environment while others such as 'how to cure a dog of eating eggs' will make you laugh. Either way, this book will help you appreciate the difficult life your grandparents endured. With Bonus: First two chapters of novel Ribbon of Love