John Ball was born 1675 in Stafford Co., Virginia and died 1722 in Stafford County, Virginia. He married Winnifred Williams on Mary 9, 1713 in Charles Co., Maryland. He and his wife had descendants in Alabama. His son, Moses Ball, the ancestor of Alabama descendants, received a grant from Lord Fairfax and lived near General George Washington.
Some Related BALL, STUART and STEWART Families of Alabama 
includes genealogy information, sources and notes on Alabama descendants of John Ball (1675-1722) of Stafford County, Virginia and Alexander Stuart (1675-1712).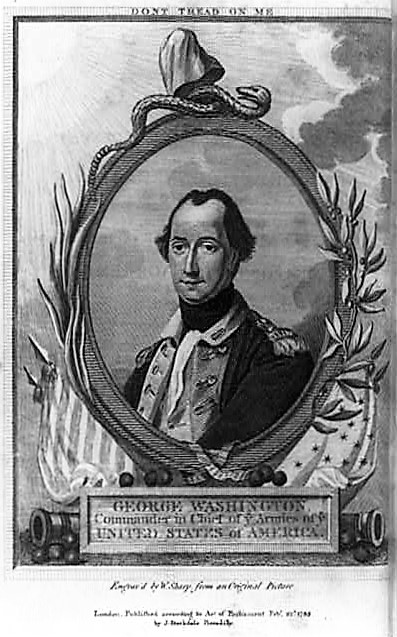 George Washington commander in chief of ye armies of ye United States of America engraved by W. Sharp, from an original picture.(Library of Congress) 
John and his wife Winnifred (Williams) Ball had the following children:
1.James Ball (b.1698)
2.Mary Ball (ca. 1698)
3.Thomas Ball (b. ca. 1703)
4.Dinah Ball (b. ca. 1704)
5.Martha Ball (b. 1708)
6.Ann Ball (b. 1712)
7.John Ball (b. 1714)
8.Moses Ball (b. May 2, 1717)
9.George Ball (b. ca. 1720)
Descendant surnames include: ALIM, BAILEY, BRASHEAR, BREEDING, BROTHERTON, DALTON, DAUGHERTY, FULLER, HANSARD, HANSON, HARDIN, HAWS, HESS, HOBBS, HUBBARD, HUGHES, JACKSON, JOHNSON, JONES, KELLY, LOCKHART, LONG, MAY, MCDANIEL, MITCHELL, MULLINS, PRICE, ROBBINS, STRAUS, STEWART, TATE, THOMAS, THRIFT, TUNNELL, WARREN, WEATHELY, WEATHERLY, WHITT, WILLIAMS, WILSON
ALEXANDER STUART
Alexander Stuart was born in either Scotland or Ireland in 1675. He married Catherine Montgomery in 1705. He and his wife have descendants in Talladega, Alabama. The last name was changed to Stewart in later descendants. Alexander and Catherine had the following known children:
1.Alexander Stuart (b. 1706 Londonderry, Northern Ireland)
2.Mary Catherine Stuart Calhoun (b. 1713 Londnderry, Northern Ireland) She married John Noble
Descendant surnames include: AIKEN, BALL, BALLARD, BARRON, BICKEL, BIGGER, BUCHHOLZ, BURKETT, BURNS, CALDWELL, CALHOUN, CARTER, COWAN, DEAN, DUNCAN, DURRETT, ETHERIDGE, FRENCH, GALLAGHER, GILMAN, GLEATON, GRAY, GREEN, HARBISON, HANSARD, HENSLEE, HOLBROOK, HOLCOMBE, HOLLEY, HOLLINGSWORTH, HUTTON, JONES, JORDAN, KERR, KING, KISER, MARTIN, MASSEY, MCCALLA, MCCLAIN, MCCORD, MCELROY, MCELWAIN, MCFADDEN, MEADOR, MINOR, MONTGOMERY, NEWMAN, NICHOLS, NOBLE, OGDEN, PEARMAN, PLATT, PLEMONS, RAY, ROBERTS, ROBINSON, SHERMAN, SMITHERMAN, SPENCE, STANCEL, STEWART, STRIPLIN, TREADWAY, WALKER, WEATHERLY, WEST
Some Related BALL, STUART and STEWART Families of Alabama