Did you know that an asteroid which was probably the size of the Auburn University football stadium, traveling at 12 miles per second, hit Wetumpka, Alabama at with a force about 30 times greater than the largest nuclear weapon ever detonate on Earth?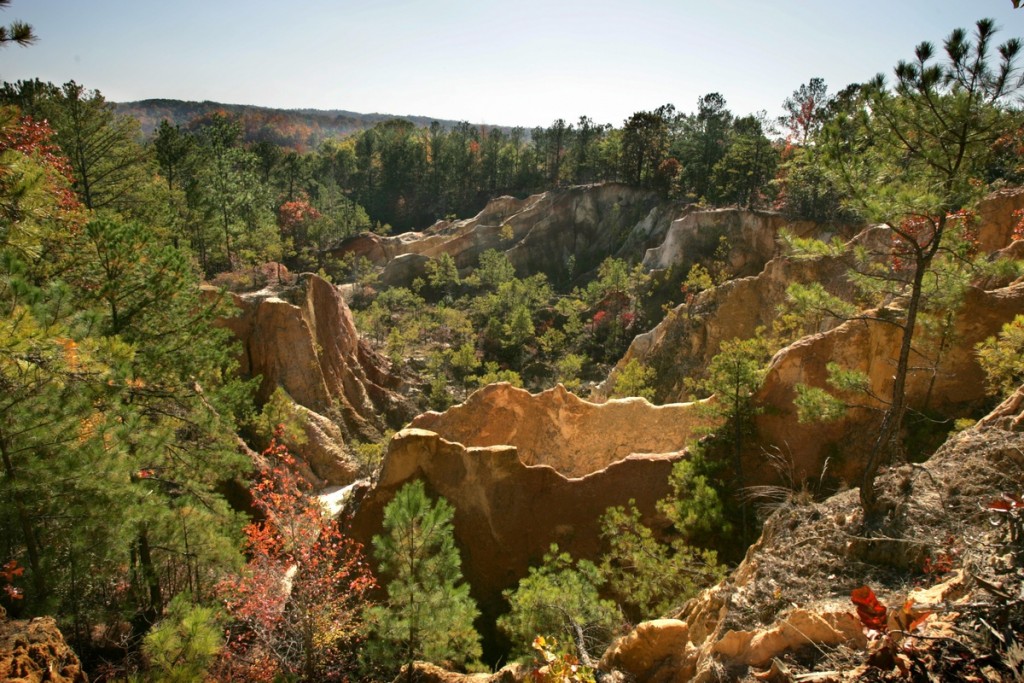 "Debris may have been thrown as far away as the present Gulf of Mexico. It is one of the few above-ground impact crater locations in the United states and one of only about six in the entire World."
The crater structure was first noted in 1969 by a group of geologists from the Geological Survey of Alabama, which included team leader Thornton L. Neathery, and in 1976, they published a paper proposing that a meteor had created the feature. They called the the crater the Wetumpka astrobleme.
Conclusive evidence of impact origin was lacking until 1998 when David T. King, Jr.,and colleagues, including Neathery discovered shocked quartz in a core drilled near the center of the structure. In 2002, Auburn University researchers published evidence and established the site as an internationally recognized impact crater.
The Wetumpka impact was roughly 175,000 times greater than the nuclear explosion in Hiroshima in 1945. "It produced a huge earthquake, a tsunami, an atmospheric blast wave, and a cascade of falling rocks that would have blasted out of the crater bowl.".  The impact totally devastated everything in a 25 mile radius.
According to King, "if the same asteroid landed here today, it would wipe out nearby Montgomery, the state capital, and everything else within a 25-mile radius." and would have created an explosion as spectacular as in the movie "Deep Impact.
Located only a dozen miles north of Montgomery, in the City of Wetumpka, the ancient meteor crater at 5 miles wide is over twice as large as the famous Barringer Crater near Flagstaff Arizona.
Barringer Crater, Flagstaff, Arizona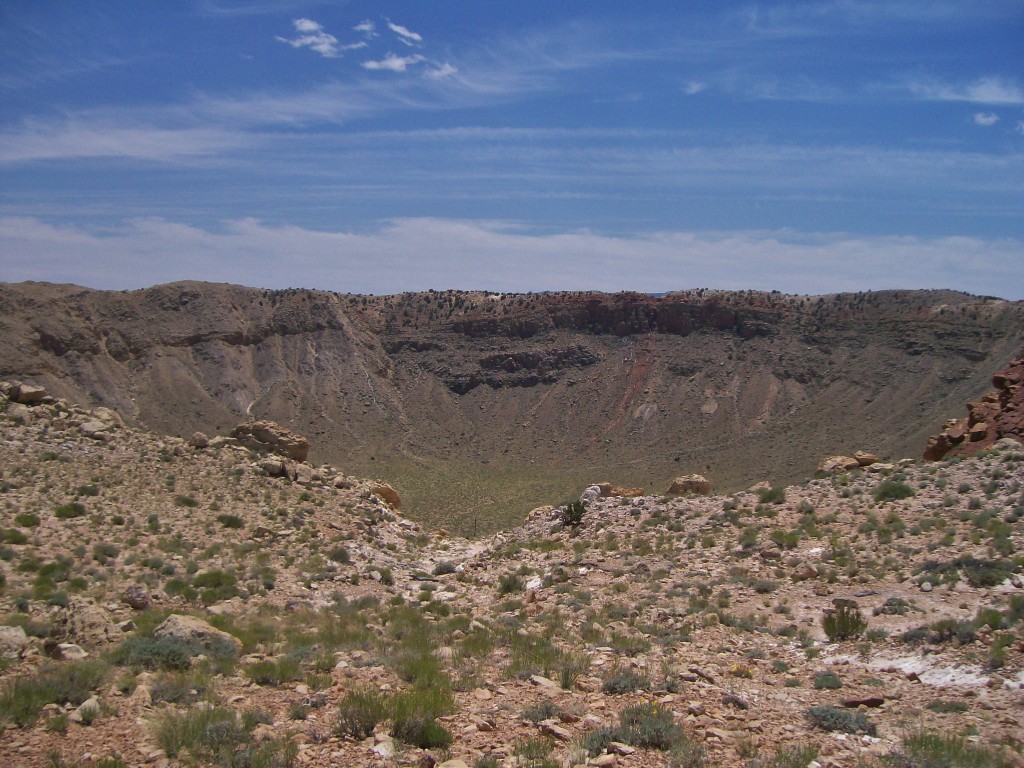 All that remains of the meteoritic impact crater formed by the collision is a crescent-shaped ridge of hills rising up to 300 feet above the surrounding river plains. Bald Knob, the highest point on the rim, and other parts of the crater remnant are clearly visible to travelers entering Wetumpka on US Highway 231 and Alabama Highway 14.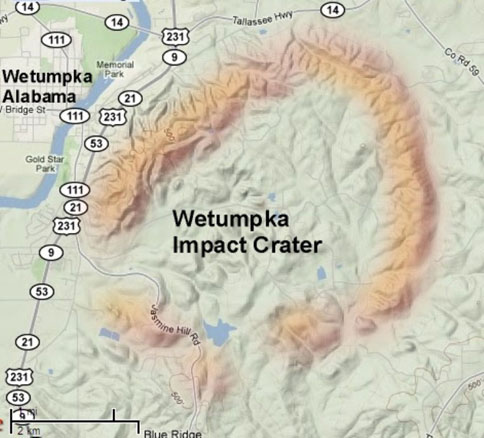 The City of Wetumpka has yearly tours of the "Crater Walks" in March.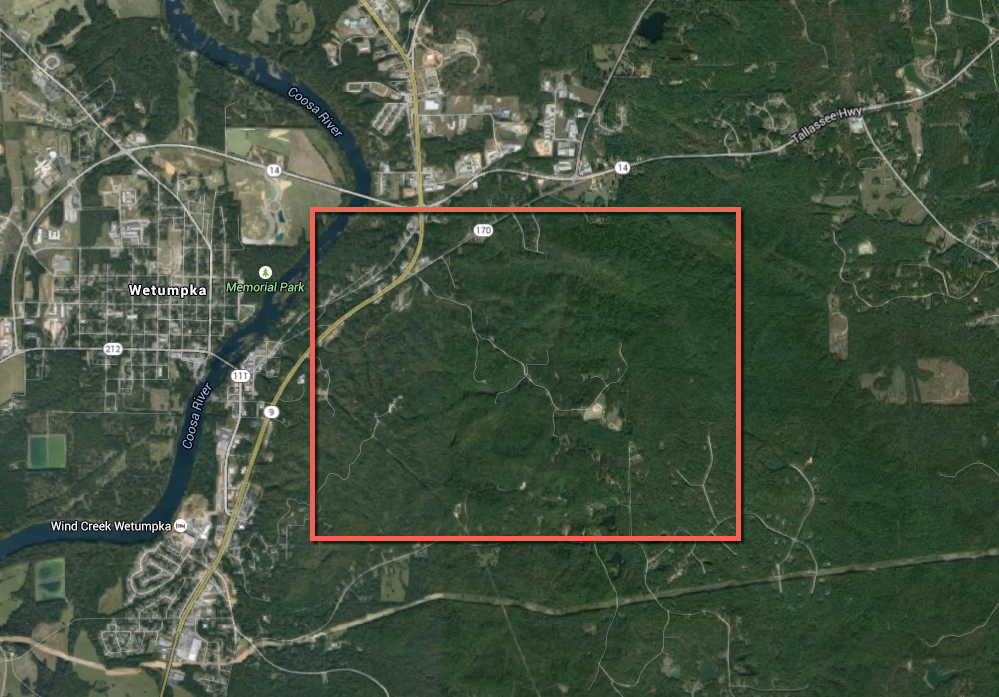 Auburn University has established a fund to help advance studies of the Wetumpka impact crater called the 'Wetumpka Impact Crater Fund'
SOURCES
Related Stories
Ten facts about the annual Perseids Meteor shower you may not know
Shelby County, and other central Alabama counties were once beachfront property. Do you think it will happen again?
An asteroid the size of Auburn Football stadium & 30 times greater than Hiroshima hit Wetumpka, Alabama
Would you like to know Thomas Jefferson's recipe for Vinegar of the Four Thieves or how to make Ox Tail Soup? Discover this recipe as well as many household tips from the past in:
Our ancestors had to be resilient when they faced obstacles in daily life, from dealing with pests, medical emergencies, caring for clothing and cleaning shortcuts. Almost everything they used in daily life was homemade. Some ideas were great but some were very strange.
VINEGAR OF THE FOUR THIEVES: Recipes & curious tips from the past

 

 

is a collection of household tips, medical cures, clothing care and old recipes from the 1800's and 1900's. Many of the tips, such as the household cleaners, cooking tips and ways to control pests, still work and are helpful in today's 'green' environment while others such as 'how to cure a dog of eating eggs' will make you laugh. Either way, this book will help you appreciate the difficult life your grandparents endured. 
With Bonus: First two chapters of novel Ribbon of Love
(Visited 59,727 times, 4 visits today)