Happy Birthday!
DR. LINCOLN LACONIA BURWELL
BIOGRAPHY and GENEALOGY
(October 25, 1867- March 6, 1928)
Marengo and Perry County, and North Carolina
Dr. L. L. Burwell, M. D., (Lincoln Laconia Burwell), the son of Charles and Amanda Burwell, was born in Marengo County, Ala., October 25, 1867. At the age of seven years, he was given to his brother, Charles A. Burwell, of whom the Doctor says: "To him, my success is largely due."
Photograph from Kenney, The Negro in Medicine, 1912
Attended Selma University
For quite a while he lived with his brother on a farm in Perry County. He attended the county schools till he entered Selma University in the winter of 1883-84. His love for books and his quickness of apprehension were early manifestations of native talent which, if properly cultivated, would unfold to his own honor and to the profit of his people.
Each vacation found him upon the farm, earning money with which to re-enter school. During his entire course at Selma University his mother was able to spend upon him but $30.
In 1886, he graduated from the above-named school with the honors of valedictorian, and in the fall of the same year, he entered Leonard Medical College, Raleigh, N. C., to take a course in medicine. The course extended through four years, but he completed it and received his diploma at the close of the third year, again receiving the honors of valedictorian of his class.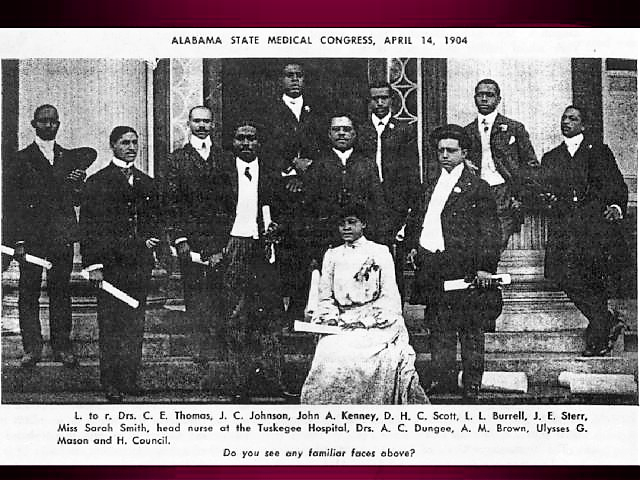 Source: W. Montague Cobb, "Cornelius Nathaniel Dorsette, M.D., 1852-1897" 
Journal of the National Medical Association 52(6): 456-459, November 1960
Passed the Alabama State Board of Medical Examiners
In 1889, he passed an examination before the State Board of Medical Examiners of Alabama and began the practice of medicine in the city of Selma, where he now resides amidst many friends, a paying practice, and a successful drug business. Commencing without a dollar, he has saved from his income about 84,000. In school, he was called artist, orator, scholar.. He says: "As a doctor, I have for my motto: Crurare Cito."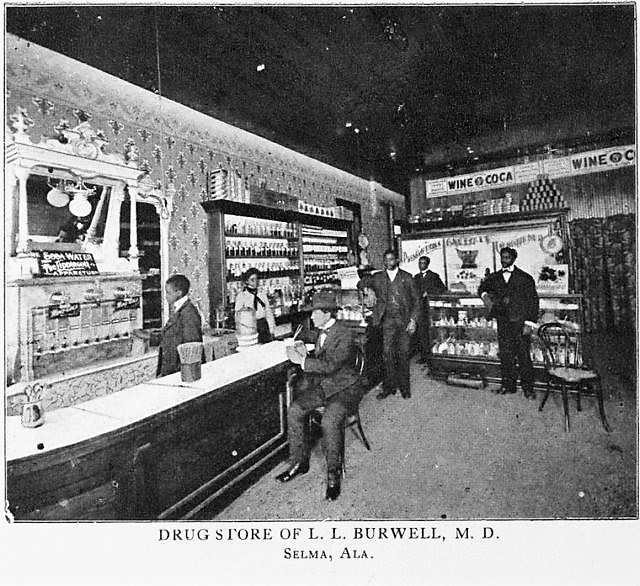 Photograph from Kenney, The Negro in Medicine, 1912
Practiced in Selma, Alabama
Dr. Burwell practiced in Selma his entire career. He also owned a drug store and set up an infirmary. He was a deacon and trustee of his church and participated in civic, educational, fraternal, and religious organizations.
He married Lavinia Richardson 1872-1938) and they had two daughters who attended Oberlin College in Ohio. "Older daughter Almedia L. graduated from the Conservatory of Music at Oberlin and taught music at Florida A&M. Younger daughter (Elezora?) graduated from Oberlin in 1915 and served as secretary to the Selma University President. By 1919 Burwell had served thirteen years as secretary of the board of trustees of Selma University." ( HIDDEN LEGACIES: I. EARLY AFRICAN-AMERICAN PHYSICIANS IN ALABAMA)
Dr. Burwell died March 6, 1928, and is buried in Lincoln Cemetery, Selma, Dallas County, Alabama. His wife, Lavinia Richardson Burwell passed away on January 25, 1938, and is also buried in Lincoln Cemetery.
NOTE: More information on Dr. L. L. Burwell and many other Alabama African-American physicians can be found on the great website, HIDDEN LEGACIES: I. EARLY AFRICAN-AMERICAN PHYSICIANS IN ALABAMA
SOURCES
Where Do I Start?: HINTS and TIPS for BEGINNING GENEALOGISTS with ONLINE RESOURCE

 Do you need some guidance in your genealogy search? Save time and avoid pitfalls in your research. This book provides simple, no-nonsense instructions to help you get started. Many FREE research links included.
Tips include:
WHERE TO FIND – on-line resources, experienced genealogists will not be aware of many of these.
COURT RESEARCH – how to do courthouse research, where to find birth, death, social security records free on-line.
EIGHTY – ONE QUESTIONS – you should ask your elderly loved ones before it's too late.
TIPS ON BREAKING DOWN THE WALL – Everyone faces some difficulties in research, often called a 'brick wall' but WHERE DO I START? provides suggestions for overcoming them.