Counties of Alabama
Date of Formation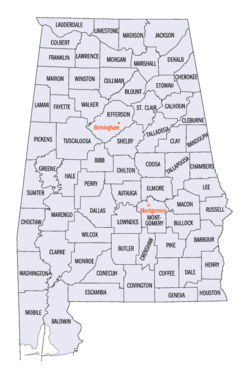 County Court Houses.—By act of December 31, 1822, the sheriffs of the several counties were made the custodians of the court houses thereof, with authority to keep out intruders, have the buildings cleaned, to repair, and otherwise keep in order, and to make a report in reference thereto every year to the county commissioners.—Acts of Ala., 1822, p. 55.
History.—The first county in order of formation was Washington, June 4, 1800, and the last, Houston, February 9, 1903. Washington, 1800, Madison, 1808, Mobile, 1812, and Monroe, 1815 were all created by proclamation of the Governor of the Mississippi Territory.
The counties of Baldwin, 1809, Clarke, 1812, and Montgomery, 1816, were established by the Mississippi Territorial Legislature. These counties were all that were established when the Alabama Territory was created by Act of Congress March 3, 1817.
The first session of the first Territorial Legislature created Blount, Cahaba (now Bibb), Conecuh, Cotaco (now Morgan), Dallas, Franklin, Lauderdale, Lawrence,- Limestone, Marengo, Marion, Shelby and Tuscaloosa; and the second session the counties of Autauga and St. Clair.
The first state legislature, 1819, established Butler, Greene, Henry, Jackson, Jefferson, Perry and Wilcox. The second session, 1820, created Pickens. The third session, 1821, Covington and Pike; the fifth session, 1823, Walker; the sixth session, 1824, Dale and Fayette; and the eleventh session, 1830, Lowndes.
The Creek cession, 1832, of conferring east Alabama, was organized by the establishment of Barbour. Benton, now Calhoun, Chambers, Coosa, Macon, Randolph, Russell, Talladega and Tallapoosa. Sumter County was formed 1832 from the Choctaw cession. Out of the Cherokee cession were made Cherokee, DeKalb and Marshall.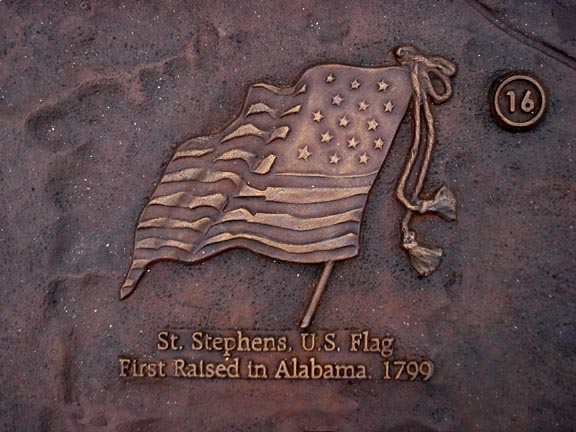 In 1841, the legislature created Coffee, and in 1847 Choctaw. No others were formed until immediately following the war, when there were many changes, including Bullock, Clay, Cleburne, Crenshaw, Elmore, Baine (now Etowah), and Lee, 1866; Colbert, Hale and Jones (now Lamar), 1867; Chilton, Escambia, Geneva, 1868; Cullman, 1877, and Houston, 1903.
The counties are variously named. Ten bear names of Indian origin.
After the treaty of Cusseta, entered into March 24, 1832, all of the lands in east Alabama occupied ' by the Creek Indians were arranged into Benton, Talladega, Randolph, Coosa, Tallapoosa, Chambers, Russell, Macon and Barbour Counties.
The act also creates Sumter County. It also readjusts various other boundaries to the convenience of the inhabitants by shifting lines here and there. With this act the jurisdiction of the state was extended through definite county organizations, over its entire area.
Acts of Alabama, 1832-33, p. 9. Counties: names, dates formed, and county seats.—The list which follows contains the names of the 67 counties, with original dates of establishment, the names of the several county seats and the origin:
Autauga—Nov. 21, 1819, Prattville –
Baldwin—Dec. 21, 1808, Bay Minette.
Barbour—Dec. 18, 1832, Clayton. – From Creek Indians
Bibb—Feb. 7, 1818, Centerville.
Blount—Feb. 7, 1818, Oneonta.
Bullock—Dec. 5, 1866, Union Springs.
Butler—Dec. 13, 1819, Greenville.
Calhoun—Dec. 18, 1832, Anniston. – From Creek Indians
Chambers—Dec. 18, 1832, Lafayette. – From Creek Indians
Cherokee—Jan. 9, 1836, Center. – From Cherokees
Chilton—Dec. 30, 1868, Clanton.
Choctaw—Dec. 29, 1847, Butler.
Clarke Dec. 10, 1812, Grove Hill.
Clay—Dec. 7, 1866, Ashland.
Cleburne—Dec. 6, 1866. Edwardsville.
Coffee—Dec. 29, 1841, Elba.
Colbert—Feb. 6, 1867, Tuscumbia.
Conecuh—Feb. 13, 1818, Evergreen.
Coosa—Dec. 18, 1832, Rockford. – Cherokee cession
Covington—-Dec. 7, 1821, Andalusia. – From Creek Indians
Crenshaw—Nov. 24, 1866, Luverne.
Cullman—Jan. 24, 1877, Cullman.
Dale—Dec. 22, 1824, Ozark. – From Creek Indians
Dallas—-Feb. 9, 1819, Selma.
DeKalb—Jan. 9, 1836, Ft. Payne. – From Cheokees, in part
Elmore—Feb. 15, 1866, Wetumpka.
Escambia—Dec. 10, 1868, Brewton.
Etowah—Dec. 7, 1866, Gadsden.
Fayette—Dec. 20, 1824, Fayette. – From Creek Indians
Franklin—Feb. 6, 1818, Russellville.
Geneva—Dec. 26, 1868, Geneva.
Greene—Dec. 13, 1819, Eutaw.
Hale—Jan. 30, 1867, Greensboro.
Henry—Dec. 13, 1819, Abbeville.
Houston—Feb. 9, 1903, Dothan.
Jackson—Dec. 13, 1819, Scottsboro.
Jefferson—Dec. 13, 1819, Birmingham.
Lamar—Feb. 4, 1867, Vernon.
Lauderdale—Feb. 6, 1818, Florence.
Lawrence—Feb. 6, 1818, Moulton.
Lee—Dec. 5, 1866, Opelika.
Limestone, Feb. 6, 1818, Athens.
Lowndes—Jan. 20, 1830, Hayneville. – From Creek Indians
Macon—Dec. 18, 1832, Tuskegee. – Cherokee cession
Madison—Dec. 13, 1808, Huntsville.
Marengo—Feb. 6, 1818, Linden.
Marion—Feb. 13, 1818, Hamilton.
Marshall—Jan. 9, 1836, Guntersville. – From Cheokees, in part
Mobile—Aug. ly 1812, Mobile.
Monroe—June 29, 1815, Monroeville.
Montgomery—Dec. 6, 1816, Montgomery.
Morgan—Feb. 6, 1818, Decatur.
Perry—Dec. 13, 1819, Marion.
Pickens—Dec. 19, 1820, Carrollton. – From Creek Indians
Pike—Dec. 7, 1821, Troy. – From Creek Indians
Randolph—Dec. 18, 1832, Wedowee. – Cherokee session, in part
Russell—Dec. 18, 1832, Seale.
St. Clair—Nov. 20, 1818, Ashville.
Shelby—Feb. 7, 1818, Columblana.
Sumter—Dec. 18, 1832, Livingston. – from Choctaws
Talladega—Dec. 18, 1832, Talladega.
Tallapoosa—Dec. 18, 1832, Dadeville.
Tuscaloosa—Feb. 7, 1818, Tuscaloosa.
Walker—Dec. 26, 1823, Jasper. – From Creek Indians
Washington—June 4, 1800 (Chatham), diatom.
Wilcox—Dec. 13, 1819, Camden.
Winston, Feb. 12, 1858, Double Springs