A ROMANTIC LOVE STORY
(Transcribed from the Times Daily, Florence, Alabama January 9, 1892)
Washington Post
Congressman Oates, of Alabama with his 55 years and only one arm, has a romantic story that surrounds the loss of the other arm. During the war he served in the Confederate army, and it was before Richmond that he received the wounds that necessitated the amputation of the right arm. At this time it was that Oates was obliged to lie off on sick leave while he recovered from his injuries. He was received into the house of a Southern family and nursed by the eldest daughter.
When he pulled through Oates felt that his life had not only been saved by her, but that his future happiness was in her hands. The young officer told his story, but this young nurse did not favor his suit – whether because she thought it was pressed simply from gratitude, or whether she did not return his affection, is not told.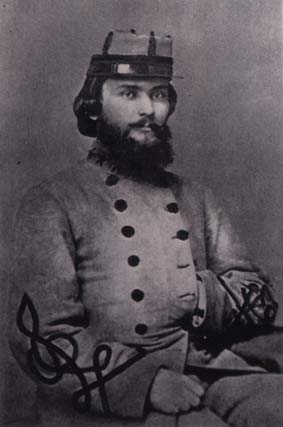 Oates was too weak to return to his command, and between fretting over his rejected suit and at the delay in his return to the front, was in a most unhappy mood. One day when more despondent than ever the mother looked up and said laughingly:
"Never mind, Captain, you just wait for so and so," pointing to the baby in the cradle she was rocking. "You can have her by and by." The captain laughed.
The baby began to grow to girlhood, and Oates was interested in all she did. When she became of marriageable age he reminded her mother of her old promise, made over the baby's cradle. There was no opposition to the match, and the couple are unusually happy. This accounts for the difference in age, at which many people have wondered. Mrs. Oates is a pretty woman, with Southern grace and hospitality, and very devoted to her husband.
(Colonel Oates married a Miss Toney, of Eufaula Ala., who is a sister of Judge Sterling B. Toney, of Louisville, Ky.)
(See William Calvin Oates full biography at this link)
This is the third volume of Notable and Not-so-Notable Early Alabama Pioneers. Biographies ncluded in this book are:
CHARLES ABERCROMIE (1742 – 1819)
JAMES ABERCROMBIE (1795 – 1861)
JAMES JACKSON ABERCROMBIE (1825 – 1901)
MILO BOLLING ABERCROMBIE,SR. (1806 – 1860)
ROBERT HADEN ABERCROMBIE (1837 – 1891)
CHARLES GORDON ABERCROMBIE (1855 – 1917)
ANDERSON ABERCROMBIE (1786 – 1867)
JOHN WILLIAM ABERCROMBIE (1866 – 1940)
MAJ. MILES WASHINGTON ABERNATHY(1801 – 1877)
NATHAN HUBERT ABERNATHY (1882 – 1949)
DR. ROBERT TOWNS ABERNATHY (1824 – 1900)
REV. THOMAS SMITH ABERNATHY (1803 – 1882)
BURWELL GIDEON ABERNETHY (1844 – 1907) includes his pension application
DR. JONES CADWALDER ABERNETHY (1846 – 1915)
JUDGE HEUSTIS BARNETT ABERNETHY (1872 – 1944)
REV. THOMAS YOUNG ABERNETHY (1851 – 1935)
DR. THOMAS PERKINS ABERNETHY (1890 – 1975)
ANDREW MERRIMAN YOUNG, SR. (1858 AL – 1935 OK)
DR. ERNEST B. DUNLAP (1881 AL – 1964 OK)
STEPHEN H. HAM (1831 – 1913)
JOHN GUNTER (CA. 1765 – 1835)
ALECK or ELICK CAPTAIN CREEK CHIEF (ca. 1715 – aft. 1768)
WILLIAM CHARLES COLE CLAIBORNE (1775 – 1817)
THOMAS PETERS (1812 – 1883)
JOHN ALSTON DUDLEY – (b. ca. 1760)
CAPTAIN WILLIAM ARMISTEAD (1762 – 1842)
REUBEN BLANKENSHIP and DANIEL BLANKENSHIP – (b. ca. 1760)
THOMAS BRADFORD (ca. 1757 -1830)
JEREMIAH "JERRY" CHANCELLOR (1760 – 1831)
CORPORAL JOHN COLUMBUS DEASON (1836 – 1899)
JAMES COLLIER (1757 – 1832)
REVEREND ROBERT CUNNINGHAM (1760 – 1839)
EDMUND WINSTON PETTUS (1821 – 1907)
JOHN TYLER MORGAN (1824 – 1907)
GOV. WILLIAM C. OATES ( 1833 – 1910)
HON. ARISTO APPLING WILEY, (1848 – 1908)
DR. LUTHER LEONIDAS HILL ( 1862 – 1946)
FRANKLIN POTTS GLASS (1858 – 1934)
MILTON PAUL LEGRAND (1832 – 1893)
JEFFERSON MANLY FALKNER (1843 – 1907)
WILLIAM FALKNER USSERY (1851 – – 1930)
GORDON ROWALEYN CUMMING MACDONALD (1848 – 1905)