Save yourself hours of research and expense on early Ackers who settled in the southern part of the United States.
WILLIAM ACKER FAMILY and SOUTHERN DESCENDANTS includes all my research in a compilation of genealogy records of William Acker, Sr. (1710 Germany -1793 NJ, USA). He had many southern descendants in the USA. Many transcribed deeds, church minutes, cemetery records, endnotes, anecdotal stories of descendants have been included.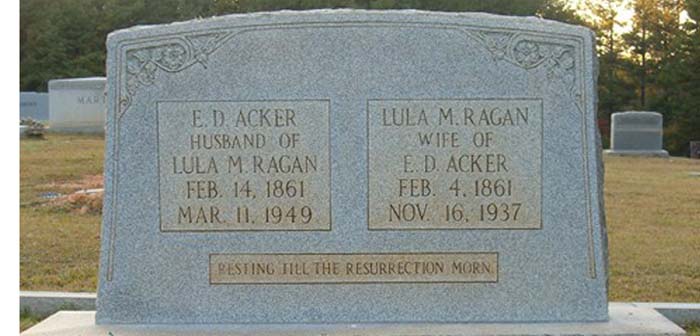 Descendant surnames
Some descendant Surnames of William Acker's descendants include: ALEXANDER, BAKER, BELCHER, BELL, BOOTHE, BOOZER, BRAZELTON, BROWN, BRUTON, BRYSON, BUNN, BURNS, CAFFEE, CALDWELL, CANTERBURY, CARDEN, CARLTON, CLEMENTS, COBB, COCHRAN, CONWAY, COOLEY, COX, CUNNINGHAM, DAVIS, DIRDOFF, ECKER, ELLIS, EUBANKS, FAULKNER, FISHER, GADDIS, GARRIS, GARRISON, GIBSON, GRACE, GUIN, HACKNEY, HALBERT, HALL, HAMMOND, HARRISON, HAYS, HERRING, HILL, HOLLY, HUBBARD, HUTTO, KEATON, KENNEDY, KIEFFER, LANGFORD, LAWRENCE, LINDLEY, MADDOX, MARSH, MARTIN, MATTISON, MAYFIELD, McBRIDE, McCAIN, McCANTS, McCLINTON, McDAVID, McDILL, McGEE, MILES, MILLER, MILLS, MITCHELL, MOORE,MORGAN, MOSELY, MOSES, NICHOLS, NORRIS, OGLESBY, O'REAR, PARKER, PETTITT PICKENS, POGUE, PRATT, PRUITT, REAR, REED, SHARP, SHUMATE, SIMS, SMITH, SMITHSON, SPRINGS, STEVENSON, STRICKLAND, SUTHERLAND, TAFT, TAYLOR,THOMAS, THOMASON, THOMPSON, TOWNSEND, VANDIVER,VICE, VINSON, VOWELL, WALKER, WALTON, WELLBORN, WEAVER, WEST, WHITE, WIDEMAN, WILLIAMS, WOODS
Browse the FREE SAMPLE pages (which includes a brief descendant outline in the first pages) on Amazon to see if this is your family line.
While every attempt has been made to document all data found in this compilation, as with all genealogy works, there is the possibility of inaccuracies. Please use this book as a starting point in your own research.
Did you know that you can read Ebooks on computers and smart phones with FREE APPS from Amazon? Click the link below to discover how.
WILLIAM ACKER FAMILY and SOUTHERN DESCENDANTS